A victory for civil rights: San Francisco City Hall was a scene flooded
with human jubilation today following a California Supreme Court constitutional decision
that ruled same-sex couples have a right to marry.
Photos by Luke Thomas
By Julia Cheever
May 15, 2008
The California Supreme Court ruled by a 4-3 vote in San Francisco today that same-sex couples have a right to marry under the state constitution.
The historic decision makes California the second state in the nation, after Massachusetts, to allow gays and lesbians to marry.
Chief Justice Ronald George wrote, "Our state now recognizes that an individual's capacity to establish a loving and long-term relationship with another person and responsibly to care for and raise children does not depend upon the individual's sexual orientation."
George, joined by Justices Joyce Kennard, Kathryn Werdegar and Carlos Moreno, said gays and lesbians have a right to wed under the California Constitution's guarantees of equal protection and a fundamental right to marry.
The court majority said extending marriage to same-sex couples "will not deprive opposite sex couples of any rights" and will give lesbian and gay couples and their families "equal dignity and respect."
The panel struck down provisions of two state laws, one passed by the Legislature and the other enacted by a voter initiative in 2000, that limited marriage to unions of a man and a woman.
The decision becomes final in 30 days unless that period is extended by court order.
The ruling could be overridden, however, by a proposed new ballot initiative that would amend the California Constitution to ban same-sex marriage. The secretary of state's office has until June 26 to certify whether the measure has enough signatures to be placed on the November ballot.
Glen Lavy, a lawyer for the Proposition 22 Legal Defense and Education Fund, said he will ask the court to stop today's ruling from going into effect until after the November election.
Lavy said, "The court's decision clearly demonstrates that marriage is not ultimately safe from tampering by activists and others in government until the voters have amended the constitution."
Proposition 22 was the 2000 initiative law that was struck down by the court today. It said that only marriage between a man and a woman is valid or recognized in California.
The proposed new initiative has the same wording, but would elevate the measure to a constitutional amendment.
The court ruled in six consolidated lawsuits filed in 2004. Four were filed by the city of San Francisco and same-sex couples seeking a right to marry.
The other two were filed by the Proposition 22 group and the Campaign for California Families in opposition to gay marriage. State Attorney General Jerry Brown and Gov. Arnold Schwarzenegger joined the case to defend the state laws.
Shannon Minter, the lead attorney for same-sex couples, said, "This is a historic and landmark day for those who value fairness and opportunity."
Minter, legal director of the San Francisco-based National Center for Lesbian Rights, said, "The court's decision today upheld the highest ideals of equality that are embodied in the California Constitution."
Stuart Gaffney, who with his partner John Lewis was among the plaintiffs represented by Minter, said, "John and I are feeling boundless joy. We've waited 21 years for this. I can finally say I can marry the man I love."
Schwarzenegger said, "I respect the court's decision and as governor, I will uphold its ruling. Also, as I have said in the past, I will not support an amendment to the constitution that would overturn this state Supreme Court ruling."
San Francisco City Attorney Dennis Herrera said, "Today's majority has affirmed our constitution's promise of equality for millions of Californians and their families."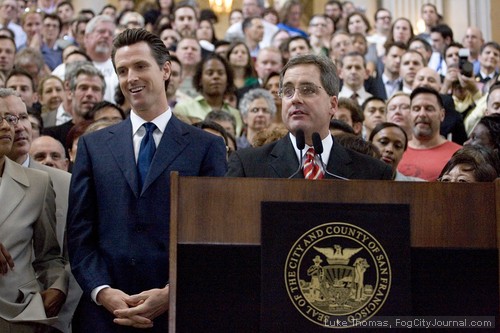 Dennis Herrera
But Campaign for California Families attorney Mathew Staver contended, "The California Supreme Court has defied logic, undermined the will of the people and weakened our future.
"This decision will ignite California voters to amend their state constitution to protect marriage and prevent judges from wrecking marriage," Staver said.
The three dissenting justices in today's ruling were Marvin Baxter, Ming Chin and Carol Corrigan.
Baxter and Chin joined in a dissent in which Baxter said "a profound change in this ancient social institution" of marriage should be carried out only by the Legislature or state voters.
Corrigan wrote a separate dissent in which she said that while she personally believed that "Californians should allow our gay and lesbian neighbors to call their unions marriages," same-sex couples have nearly equivalent rights in domestic partnerships.
Corrigan wrote, "If there is to be a new understanding of the meaning of marriage in California, it should develop among the people of our state and finds its expression at the ballot box."
Most of the lawsuits before the court were originally filed in San Francisco Superior Court after the city of San Francisco's short-lived attempt to issue same-sex marriage licenses.
The city issued about 4,000 licenses on the instructions of Mayor Gavin Newsom between Feb. 12 and March 11, 2004, when the state high court halted the practice. The court later ruled the city had no authority to issue the licenses but said it was willing to allow separate proceedings to test the constitutionality of the state laws.
As the cases wound their way through the courts, a San Francisco Superior Court judge struck down the laws in 2005, but a state appeals court overturned that decision by a 2-1 vote in 2006.
The state high court agreed in late 2006 to consider appeals by same-sex couples and the city and heard arguments on the cases on March 4.
Brown and Schwarzenegger, defending state laws, argued that opposite sex marriage is deeply rooted in tradition and that domestic partnership provides similar rights.
But the court majority said in a 121-page decision that a distinction between marriage and partnerships "impinges upon the fundamental interest of same-sex couples in having their official family relationship accorded dignity and respect equal to that conferred upon the family relationship of opposite-sex couples."
The court also rejected arguments by the Proposition 22 group and Campaign for California Families that heterosexual marriage is better for children.
George wrote that "a stable two-parent relationship, supported by the state's official recognition and protection, is equally as important for the numerous children in California who are being raised by same-sex couples as for those being raised by opposite-sex couples."
Michael Zamperini, a constitutional law professor at Golden Gate University School of Law in San Francisco, said, "I think the decision will have an impact nationally."
Zamperini said courts sometimes "catch up after society has changed. The court system has realized that society treats gay and lesbian people differently now from the way it treated them even five or 10 years ago.
"The court is saying that something that is not the same is inherently unequal," Zamperini said.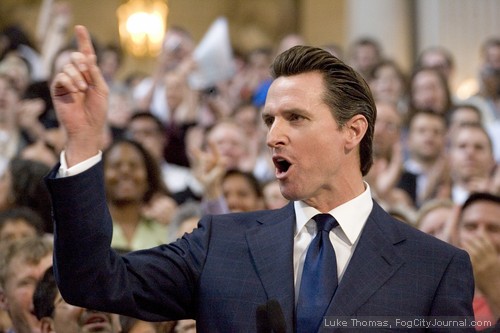 An elated Mayor Gavin Newsom: "It's about human dignity. It's about civil rights.
It's about time in California. As California goes, so goes the rest of the nation.
It's going to happen, whether you like it or not."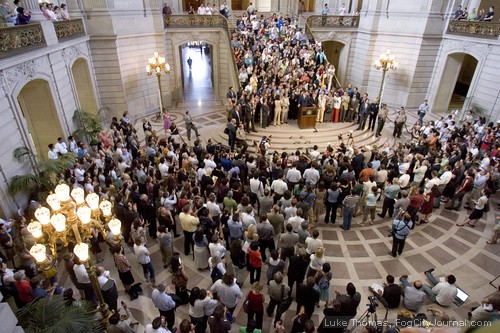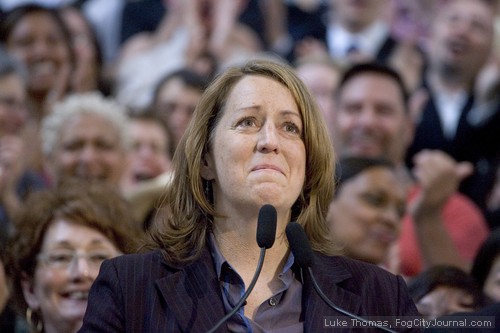 Kate Kendell, Executive Director of the National Center for Lesbian Rights.