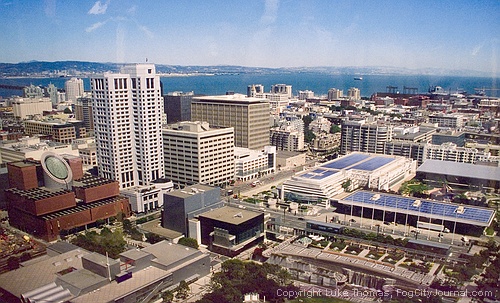 An easterly view of San Francisco shows the Moscone Convention Center with rooftop solar panels,
one of several qualifications used by Popular Science Magazine to nominate San Francisco
as the second greenest city in the U.S.
City photo reproduced by Luke Thomas
By Ari Burack
February 25, 2008
San Francisco is the second greenest city in the country, according to Popular Science Magazine.
The magazine this month released its list of "America's 50 Greenest Cities," ranking them on such programs as renewable energy, transportation habits and air quality, green buildings and public spaces, and recycling programs. The list was compiled with data from the U.S. Census Bureau and the National Geographic Society for cities with more than 100,000 residents.
With a rating of 23 out of 30, San Francisco ranked second on the list. The city scored particularly high in the transportation category, which included factors such as the number of people who either take public transportation or carpool, and air quality.
The magazine also commended a program that installed photovoltaic solar cells on top of the unused 60,000-square-foot roof space of San Francisco's Moscone Convention Center, which provides enough electricity to power the center during events, or 180 homes when the center is closed.
"San Francisco's environmental accomplishments continue to take national center stage, and this ranking reflects our leadership," said Mayor Gavin Newsom.
"With more innovation, and continued expansion of our greening and sustainability efforts, I have no doubt that next year San Francisco will be at the top of the list," he added.
Portland, Ore. ranked first on the list. Other highly ranked Bay Area cities included Oakland, ranked fourth, Berkeley seventh, Sunnyvale 13th, Santa Rosa 23rd, Concord 43rd and Fremont 44th.
In naming its rankings, the magazine asserted that environmentally sustainable practices were being implemented far more successfully on the local level than on the national level.
"In everything from emissions control to environmental stewardship, cities across the country are far ahead of the federal government, and they're achieving their successes with ready-made technology," the magazine wrote.