By John Hoctor
June 11, 2008
History was again in the making for two veterans advocacy groups in San Francisco yesterday after a federal judge admitted into evidence an email exposing U.S. Department of Veteran Affairs' (VA) alleged intent to deny care to veterans returning from Iraq and Afghanistan.
Federal Judge Samuel Conti accepted a March 20 email from Texas-based VA psychologist Norma Perez requiring staffers to downgrade diagnosis of veterans suffering from Post Traumatic Stress Disorder (PTSD).

VA psychologist Norma Perez
"Given that we are having more and more compensation-seeking veterans, I'd like to suggest that you refrain from giving a diagnosis of PTSD straight out," Perez wrote in the email distributed to VA counselors. "We really don't or have time to do the extensive testing that should be done to determine PTSD."
The class-action lawsuit filed by Veterans for Common Sense and Veterans United for Truth in May 2007 seeks declaratory and injunctive relief, and challenges the constitutionality of the Veterans Judicial Review Act.
While the trial for the lawsuit ended in April, Conti took the unusual step last week to reopen the case to consider Perez' email as evidence of alleged VA intent to minimize diagnosis of severe mental disorders to save costs. Conti also allowed as evidence the entire transcript of a June 4 Senate Veterans' Affairs Committee hearing about the email.
Veterans' Attorney Heather Moser requested Conti to admit Perez' email as evidence because it demonstrates the VA is attempting to deny veterans health care for the purpose of avoiding paying billions of dollars in treatment costs.
"Classifying a vet with adjustment disorder instead of PTSD is another way of denying full benefits to our veterans," Moser stated during yesterday's hearing.
"We were told that the budgeting has been increased to accommodate and respect our veterans' service to this country. Time should having nothing to do with providing an accurate diagnosis between Adjustment Disorder and PTSD. There's a major difference in compensation over a lifetime as it relates to pension administration," Moser added.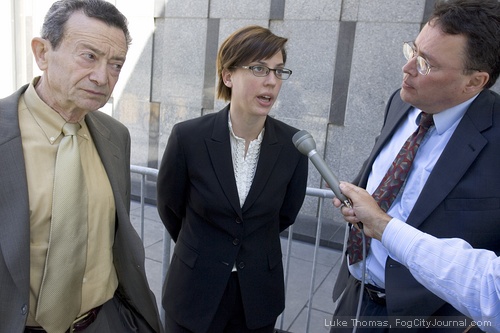 Veterans' Attorneys Heather Moser, Gordon Erspamer and Sid Wolinsky.
The VA was forced to acknowledge veterans are attempting and committing suicide at alarming rates when a RAND Corporation report released in April reported as many as 1,000 veterans committing suicide per month. These numbers of veteran suicides were unheard of before the Iraq and Afghanistan wars, caused in part by a lack of adequate treatment for PTSD, severe depression, and brain traumas.
The veterans groups are suing for immediate medical help for the "invisible wounds" in light of what has been termed "an epidemic of suicides."
Moser further claimed there are parallels between Perez' email and the VA's lapses in providing accurate determinations for mental health and timely adjudication of claims. Sworn testimony by the veterans groups during the April hearing focused on veterans' accounts of being mis-diagnosed and wait-listed for their claims to be reviewed.
But Conti fired back at Moser before a crowded gallery of spectators and lawyers: "Please, counselor, don't waste your time. The next time you present this evidence will be in front of group of three."
Conti was apparently alluding to a potential appeal of his yet-to-be-ruled-upon opinion. He told those attending the half-hour-long hearing yesterday that he would rule in "due time."
His admission of the Perez email as evidence, however, is considered a significant victory for the veterans groups.
Justice Department attorney Daniel Bensing suggested that Perez' email was a "mistake" and didn't represent VA policy. He said Perez had been disciplined over her poorly worded directive by an otherwise dedicated public servant, and was misconstrued by plaintiffs as an attempt to deny benefits.
Bensing made the same case as the Department of Defense in the Abu Ghraib torture incident, that rather than reflecting policy and gross overall institutional incompetence of the Bush administration, Perez is merely one of "a few bad apples."
The email, Bensing claimed, "was an honest mistake by a junior staff member."
"There really is nothing more to this matter," Bensing added. "We submit that it should have no effect on this case."
Lead plaintiffs counsel Gordon Espamer contrasted a vastly different view.
"The Katz 'shhh' memo we entered during the trial in April – the circumvention of the White House' official email accounts onto private ones by (Karl) Rove – and with the release of the Perez memo, there is a clear pattern presenting itself, and has for some time, that of gross negligence and evisceration of government from within," Espamer said.
While the veterans are uncertain of their effectiveness with Conti, they may have found a sympathetic ear from the Democratic side of the campaign trail. Senator Barack Obama has weighed in on Perez' email signaling a challenge to Senator John McCain's perceived strength on veterans' issues.
Obama sent a letter to Veterans Affairs Secretary James Peake in May expressing "serious concerns" over the reports and is demanding an investigation. "Simply put, Ms. Perez's email is outrageous," Obama wrote. "As you well know, PTSD is the most prevalent mental disorder afflicting our returning veterans."
The Senate Veterans' Affairs Committee and the VA inspector general are investigating whether there were broader VA policy motives behind the email. The VA has strenuously denied that cost-cutting is a factor in its treatment decisions.
"One question that was raised repeatedly about this latest email was, 'Why would a clinician be so concerned about the compensation rolls?'" said Sen. Daniel Akaka (D-Hawaii), who chairs the Senate panel. "As an oversight body, we must know whether the actions of these VA employees point to a systemic indifference to invisible wounds."
Akaka said last week's Senate hearing raised many questions about the VA's standards for diagnosing mental health disorders.
While some might consider Perez a "rogue psychologist" for making her "suggestion," are there more like her in the VA system? Akaka asked.
Perez for her part claims her email was "poorly-worded." This calls into question her abilities as a diagnostician, according to Moser and Espamer.
The gravitas of the plaintiffs' entire case, Moser and Espamer told Conti, centers on whether this situation is the VA norm or an exception. The veterans have collectively presented evidence to Conti that begs the question: "Is this going on at VA facilities around the country?"
The plaintiffs are seeking a firm set of fair guidelines for all VA mental health diagnosticians to follow.
Update, June 13:
Citizens for Responsibility and Ethics in Washington (CREW), which posted Perez' email on its website, filed a Freedom of Information Act request in May with the VA for documents pertaining to guidance given about PTSD diagnosis. On June 10, CREW received a response from VA Records Management Services Director John Livornese who denied CREW's request stating, "the subject of your request is a matter that has already reached the public domain and any records on this subject would not reveal anything new."
Correction, July 3:
Fog City Journal incorrectly reported: "The VA was forced to acknowledge veterans are attempting and committing suicide at alarming rates when a RAND Corporation report released in April reported as many as 1,000 veterans committing suicide per month."
The monthly suicides figure was not reported by the Rand Corporation. The estimate was actually reported by the VA on its website in June 2008