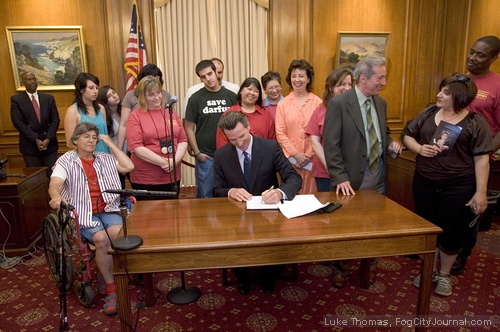 San Francisco Mayor Gavin Newsom today signed legislation authored by Supervisor Tom Ammiano
in support of HR 676, a universal single-payer health care bill authored by Rep. John Conyers
that would expand Medicare coverage to all Americans.
Photos by Luke Thomas
By Jesse Dungan
June 19, 2008
San Francisco Mayor Gavin Newsom signed a resolution this morning in support of legislation that would establish a nationwide universal health insurance program.
HR 676, dubbed the United States National Health Insurance Act, was introduced by U.S. Rep. John Conyers, D-Mich., in 2003. The bill strives to create single-payer health insurance program that would be publicly financed and privately delivered, improving the Medicare program.
Unlike profit-driven health insurance companies that restrict medical services and refuse insurance to patients with pre-existing medical conditions, HR 676 will cover all medically necessary services for all Americans at less cost than private insurance without sacrificing quality of care, or choice of health care providers.
Fourty-eight million Americans do not have health insurance, and over 50 million are under-insured. The United States is the only industrialized nation that does not provide universal health care to its citizens.
Supervisor Tom Ammiano, who authored the resolution that urges the U.S. House of Representatives to begin hearings on HR 676, said at today's event, "The American people have been squeezed."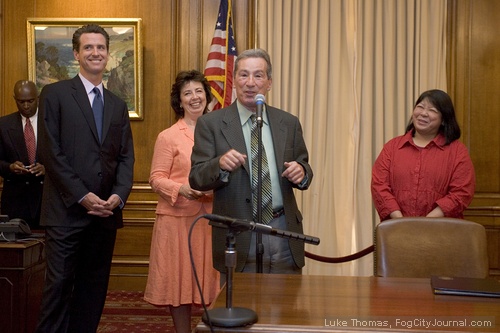 Supervisor Tom Ammiano
Rose Ann DeMoro, executive director of the California Nurses Association, attended the news conference along with several members of the CNA.
"The nurses are leading this movement across the country," she said.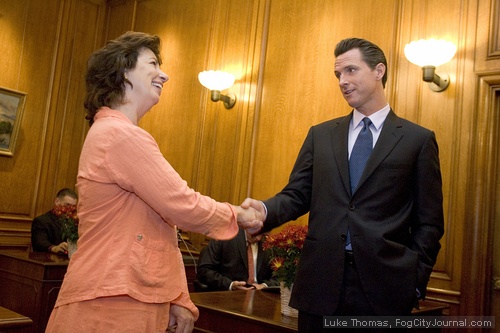 California Nurses Association Executive Director Ann DeMoro.
CNA representatives, families of those who have lost loved ones who were without health insurance and others were scheduled to protest America's Health Insurance Plans (AHIP) annual convention in San Francisco today and advocate single-payer health care programs.
The protest is one of many nationwide, according to the CNA.
Luke Thomas contributed to this report.
More Info
Newsom and Ammiano discuss potential impact of HR 676 passage on SF Health Access Plan and SB 840.