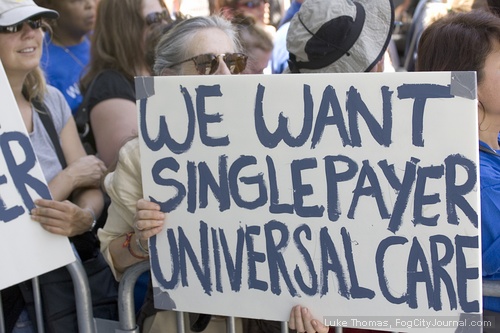 Photos by Luke Thomas and John Han
By John Han
June 20, 2008
As many as 2,000 protesters, including health care activists, union members, and elected officials, rallied in San Francisco Thursday to protest profit-driven health insurance and to advocate for publicly funded state and national single-payer health care systems.
While waving picket signs, protesters chanted slogans directed at attendees of America's Health Insurance Plans (AHIP) annual convention – a Washington D.C based national association comprising 1,300 health insurance companies – which began its two-day conference Wednesday at the Moscone Center.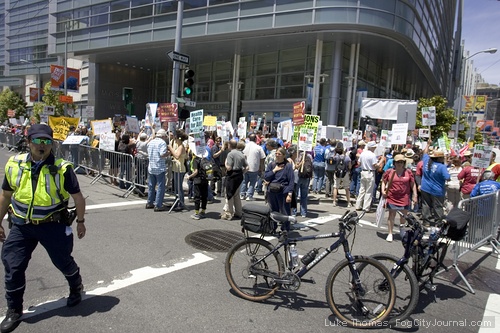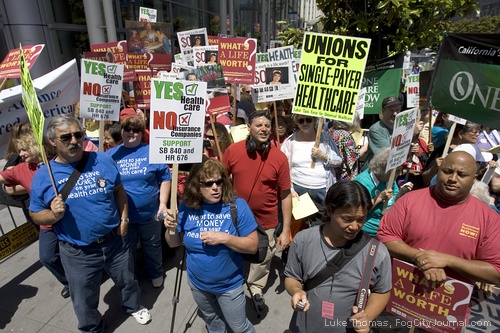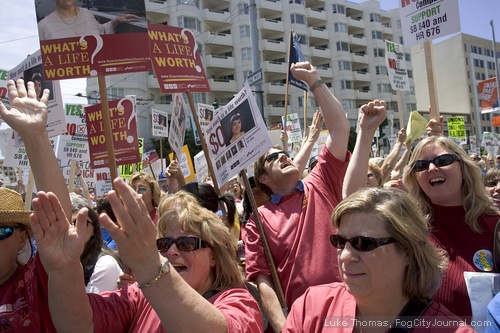 Protesters focused on advocating for two pieces of legislation. Senate Bill 840, authored by Senator Sheila Kuehl, would create a single-payer system in California. HR 676, introduced by U.S. Rep. John Conyers (D-Mich) strives to create a national single-payer health insurance program that would be publicly financed and privately delivered.
Kuehl said the insurance industry is "tearing our system apart."
"Universal health care doesn't mean some of us," Kuehl said. "It doesn't even mean most of us, and it certainly doesn't mean some of the time. It means a benefits package that gives you access to a plan when you need it, and it means you can afford it."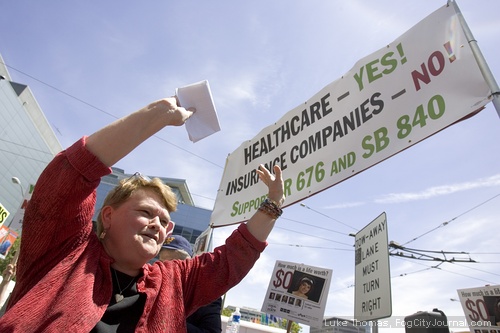 California State Senator Sheila Kuehl
According to Kuehl, insurance premiums have skyrocketed 80 percent since 2002, resulting in cuts in reimbursements to doctors, elimination of benefits, and cancellation of patient policies.
SB 840 would provide access to health care for all Californians, Kuehl said, as well as contain medical costs, improve quality of care and guarantee choice of health care providers.
AHIP spokesperson Robert Zirkelbach said Kuehl's bill would bankrupt the state. He said the rising costs of insurance premiums simply reflect rising costs in health care services, such as pharmaceuticals, technology and treatments. He said the way to the way to make premiums affordable is to go after the cost drivers.
"What we really need in this country is a system of comparative effectiveness to really evaluate drugs, devices, and treatments – not only in what works, but in what works best," Zirkelbach said. "And we need to put that information into the hands of consumers and providers to make sure that they're getting the right healthcare, at the right time, at the right place."
But critics contend profit-driven health care insurance leaves life and death decisions of providing health care up to claims adjusters, not doctors.
Hilda Sarkisyan's 17-year old daughter, Nataline, died after CIGNA delayed her liver transplant.
"Our insurance carrier denied her coverage," Sarkisyan said while holding back tears. "The worst thing in life is when you lose a beautiful child. My daughter wanted to go to culinary arts school. Do you think she made it? No, they never gave her a chance to live."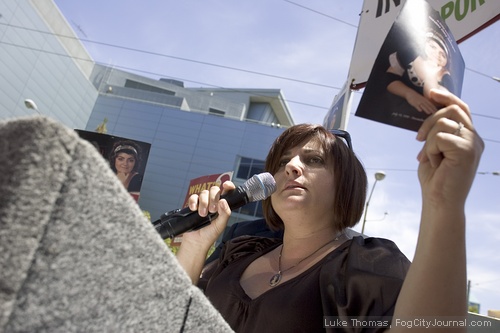 Hilda Sarkisyan
Cynthia Campbell, a nurse for 30 years, said stage four cancer is why Blue Shield would not renew her policy.
"I am just dismayed at what's happened to our health care system," Campbell said. ""The health insurance companies are sucking the life-blood out of our health care system. They didn't create it and they don't support it. They'll cancel you if you have a serious illness."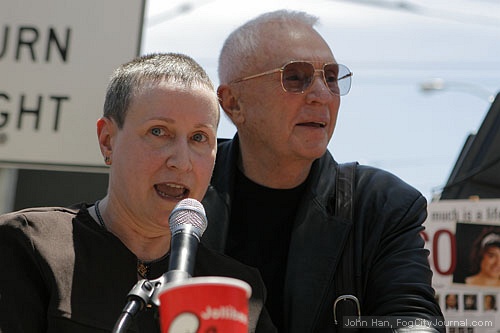 Cynthia and Allen Campbell
Los Angeles City Attorney Rocky Delgadillo, who attended the rally, said he is involved in legal efforts to crack down on what he considers to be unlawful and fraudulent practices in the insurance industry.
"For too long health insurers have been able to illegally cancel or rescind health insurance coverage after one of their policy holders gets sick and files a claim," Delgadillo said.
"Instead of paying sick policy holders' claims, and instead of paying doctors money they're owed, health insurers are engaging in after-the-fact underwriting, culling through records and applications to find an excuse, no matter how irrelevant, to cancel the person's health care at a time when they need it the most," Delgadillo added.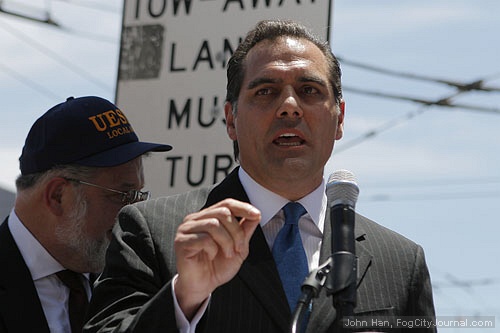 Los Angeles City Attorney Rocky Delgadillo
Tim Paulson, executive director of the San Francisco Labor Council, said, "We are going to continue the fight. The labor movement is going to continue the fight."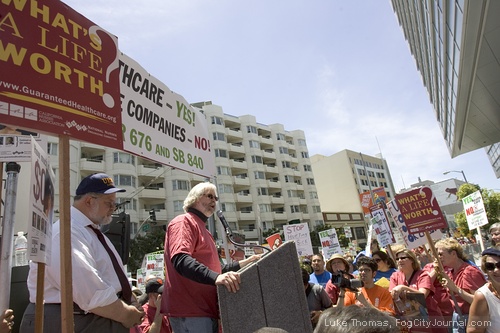 San Francisco Labor Council Executive Director Tim Paulson
Following the rally, protesters slowly marched along Fourth St. to lay flowers upon a memorial dedicated to patients who died as a result of being denied health care coverage.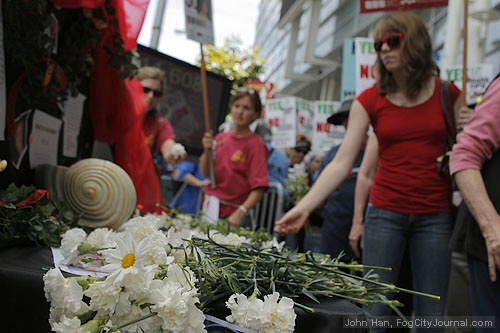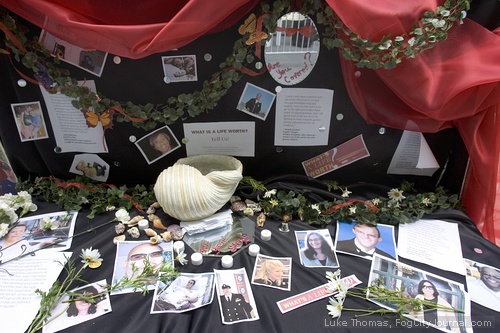 Thursday's rally was one of more than a dozen held in cities across the country.
Earlier in the day, San Francisco Mayor Gavin Newsom signed a resolution authored by Supervisor Tom Ammiano that endorses Conyers' HR 676 bill. The resolution urges the U.S. House of Representatives to begin immediate hearings on Conyer's legislation.