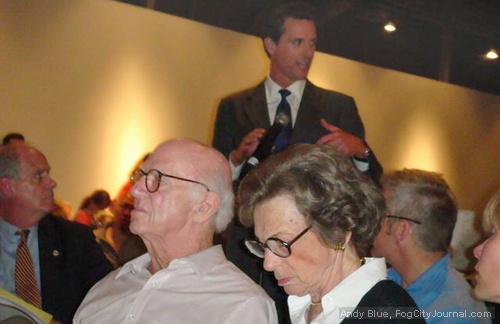 A proposal to build a museum in the historic Presidio
to house Gap founder Don Fisher's contemporary art collection
received overwhelming opposition during a public meeting Monday.
Photos by Andy Blue, special to Fog City Journal
By Andy Blue, special to Fog City Journal
July 15, 2008
The Presidio Trust held a public hearing Monday to discuss a proposal that would place a 100,000 square-foot art museum, a new hotel, and a movie theater complex in the Main Post area of the Presidio National Park.
The 500-seat venue for the hearing was filled to capacity with hundreds more denied entrance by order of the Fire Marshall.
The controversy centers mostly on the Contemporary Art Museum of the Presidio (CAMP) to be built by Gap Founder Donald Fisher and wife Doris. It would house their private billion-dollar contemporary art collection. Dozens of environmental, neighborhood, and historic preservation groups are opposed to some or all aspects of the proposal.
The National Park Service said in a letter issued April 14 that the "projects as proposed in the current undertaking are not consistent with the Secretary of the Interior's standards, nor are they in keeping with the Trust's own planning guidelines and cultural landscape analysis for the Main Post."
Though several supporters of the proposal were on hand to provide public comment –including Superintendent of Schools Carlos Garcia and Mayor Gavin Newsom – the majority of attendees expressed opposition to the proposal.
Mayor Newsom was essentially booed out of the room after his speech. This was particularly stunning as the Presidio Main Post borders the stronghold neighborhoods of his base of supporters and is, for all practical purposes, part of his former supervisoral district.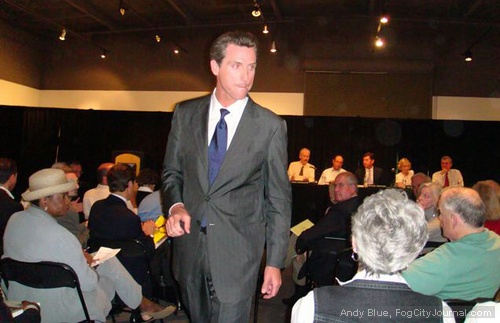 Mayor Gavin Newsom
It was fascinating to see San Francisco Democratic County Central Committee (DCCC) member Jane Morrison provide testimony immediately following Newsom who contrasted a vastly different message than members of the Presidio Trust. The DCCC passed a resolution submitted by Morrison and long-standing Richmond District Democratic Club member Susan Hall that called for banning the museum from anywhere inside the national park. It seems Newsom was out of step with the mainstream of his local party in supporting a pet project of a billionaire Republican.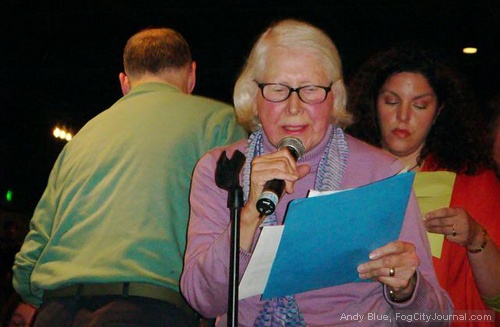 Jane Morrison
Several supporters of the museum claimed it would be a "gift" to our children who would be inspired by the art. I used my two minutes of public comment to address that very issue.
As a San Francisco elementary school teacher for several years, I know first-hand the power of art to teach, motivate, and inspire children. I recognize fully the necessity of the arts in our schools and in our society. I regularly brought my students to art museums and made art an integral and daily part of my teaching. But I believe if we were to allow this museum to be placed on public land in a national park, we would have much to answer to our children.
Most of the folks who denounced the plan at the hearing nonetheless recognized the "generosity" of the Fisher family and welcomed the proposed museum somewhere in the city or elsewhere in the park, just not in the historical heart of the Presidio.
But I don't think the "gift" the Fishers are offering is one we should accept on public land.
The history of the Gap Corporation and the massive fortune that it has built for the Fisher family is a troubled one, marked by union busting and sweatshop abuses. Until sued in federal court, Donald Fisher's company showed no signs of "generosity" to the women essentially enslaved in their Saipan sweatshops. And despite the Gap's well-publicized efforts to clean up sweatshop abuses in their chain of production, in October a reporter for the British newspaper, the Observer, found factories in India where unpaid child laborers were making Gap products. Children as young as ten years old were reportedly beaten and forced to work 16-hour days to sew clothing sold in Gap stores.
If you purchased a garment at the Gap for a gift last holiday season, there's a chance it was made by bonded child labor.
"World class" art collection aside, as a teacher or parent, I wouldn't want to have to explain to children where Donald Fisher's museum came from and why he got the privilege of building it in our public park.
But the fundamental problem here is really the very existence of the Presidio Trust itself. Thanks to Nancy Pelosi's 1996 legislation creating the Presidio Trust, San Francisco's urban national park is currently being run by an all-white, George Bush-appointed board consisting of bankers and real-estate developers. All of whom, incidentally, are on a first-name basis with Donald Fisher, a former president of the Trust.
Parks shouldn't be covered with parking garages, office buildings, shopping centers, or multiplex theaters in order to make them profitable. National parks should be paid for and maintained by the resources of the national government. If you agree with me, I suggest you contact Speaker Pelosi and tell her you don't want our public parks privatized. All she has to do is stop funding our immoral, illegal, and futile occupation in Iraq and we'll have plenty of money for our parks.
No longer will we have to bend to the selfish wishes of Donald Fisher, George Lucas, or any other handful of rich folks determined to have their way with our public resources.