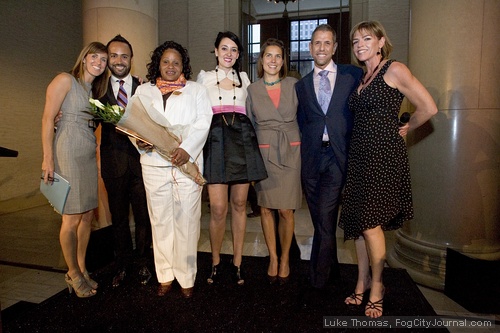 Event Co-Chair Shannon Dean, Project Runway alum Nick Verreos, Delicia Cunningham,
Amber Marie Bently, Emily Newhouse, and Event Co-Chairs Andrew Freeman and Beth Schnitzer
at the 3rd annual Dress For Success Gala held July 17 at the Bently Reserve in San Francisco.
Photos by Luke Thomas
July 22, 1008
Dressed to Kill.  As many as 350 upwardly mobile San Franciscans attended the 3rd Annual Dress For Success Gala fundraiser held Friday at the Bently Reserve in San Francisco.
One of the fastest-growing affiliates in the country, DFS San Francisco raises funds to "promote the economic independence of disadvantaged women by providing professional attire, a network of support, and the career development tools to help women thrive in work and in life," according to DFS' mission statement.
Honorary Co-Chair Amber Marie Bently and her husband, Chris Bently, offered the use of the Bently Reserve for the gala event that included live and silent auctions, free booze and food, and a performance by jazz singer Paula West.
West opened the event and designer Nick Verreos from Bravo's Project Runway Season 2 entertained the crowd with auctioneer Emily Newhouse.
DFS client Delicia Cunningham, who shared her story about how the philanthropic organization helped her turn her life around and find employment after a period of chemical dependency, drew the evening's most enthusiastic applause.
"Dress For Success also put me in a support group called the Professional Womens Group," Cunningham said.  "Let me tell you, we do the group in the Kimpton Hotel in the corporate room. Everything was so fancy and so nice, I felt so worthy and so deserving, that now I'm looking for bigger and better things. And I owe it all to the people at Dress For Success."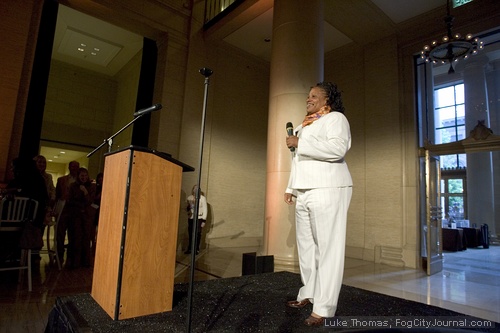 Dress For Success client Delicia Cunningham.
The event featured free tastings by various local chefs, including Elizabeth Faulker of Orson and Citizen Cake, Jamie Jauren and Pastry Chef Irene Contreras of Absinthe Brasserie & Bar, and Robert Helstrom of Kuleto's Italian Restaurant.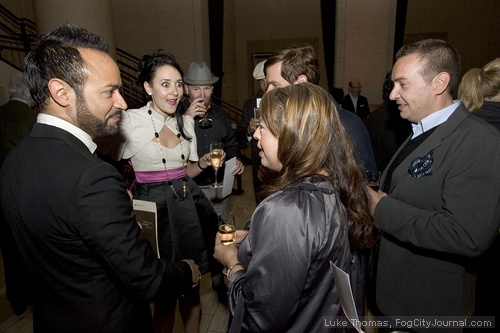 Nick Verreos, Amber Marie Bently, and Chris Bently.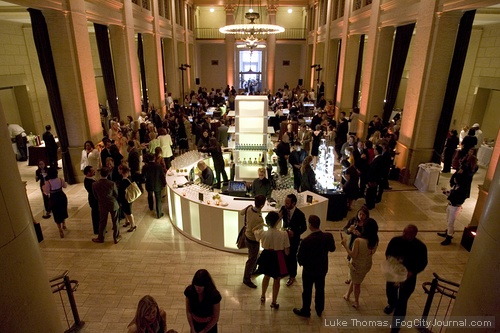 Atmosphere at the Bently Reserve.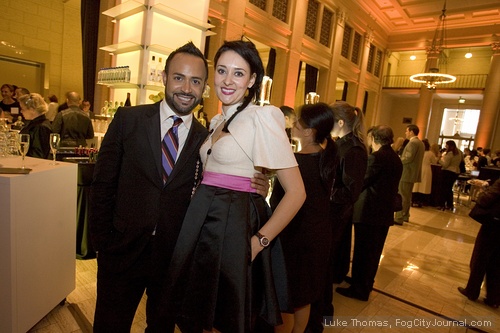 Nick Verreos and Amber Marie Bently, in one of Verreos' designs.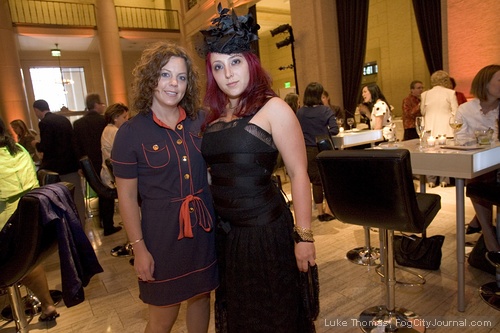 Danielle Schubert of Mill Valley Hat Box (right) with Sarah Baker.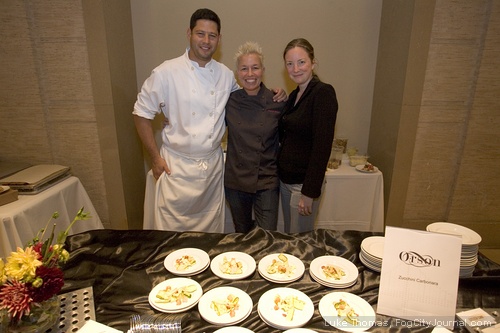 Chef Elizabeth Faulkner (center) of Orson.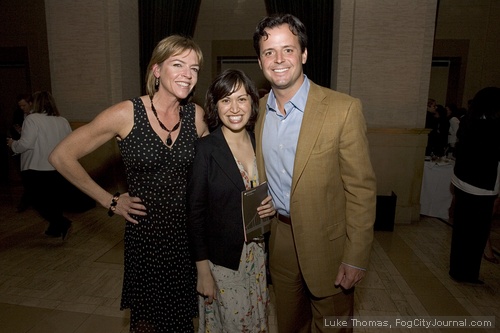 Event Co-Chair Beth Schnitzer, Elaine Santore,
and candidate for District 3 Supervisor Joe Alioto Jr.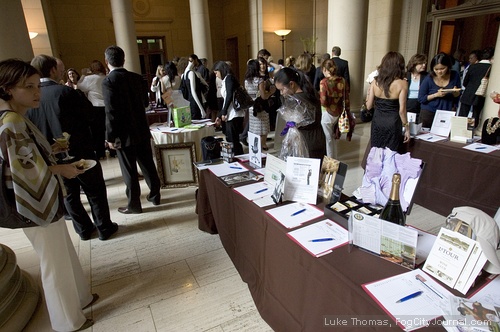 Silent auction.

Yummy chocolate covered strawberries.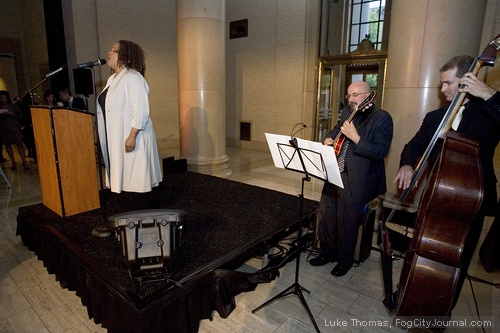 Jazz singer Paula West.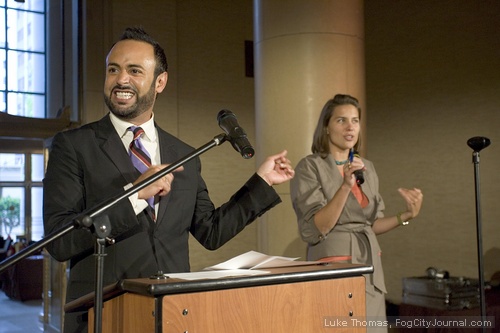 Nick Verreos and auctioneer Emily Newhouse.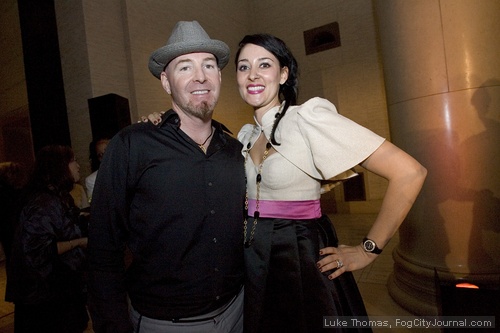 Chris and Amber Marie Bently.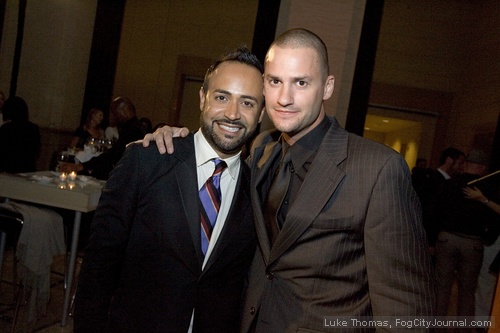 Nick Verreos and DJ Everett.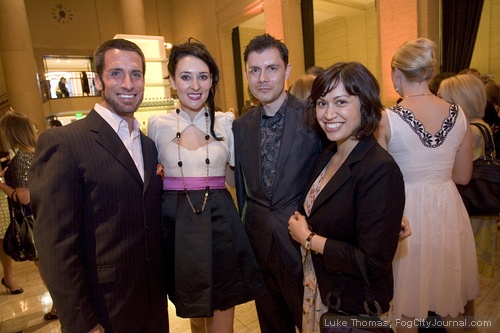 Craig Lipton, Amber Marie Bently, SFLuxe Editor Damion Matthews,
and Elaine Santore.
FCJ Event Videos
Jazz singer Paula West performs "Waters of March" by Antonio Carlos Jobim.