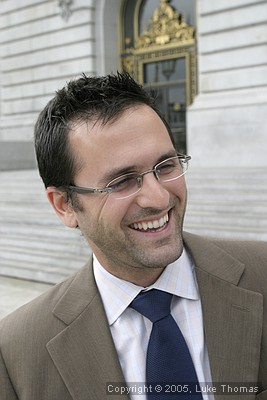 A 2005 copyrighted photo of District 11 candidate Ahsha Safai,
used without permission in a recent campaign mailer funded by the SFPOA,
is raising questions about a potential violation
of campaign finance and ethics rules.
Photos by Luke Thomas
By Luke Thomas
October 14, 2008
A smear campaign mailer distributed to registered voters in District 11 by the San Francisco Police Officers Association (POA) is raising questions about a potential violation of campaign finance rules.
The issue inadvertently came to Fog City Journal's attention when we noticed a copyrighted photo of District 11 candidate Ahsha Safai being used without our permission in a recent POA campaign mailer targeting fellow candidate John Avalos.

POA campaign mailer.
When we telephoned POA Chief Gary Delagnes to ask him why he used a copyrighted photo without permission, and to negotiate compensation for the use of the photo, Delagnes said he obtained the photo from Safai and refused to pay for the photo's use, suggesting we take the POA to "small claims court."
"I got the photo from Ahsha Safai," Delagnes said. "He must have got it off the internet."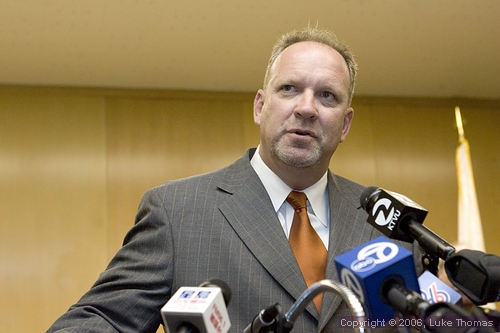 POA President Gary Delagnes
Campaign finance rules and reforms governing contributions and independent expenditures prohibit coordination between an independent expenditure and a candidate. If the rules are violated, expenditures are considered campaign contributions subject to contribution limits.
Delagnes said the POA campaign mailer cost $15,000 to produce and disseminate.
Section 1.115 of the Campaign and Government Conduct Code states in part:
An expenditure is not considered independent and shall be treated as a contribution from the person making the expenditure to the candidate on whose behalf, or for whose benefit the expenditure is made, if the expenditure funds a communication that expressly advocates the nomination, election or defeat of a clearly identified candidate and is made under the following circumstance:

(1) the expenditure is made at the request, suggestion, or direction of, or in cooperation, consultation, concert or coordination with, the candidate on whose behalf , or for whose benefit, the expenditure is made; or

(2) the communication funded by the expenditure is created, produced or disseminated:

(A) after the candidate has made or participated in making any decision regarding the content, timing, location, mode, intended audience, volume of distribution, or frequency of placement of the communication; or

(B) after discussion between the creator, producer or distributor of a communication, or the person paying for that communication, and the candidate or committee regarding the content, timing, location, mode, intended audience, volume of distribution or frequency of placement of that communication, the result of which is agreement on any of these topics.
For his part, Safai denied supplying Delagnes with the photo. He said the only time he met with Delagnes was during a meeting with the POA to consider its candidate endorsements. The POA subsequently endorsed Safai.
"The law is very, very clear," Safai said in a voice message. "I can't have any control or influence or communication with any of the organizations that do that stuff. They probably got that picture off the internet."
"I was just as surprised as you were when I saw it, eventually, much to my chagrin," Safai added. "It's not my message and it has nothing to do with my campaign."