By Luke Thomas
November 13, 2008
Two members of the antiwar group CodePink were arrested today after a second attempt to execute a citizens' arrest of former Bush administration chief of staff, Karl Rove, failed.
The incident took place during a debate between former Senator John Edwards and Rove who were guest speakers at the Commercial Finance Association's annual convention held at the Marriott Hotel in San Francisco.
While handcuffed to each other and blowing whistles, CodePink members Janine Boneparth, 58, and Nancy Mancias, 38, walked on stage holding up photos of dead soldiers killed in Iraq.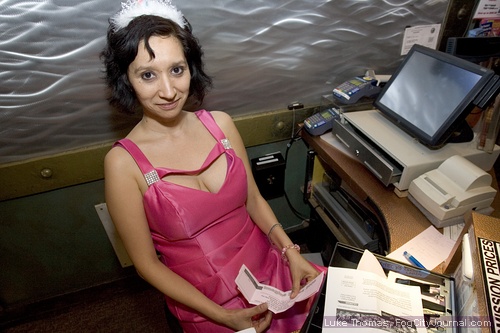 Nancy Mancias
File photo by Luke Thomas
"Ladies and gentlemen, Karl Rove is a war criminal!" they said.
The peace activists were escorted off stage, arrested, and later charged with trespassing – despite being registered guests of the hotel.
CodePink has vowed to continue "birddogging" Rove. In October, the activist group, brandishing handcuffs, attempted its first citizens' arrest of Rove during the annual convention of the Mortgage Bankers Association.
"We are demanding accountability from Karl Rove who lied to get us into the war and outed C.I.A. agent Valerie Plame," CodePink co-founder Medea Benjamin said. "If law enforcement and Congress won't do it, we the American people will!"