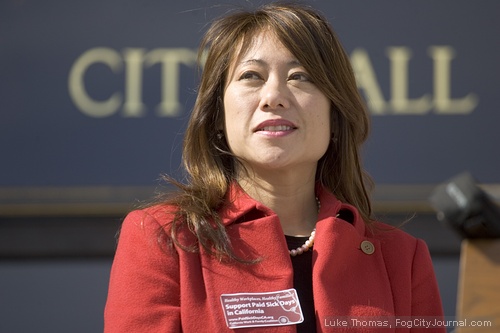 Assemblymember Fiona Ma
Photo by Luke Thomas
By Ashley Wright
February 27, 2008
Assemblywoman Fiona Ma announced legislation on the steps of San Francisco City Hall today that would guarantee all California workers paid sick days to stay home and take care of themselves and their families.
Assembly Bill 2716, sponsored by Ma, D-San Francisco, and co-sponsored by the California Labor Federation and the Association of Community Organizations for Reform Now, was modeled after a San Francisco law put into effect about a year ago.
If passed, the Healthy Families, Health Workplaces Act of 2008 would allow workers paid sick days to care for themselves or family members or to recover from domestic violence or sexual assault. The law would make California the first state in the country that guarantees paid sick days, according to Ma.
"Nobody wins when people have to go to work sick," Ma said today. "This is just the right thing to do."
If the bill passes, workers would earn no less than one hour of paid sick leave for every 30 hours worked and would not be discriminated against for requesting sick leave. A limit of nine paid sick days per year could be enforced by most employers, and small businesses with a maximum of 10 workers would be allowed to limit employees' paid sick days to five per year.
Ma said the legislation would address the estimated 6 million workers who don't receive paid sick days. Voters would likely support such a law, according to sponsors, who cited a University of California, Los Angeles poll that shows 88 percent of California adults surveyed "agreed or agreed strongly that there should be a law guaranteeing paid sick days for all California workers."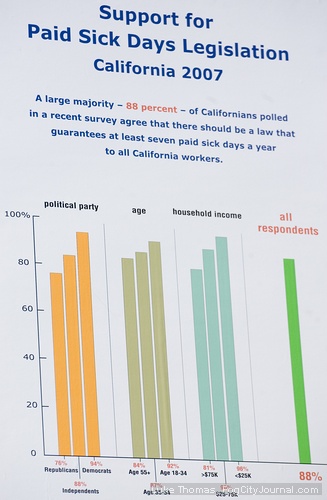 Art Pulaski of the California Labor Federation said workers are being asked to choose between their health, the health of their families and their jobs, a no-win situation for everyone.
"No worker should have to choose between losing a day's wages or maybe even their job to stay home to take care of themselves or their children," Pulaski said.
Pulaski also pointed out that the workers without sick days spread illness to other employees and can infect customers in the restaurant, child care and retail industries.
"This is so crucial to protecting the health of all Californians," Pulaski said.
"One person, on average, can infect one to five people," San Francisco Department of Public Health Director Mitch Katz said. "From a public health point of view, people who are sick need to stay home."
San Francisco Supervisor Gerardo Sandoval also offered support for the bill today.
"I am so proud that San Francisco has led the way and shown what we can do," Sandoval said of the city's paid sick days law. "San Francisco has shown that it works and that it makes sense."
State governments in Maine, Massachusetts, Ohio and Washington, D.C., are also considering paid sick leave legislation, according to Ma's office.