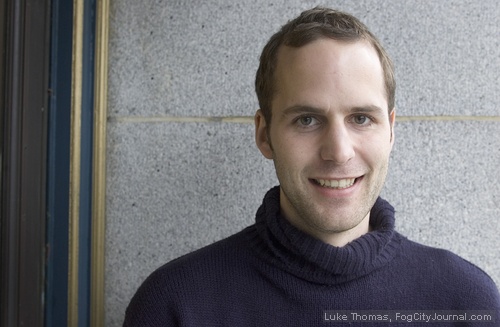 Nicholas Olczak
Photos by Luke Thomas
By Nicholas Olczak
February 27, 2008

One small step, one giant leap….
An atmosphere often hangs over the legislative chambers at the start of the Board of Supervisors meetings, telling you what kind of day it's likely to be. Two weeks ago, the room felt charged, ready for a dramatic showdown over PUC appointments. The public gallery was packed with people. The supervisors sat alert, ready for action, as the meeting leapt underway like the start of hundred-meter sprint.
This week's meeting wasn't like that. The whole room seemed slower, duller, and the proceedings looked likely to be routine. SF Weekly's excellent Snitch commented, "most of the agenda items before the Board of Supervisors are so old they can tell you about Woodstock."
Yet the different items that were debated, routine enough in themselves, gained surprise drama by taking on additional symbolic value – raising questions about the nature of the Board of Supervisors as an institution.
Supervisors urge Mayor to reinstate park recreation directors
The Board passed a resolution urging Mayor Gavin Newsom to reinstate vacant recreational director positions to oversee activities in city parks.
Employing a maximum of 16 new directors for the fiscal year's remaining 4 months, and costing only $400,000, the resolution appeared relatively unremarkable.
However it became symbolic of a willingness amongst supervisors to struggle with the Mayor for authority on budget issues.
"This is a useful tool for the Board to send a message to the executive branch of government," said Supervisor Chris Daly, who seconded the motion. "The Mayor of San Francisco is pushing the limits on his chartered, delineated authority with regards to spending."
Arguing for the resolution, Daly said the Board of Supervisors should begin to "dream" of a time when the Mayor would respect the Supervisors' responsibility "as delineated in the charter."
Supervisor Gerardo Sandoval rose to support Daly, claiming the Board of Supervisors "needs to stand up and be counted."
"You've got eleven people, elected city-wide by thousands of voters to set priorities like this, and we actually have no authority. The mayor is unilaterally imposing budget cuts," Sandoval said.
Sandoval urged the supervisors to seek "an instance, a mechanism, a place, where [they] can weigh in."
Debate over new wheelchair ramp for legislative chamber
Item 36 on the agenda was a hearing on the appropriateness of construction of a new wheelchair ramp in the legislative chamber, improving access to the board president and clerk's desk for persons with disabilities.
The motion appeared equally straightforward. The Planning Department's Sophie Middlebrook stressed that both the Landmarks Preservation Advisory Board and the Planning Commission, had unanimously passed the motion.
However, attention was caught when the cost of the project was announced – an estimated $975,000, not including the cost of relocating the Board meetings for five months during the ramp's construction.
"We've [had] four years like this," said Supervisor Jake McGoldrick. "Why do we need to spend a million dollars and shut the house down for five months when it appears to me we've been functioning very well?"
Supervisor Michaela Alioto-Pier, who uses a self-powered wheelchair, disputed this functionality, highlighting the difficulties the current ramp presented to wheelchair users.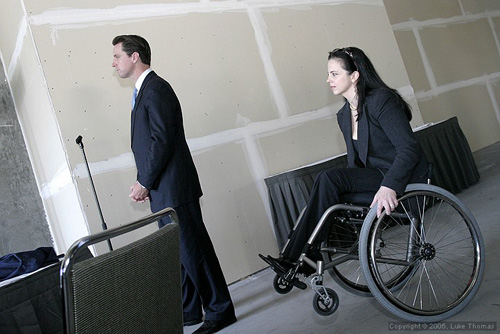 Supervisor Michela Alioto-Pier with Mayor Gavin Newsom.
"That ramp is absolutely not wheelchair accessible," Alioto-Pier said.
Again debate over a single item developed into something more symbolic – questioning the value the City places on providing all with an equal opportunity to hold a position in Government.
"I deserve to have equal access to this chamber, as does everybody else sitting in this room," said Alioto-Pier. "When I look at [the ramp], it is a symbol of discrimination," adding, "and it is that symbol that in my opinion is worth the million dollars to change."
Supervisor Tom Ammiano stood in support of ADA compliance.
"There is an internal change and attitude that has to happen," Ammiano said. He suggested that in Government there exists "an institutionalized attitude that we have towards people who are incapacitated or disabled."
"Its time for a change and it looks like the Board is really going to have to face that change. Whatever we have to do, we're going to have to do it," Ammiano said.
The motion has been continued, to be voted upon when Supervisor Bevan Dufty, who is visiting Sydney on Board business, returns to San Francisco.