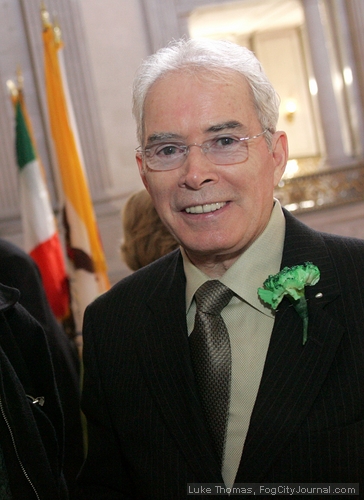 Tony Guilfoyle, RIP
Photos by Luke Thomas
By Dee Kennedy
December 12, 2008
On Thanksgiving night past, a rare gem with diamond sparkling eyes said his final goodbyes to his beautiful family and close friends and embraced death with no fear and with a smile and an open heart.
He knew he was ready. Clearly he heard the call for the next chapter of his soul's adventure, and like the warrior he was in life, he exercised his nobility, integrity and beauty in his final moments.
We all mourned his passing while celebrating the life of one of Ireland's most exquisite exports – Anthony "Tony" Guilfoyle.
I had the pleasure of being a close friend of Tony's since 2001, a year after I emigrated to San Francisco from Ireland, at the age of 20. Tony would come into the little diner I worked in, Herbs, in Noe Valley, almost every morning.
As all Irish do when we recognize the old accent, there is an immediate connection.
'Ah, you're Irish!' he said.
"I am indeed," says I.
'Where are ya from?'
"Kilkenny, and you?"
'Ennis, County Clare,' says he.
"Great. How long have you been over here?" says I.
'Oh God girl, I've been here a long time, came here when I was 20.'
"Same as meself."
And so the conversation flowed like a river, uncovering incredible similarities and synchronicities. My own Father, Joe Kennedy, had moved here when he was 20 and enlisted in the US Army and served four-years in Germany. Tony had enlisted in the US Army and also served four-years in Germany. Like my Father, Tony adored America and was drawn here, loving all the myriad of opportunities it brought to him.
"I was in Heaven!" he once told me, about coming to the richly diverse and vibrant San Francisco, coming from such dire economic depression and poverty in Ireland.
As we delved further into our conversation, he was amazed at what had drawn me to the US, to follow my dream as a performer, musician and writer. He assured me I would "make it."
"You have the same fire in your eyes as my daughter," he said.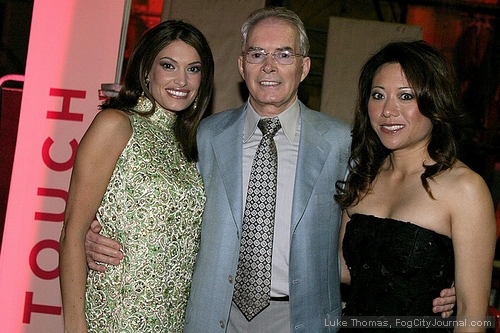 Tony Guilfoyle with daughter Kimberly Guilfoyle and Assemblymember Fiona Ma
at a fundraiser benefit, 8/25/05.
From that day on, Tony and I became very close friends. It was months before he revealed to me who in fact his daughter was and the breadth of his work in San Francisco. He was content spending time in Herbs when it was quiet, sometimes for hours, listening to my stories and telling me about his – about his childhood as a blacksmith, about his parents and his Aunt in America, about his love for singing and how he, too, had the choice to head to L.A. as a young man to pursue a singing career.
Stories about his days in the army and his meteoric rise to Sergeant, having Elvis in his battalion and how special it was to know the King of Rock 'n' Roll as a soldier; and all about the Irish in America in the 60s and 70s. He and I would recite our favorite poems, and he loved my own poetry, which I would read to him regularly.
Tony's daughter, Kimberly, said it best at Tony's service… that when you were talking to him, nothing else in the world mattered. Tony would listen so intently, so carefully, pouncing on any comment that he would need to delve into, and taking notes if it was something he felt he could help you with, or had a connection for.
I would tell him, "Tony, you're like the head of the Murphia," and he would laugh his head off.
When the Chronicle wrote his obituary, they called him "the Godfather of San Francisco," so I wasn't that far off!
He was extremely present, a practice that most people cannot adhere to. Tony loved San Francisco, loved and honored being Irish, and loved life with such passion. He talked about his struggles as a young widowed man and how he knew that, no matter what, his children would get the best opportunities and education in life…and they did.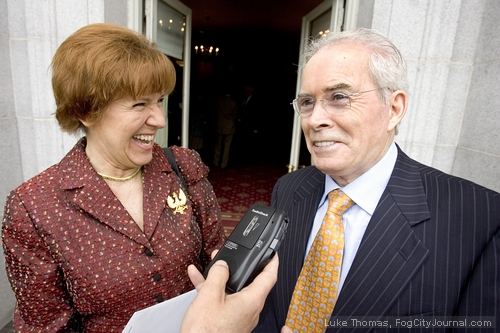 Tony Guilfoyle with SF Polish Arts Culture Foundation President Caria Tomczykowska.
What a role model Tony was for any man who had the misfortune in life of losing his dear wife and the mother of his children.
After I left Herbs in 2004, our relationship seemed to strengthen even more as I went full on into pursuing my career. Tony made sure to check in with me regularly and when we would have dinner, time would stop. His excellent taste in wine always proved for a decadent meal, and many times we would have the wait-staff twiddling their thumbs in the anticipation that that table over there would finally leave! Who has dinner for 6 hours? Irish people transported to another world, that's who!
He would love, more than anything, when I would passionately talk about my knowledge of spirituality, of Ireland's Druid past and its relevance today. Tony was a very spiritual man and loved the mystical and magical side of our existence. He had a love for science, technology, negotiation, and serving the underdog. On every occasion, he would quiz me about my business affairs and give me advice about the people around me – who he sometimes felt, intuitively, were not true and trustworthy. He proved right many times, and saved me from the demise of my naïveté and trust in everyone I worked with, helping to sculpt me into a better and sharper woman.
"For the People!" was his mantra.
"Don't you bloody-well forget that the only reason you should want to be successful is for the People," he would say. "If it's not for the people, then you're being selfish and it won't work."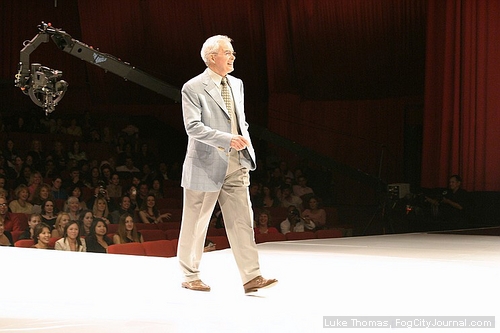 Doing it for the people, Tony Guilfoyle hits the catwalk at a 2005 fashion benefit
to raise funds for underserved women and children.
He would come to my performances, take notes, give me his honest opinion and praise, and would tell the servers at our dinners, "Remember this girl's face. She's gonna be the next big thing and you can say you met her and she's as humble as ever."
Another great piece of advice: "If you're ever in doubt about a decision, think of your Mam and Dad, and if your conscience thinks your action may upset them, then that's your perfect gauge. Always think of those two beautiful people."
In 2005, my Dad was on holiday to visit my brother Joe and myself. Tony invited us to Jack Falstaff restaurant and one of the first things said at the table was, "So, do you know where the name Jack Falstafff comes from?"
"Isn't it Shakespeare?" answered my Dad. Tony's face lit up. "Oh, I'm in great company," he said.
We talked about the true meaning of happiness, about politics and the world's economics, about poetry and intensely about Ireland. Tony and Dad shared their stories about the Army and their travels in Germany and the characters they encountered. Both of them were educated by the Christian Brothers and were very proud of that.
When my Dad went to use the restroom, Tony said, "Now I understand where you get it from, that man is incredible, darling. If I ruled the World, he would be my Chief of Staff."
When Tony went to the restroom, my Dad said, "My mind is at ease knowing that you have a noble man like Tony in your life. You're a very lucky girl."
And a lucky girl I am, to have had so many magical moments with a true warrior like Tony Guilfoyle, to have had such a spiritual connection with him and now to have an angel to call on when I need him.
From his late nights at City Hall, to his love for fashion, music and the arts, to his dedication to his family and to his true love for the People, Tony Guilfoyle was one of the rarest gems to grace the face of politics, San Francisco, and the Irish Community.
One of his best friends, Mel Murphy, gave a beautiful account of his relationship with Tony over the course of their 30-year friendship at Tony's service. He said he's sure that Tony probably gave St. Peter hell when he arrived at the pearly gates!
"Ya know, those gates could do with a lick of paint. Hang on there now, there's a few Irish boys in there I can round up, and we'll have it done for ya in a few minutes!"
'Tis so true, no matter what, there was always humor, laughter and light always around Tony! His heroic battle with cancer showed the nature of his Warrior spirit. He searched high and low for every answer, every treatment and every intervention. When we would meditate over the phone, my room where I would sit would always fill up with light and Tony always would feel the energy of his angels and guides helping and aiding him at every moment.
May we all follow in his footsteps, putting each other first.
May we all connect with our spirit and love intensely our moments and experiences that we've been blessed with.
May we all love our families and our children and strive to fight injustice in our communities, both locally and globally.
May we all make "For the People" our daily mantra, in all that we do.
And surely, we will impact the world the way that Tony did, with beauty and ease.
My sincerest love, blessings, and prayers go to Tony's daughter, Kimberly, son Anthony John, grandson Ronan, and all his family at this time.
But as Kimberly said so eloquently at his service, "We may have lost a treasure here, but we've certainly gained an angel."
I wrote this little poem for Tony when I learned of his crossing over:
"For the People"
 Warrior spirit,
Eyes of the hawk,
You bridged oceans of destiny
With your powerful talk.
 Shone light where there was darkness
Passion where there was fear,
You never ceased to Fight
'For the People', my dear.
 In times long past
You would have been the High King,
For fairly you would rule
As Softly did you sing.
 You loved true and deeply
Your heart never cold,
Your wisdom created leaders,
Your blood created gold.
 Oh, silver haired beauty,
As wise as the owl,
We hear your voice on the wind
'For the people' you howl.
 For now the people have gained
A great leader up above,
May you shine on forever
Oh, angel of love.
Dee Kennedy is an actress, artist, published poet and writer, lead singer and manager of San Francisco based rock group, think13. She is Executive Director and Co-Founder of Youth Performance Educational Non- Profit Organization, VAGABOOM!, which supplies low-cost and free arts education to under-served Youth. Dee is also a 2nd Degree Celtic High Priestess and a Reiki healer. For more info about Dee, visit www.think13live.com and www.vagaboom.org.

Dee Kennedy