COURT JESTERINGS
With h brown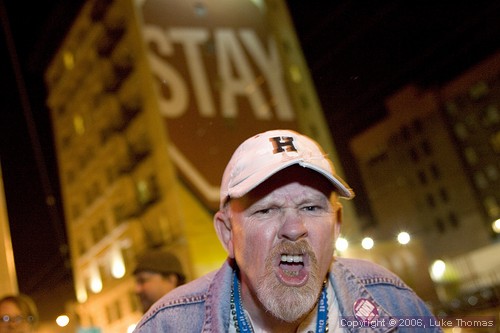 Court Jester endorses Jack Daly for Mayor,
slams Gonzalez
By h. brown
May 27, 2007
"Daddy, this party is no fun.
Let's go to another party."
(Jack Daly evaluates Milk Club event)
Ah, thank God the very young and very old aren't held politically accountable for their uncensored and unedited opinions. That bit of honesty on the part of young Jack Daly (well immersed in what people used to call 'the terrible two's') … the word of Jack Daly's spot-on appraisal of a complicated situation -- and even quicker suggestion as to a remedy -- has him being touted around town as a serious candidate for Mayor. Yeah, it's that bad, and getting worse.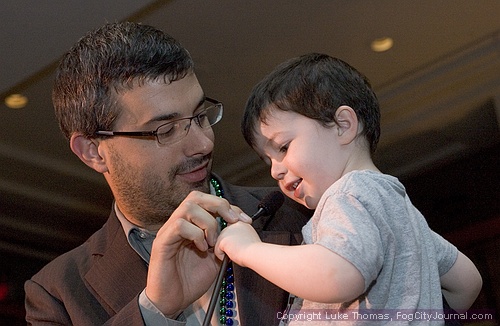 Like father like son: District 6 Supervisor Chris Daly and son, Jack, at the 29th annual Harvey Milk Dinner. Jack, a relative newcomer to San Francisco politics, surprised everyone when he delivered a short but eloquent speech at the podium.
Gonzalez continues divisive attacks
Well, 'dead Elvis' ain't ready to get off the toilet yet. And the smell has become horrendous. In yet another display of arrogance, selfishness and a totally deranged view of reality, former Board prez and mayoral candidate, Matt Gonzalez, fielded a puff piece on Randy Shaw's Beyond Chron yesterday.
Basically, the faux interview (anyone who thinks Gonzo didn't write the questions as well as the answer is an idiot) was an attempt to undermine next Saturday's Progressive Convention and, particularly, D-6 supe Chris Daly, who came up with the idea. Let me give you a few highlights of how a truly delusional mind works.
This is what Gonzo thinks of other potential viable Progressive candidates who haven't entered the race: "They simply are more risk averse than me."
He goes on to say, "Many others are scared," which is a crock of shit. They've all been waiting for him to move and he's trying to undermine Daly's gathering because Matt's jealous of Daly who is the new leader of San Francisco Progressives. Far from being a coward, it is Daly who has led from the left and taken on attack after attack on our behalf. It is Daly with the victorious army in the field itching for another battle.
So, Matt wants to weaken Daly by putting forth another candidate who'd be more beholden to him (and, a gullible place holder) … more beholden than Daly.
Gonzalez says he'll support Art Agnos, but he knows that Agnos doesn't stand a prayer in hell, and he's counting on it. He'll hide behind Agnos, just as he hid behind Peter Keane in 2003. Keane wasn't viable and Gonzo knew it, and used it.
Sometimes the greediest people have little or no concern for money. I put Matt in the same class with Ralph Nader on that one.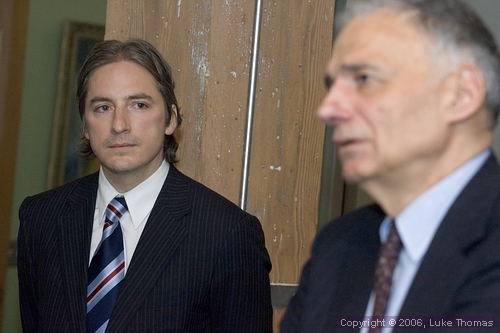 Matt Gonzalez with Ralph Nader
Art Agnos
Probably many of you don't know how Art Agnos got chased out of the office of mayor. Well, it was because he promised to end the problem of homelessness and took total responsibility as mayor. He announced that until he solved the problem, the homeless were welcome to sleep across the street from City Hall. Nine months later, they were still there.
The cops were livid and their chief (Frank Jordan) was easily elected mayor. Jordan quickly cleared out what, by then, had been dubbed 'Camp Agnos.' You think Newsom ain't gonna mention 'Camp Agnos?'
Perceptions are everything in politics. Now, while I am well-read on the subject, deeply immersed in the politics and the reality of homelessness, most are not. I realize that Newsom's Care not Cash has succeeded only insofar as he has funded the ingredients of the 'Continuum of Care,' designed by people like Sister Bernie Galvin around the time Willie Brown took office.
Brown once declared, "homelessness may be a problem that cannot be solved," and backed it up by ignoring it and concentrating on giving away chunks of San Francisco to rich developers, all the while chasing his own black brothers and sisters out of town.
Back to the importance of perceptions. The Newsom PR machine (from the Chronicle to Paul Hogarth), have the public convinced that Gavin is the guy who has truly taken on the homeless problem.
And, in a sense, they are correct. But, only because Willie Brown did nothing. In fact, Brown's actual plan was to reduce the problem of homelessness by driving the poor out of town.
When a reporter asked him about what he thought of gentrification producing a City of only the rich, Willie responded: "Maybe that's not a bad thing."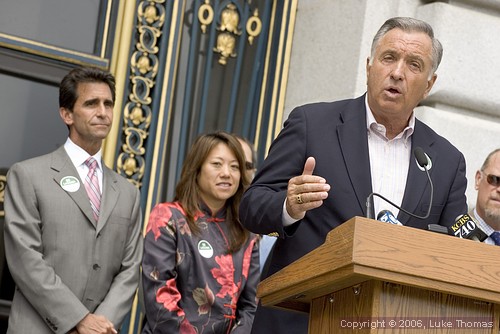 Art Agnos
Back to Gonzalez
A central theme in the Gonzalez monologue is that the Progressives should only run a single candidate (obviously, given his past record, he is convinced he's the only one truly "viable").
If Gonzalez gave a shit about the foot soldiers of the left, he'd enter the race instantly and start hiring all of the unemployed and blacklisted workers who made his last campaign work. They could get 6-months pay instead of 3. Repeat. He doesn't do this because he doesn't think about anyone but himself.
Cruelest cut to Daly
No one not drinking the Kool-Aid has been more loyal to Matt than Chris Daly. That is why this last minute attempt to sabotage the Progressive summit is so unconscionable. In favor of...? Why, it's in favor of Matt, himself.
Surprised?
You wouldn't be if you saw what Gonzalez did to Krissy Keefer last year. First he endorsed her and promised to help in her campaign. Then, he allowed his roommate and his law partners to run a stealth write-in campaign for Matt to replace her, and never told her about it. And then told me to "FUCK OFF!!!" when I demanded he disavow the effort.
Gonzalez never gave a dime to Keefer. He never attended a single one of her events. He never invited her to a single event he staged. He didn't return a single email, or phone call.
Then, after the election? He goes on Arthur Bruzzone and criticizes Gavin Newsom for not supporting Rob Black strongly enough. Yeah, he lectures Newsom about how important it is to stick by the people you endorse!
Newsom raised over a million bucks for Rob Black. He kept Black constantly at his side during the campaign. He had his friends throw fundraisers for Black. All the while, Gonzalez was not just ignoring Keefer's campaign, but undermining it. It got so bad that Mattaholics like Daly were afraid to get their pictures taken with Keefer, lest they upset the great uniter.
Daly cornered himself at a deep Mission Progressive voting center event by commenting that he couldn't endorse Keefer against Pelosi because Keefer wasn't a 'viable' candidate. Then, 5-minutes later, he takes the podium and endorses Barry Hermanson with the observation "I know he can't win either, but it's different."
And, this guy says that the candidate chosen by the Progressives should be able to heal the divisions in the left?
This butthead is the one who created most of the divisions! Let's not even get into him bringing in the ISO and Peter Camejo for an attempted surge to overwhelm local Greens.
"If the convention is what it's billed as … "
(another Gonzalez dart at Daly)
By this time Chris Daly has to realize that Matt Gonzalez is not his friend. The self-serving piece Gonzalez ran in Beyond Chron yesterday should certainly seal that. Hopefully, now, we can get on with putting together a Progressive slate willing to share power with the rest of the herd.
How about Daly and Mirkarimi for starters? Gotta have at least one woman. I'm pushing Krissy Keefer to run. Sister Bernie Galvin (she kicked Gavin's ass in every single Care not Cash debate) has an even broader base. Christina Olague would be terrific.
Well, I'm gonna go move some furniture and stuff.
Open your eyes and see Matt Gonzalez for what he is.
I know him well and he's not the one to lead us.
Enjoy your weekend.
Tony Hall came to Salon.

h. brown is a 62 year-old keeper of sfbulldog.com, an eclectic site featuring a half dozen City Hall denizens. h is a former sailor, firefighter, teacher, nightclub owner, and a hard-living satirical muckraker. Email h at h@ludd.net.

####