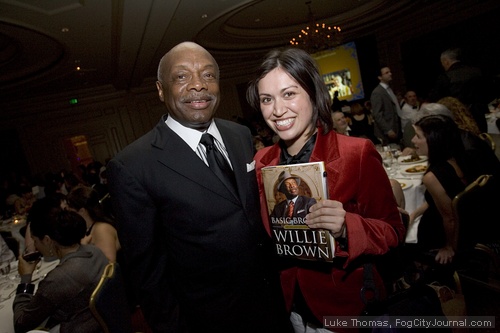 Former Mayor Willie Brown and Elaine Santore at the 32nd annual
Residential Builders Association dinner held Saturday at the swanky Ritz-Carlton.
Photos by Luke Thomas
By Elaine Santore
April 29, 2008
Fog City Journal attends RBA annual dinner at the Ritz
Fog City Journal attended the Residential Builders Association 32nd annual dinner at the Ritz-Carlton Saturday night. The place was crawling with happy Irish people and politicians, and Luke Thomas and I loved every minute of it. And they were pouring free Guinness, Harp and Cosmos!
When RBA President Sean Keighran introduced himself, he called me "the most photogenic woman in San Francisco." Or maybe he said "the most photographed woman in San Francisco?"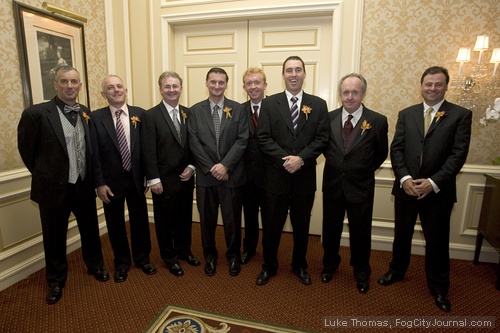 The Residential Builders Association clan members, aka The San Francisco Murphia,
donned their top togs for the annual soiree.
Luke and I were seated at a table with complete strangers who thought we were the help until they saw Luke's name on the program. We tried to explain that we weren't actually working, but that we like to work even when we're having fun.
Where's Joe O'Donoghue?
Noticeably absent was the ever-colorful poet and former RBA president Joe O'Donoghue. According to RBA Treasurer Richie Hart, O'Donoghue had been invited but declined because he wants the new board leadership to host one dinner without him as part of a transitional period. O'Donoghue will attend next year's RBA-fest we're told.
During his speech, RBA President Sean Keighran said of Joe, "When Joe O'Donoghue stepped down, there were skeptics that thought that the RBA was over."
But the organization has persevered through the changes.
"The white flag of surrender is just not compatible with our DNA," Keighran said.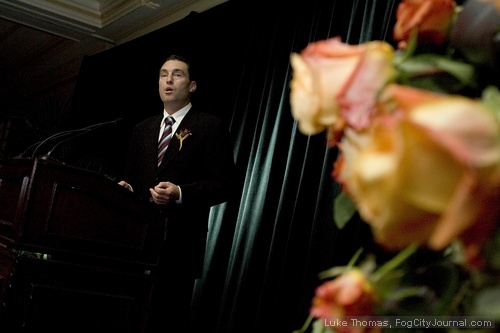 RBA President Sean Keighran.
The real "Mayor of City Hall"

Board President Aaron Peskin wasn't able to attend the dinner due to a scheduling conflict, but his aide Davide Noyola came as his proxy. Noyola and a couple other legislative aides argued over whose boss gave the best speech.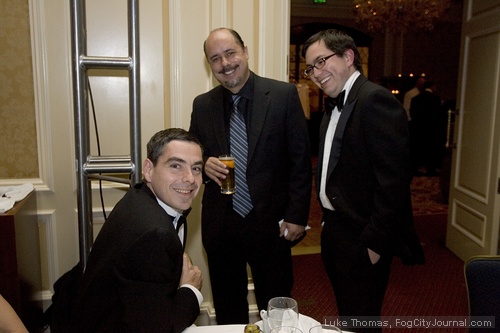 Some dude who hates getting his photo taken (Le Boris Delepine),
San Francisco Board of Education President and District 9 Supervisor candidate Mark Sanchez,
and Peskin Supervisoral aide Davide Noyola.
Peskin made a pre-recorded video speech in his absence and was beamed in during dessert. He said something like, "I know you call me 'Pisskin' when I'm not around." The whole thing sounded like an Oscar acceptance speech.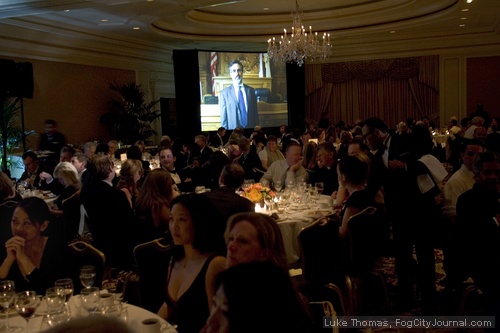 The "Mayor of City Hall", Board President Aaron Peskin.
That other smiley Mayor showed up
Former San Francisco Mayor Willie Brown arrived fashionably late, as usual. Brown signed 400 copies of Basic Brown, and now I finally have a copy. He talks about the RBA in his book.
During his speech, Brown said of the RBA: "It was just incredible to have this group from the West Side acting like they were from Hunters Point."

Former Mayor Willie Brown at the podium.
When FCJ approached Brown, he was chatting up some femmes.
"Quit flirting, Willie!" Thomas said.
"That's what I do best," Brown retorted.
After posing for a photo, Luke asked Da Mayor to sign our copy of Basic Brown. "I visualized owning a copy of your book and now I have one," I said to Brown. (The Secret works, y'all!)
Luke asked Brown to sign our names in the book ("What's your name?" "E-L-A-I-N-E"), and to write "I love Fog City Journal."
Much to Luke's chagrin, Da Mayor wrote "I love Fog City Java!" instead. (I love old people).
CrackBerry Blind Items
(Because my editor misses them for some reason.)
Which supervisoral aide said Willie Brown was "off his game," and sporting "a third chin?"
Which sandbagging supervisor candidate left the party early, probably because Thomas was on his tail? Rude!
Just a question, not a CBBI: Why am I the last person to find out Supervisor Bevan Dufty is running for mayor in 2011? Seriously. One partygoer told me she'd heard about it from "inside sources," and I was like, "For real?" Is everybody running in 2011?! I am exhausted just thinking about it.
More party pics of good-looking people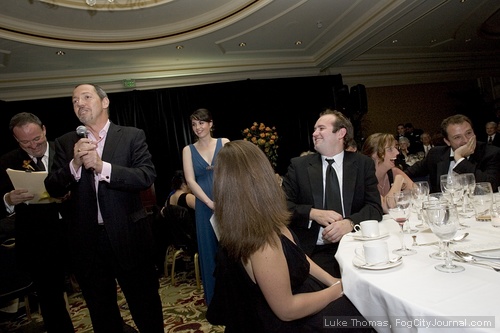 Supervisor Bevan Dufty takes to the mic.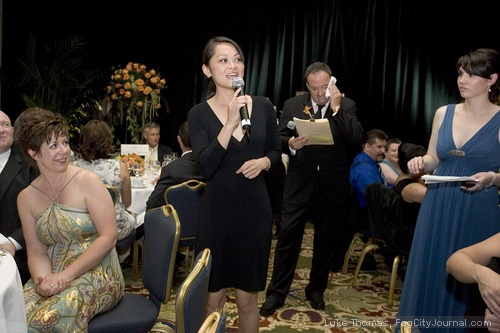 Supervisor Carmen Chu. (The RBA's Grace Shanahan at left).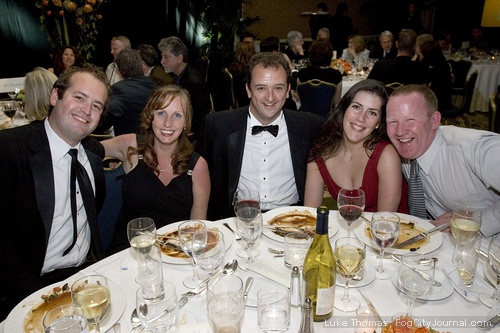 Supervisor Sean Elsbernd and wife, Jennifer Elsbernd,
with legislative aides Boe Hayward, Olivia Scanlon and Olivia's husband Shamus Cudden.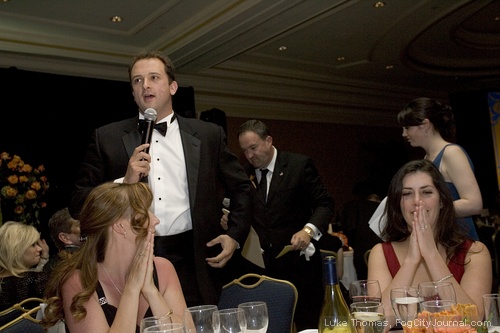 Note hand gestures of Olivia Scanlon and Jennifer Elsbernd.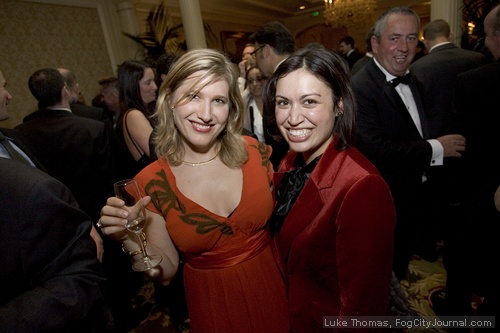 Nina Geneson and Elaine Santore.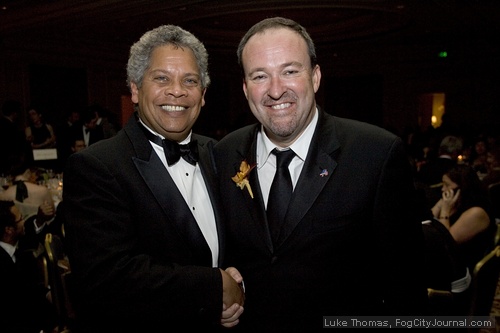 District 11 Supervisor candidate Randy Knox and Angus McCarthy.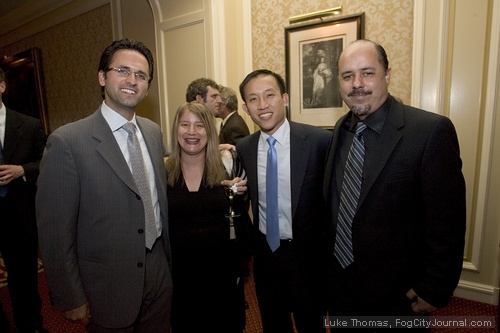 District 11 Supervisor candidate Asha Safai, Susie Siegel,
Distrct 3 Supervisor candidate David Chiu,
and District 9 Supervisor candidate Mark Sanchez.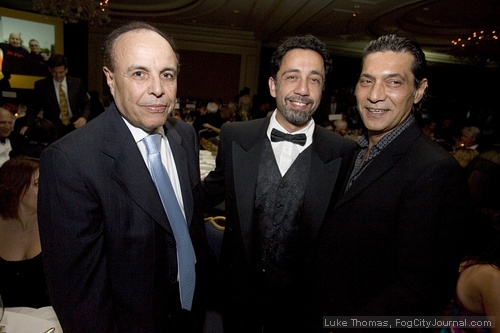 Moroccan Ambassador to Lebanon Ali Oumlil with Jean-Paul Samaha
and Small Business Commissioner Gus Murad.

The ever gracious Michael Cassidy and son.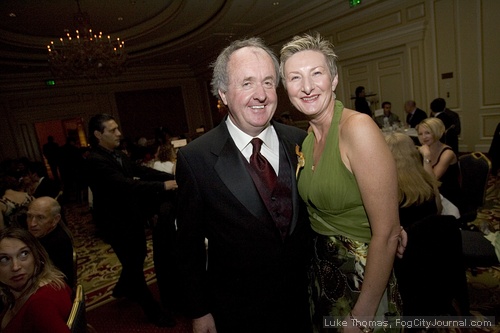 Bibi Cassidy, wife of Michael Cassidy,
with rocketboater Joe Cassidy.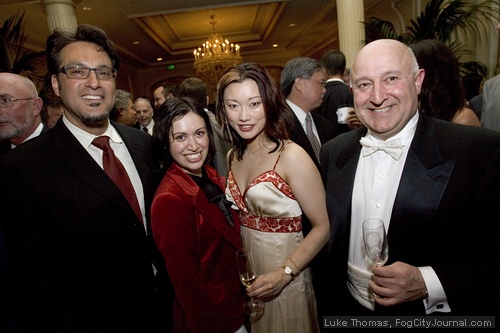 Supervisor Ross "People Magazine" Mirkarimi, Elaine Santore,
with SOMA Magazine publisher Ali Ghanbarian.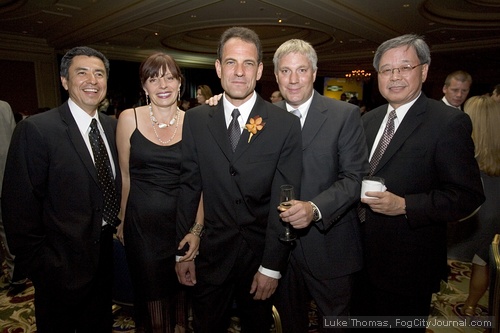 Lisa Moresco, Gerry Agosta, John Pollard and Frank Fung.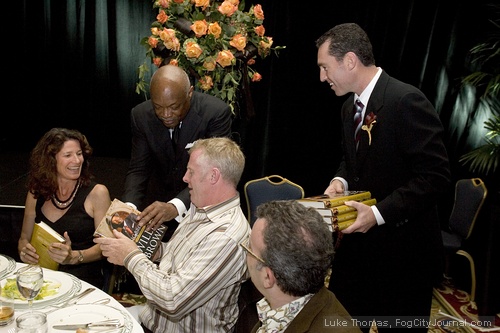 Willie hawking his book.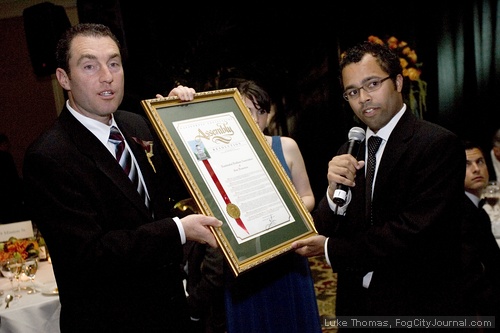 RBA President Sean Keighran receives an Assemblymember Fiona Ma proclamation
from Ma Chief of Staff, Bill Barnes.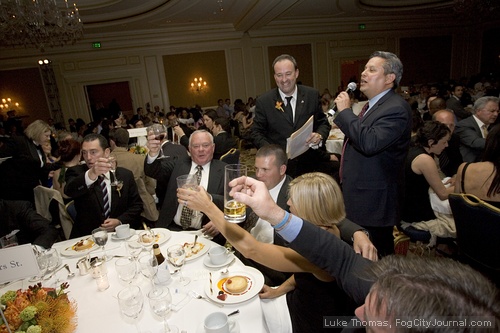 Judge wannabe Supervisor Gerardo Sandoval calls for a toast to the RBA.
National Dance Week
Occasionally I take a break from my FCJ duties to do human things, aka stuff that I'd rather not write about. However, in this case I have to make an exception.
April 25 to May 4 is National Dance Week. I celebrated by participating in "Funktion" a showcase of the dance and physical fitness classes offered at City College of San Francisco. I invited Luke Thomas to photograph the event at CCSF's new and glorious $85 million Community Health and Wellness Center on Ocean Avenue.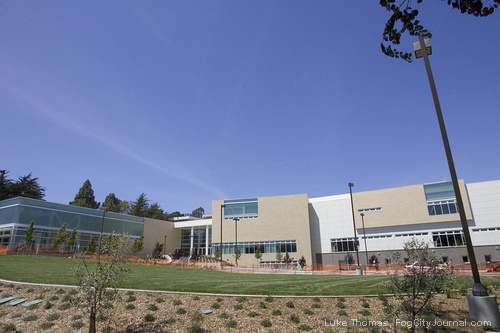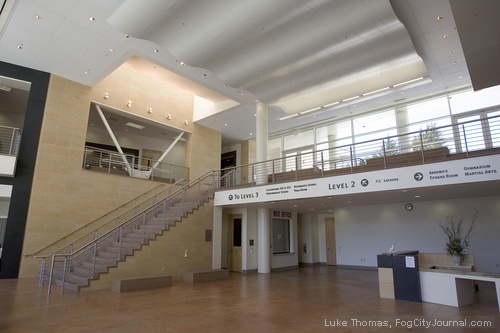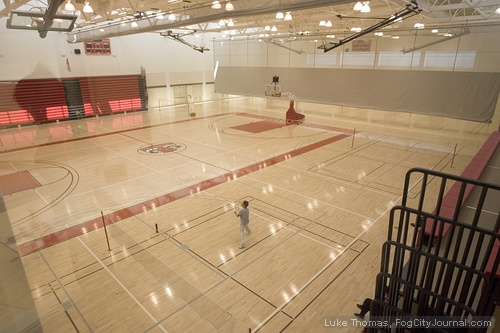 My instructor, Jaqueline Wesley, organizes the Funktion each semester to allow her students to perform for their friends and family. Wesley also uses the Funktion event as an opportunity to re-integrate students to physical activity.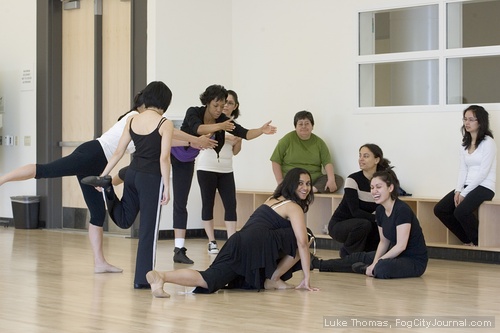 "I can't believe I let Luke take photos of me in sweats, with no makeup on. Secretly dying inside."
After doing our warm-ups and adagio for the audience, our class performed the jazz combination we've been working on the entire semester. Dad took some video, which totally took me back to all the dance recital tapes he recorded when I was a kid.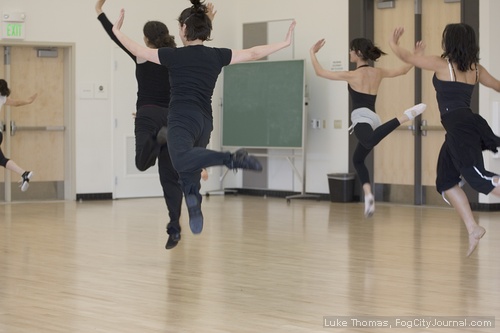 One of the salsa students, Dabareh, and her partner Eldin performed a routine for the class.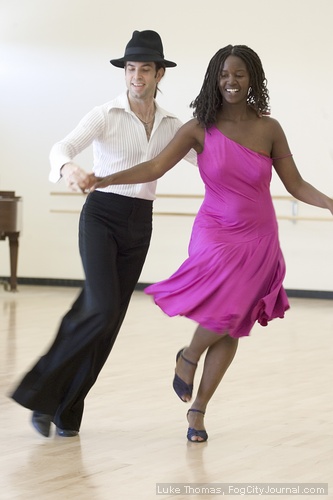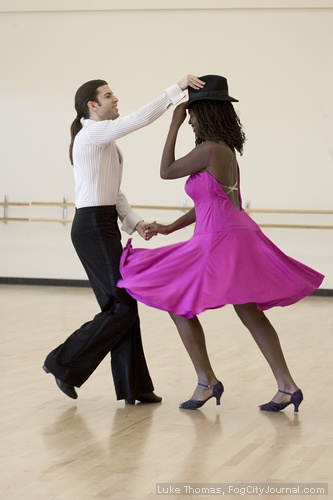 Japanese dancer Annie Lo has participated in every Funktion, and Wesley told us that Lo always shows up exactly on time. The showcase was ahead of schedule, so there were some awkward minutes in between performances.

Annie Lo.
Kathleen Burick and her tap class performed a warm-up routine. Burick also teaches a Saturday morning modern dance class.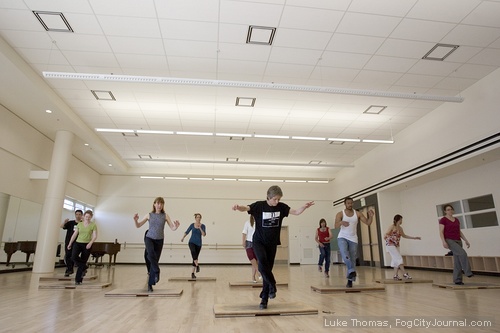 Kathleen Burick's tap class.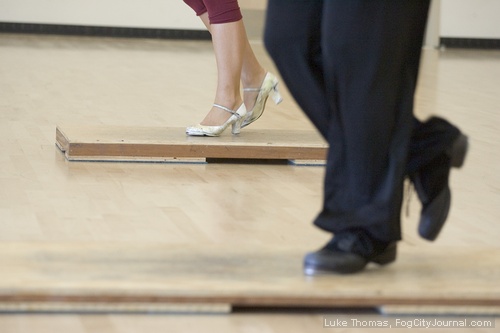 I highly recommend CCSF's dance classes to anyone who's new to dance or wants to improve their technique after years of inactivity. I'm also an advocate of continuing education in general.