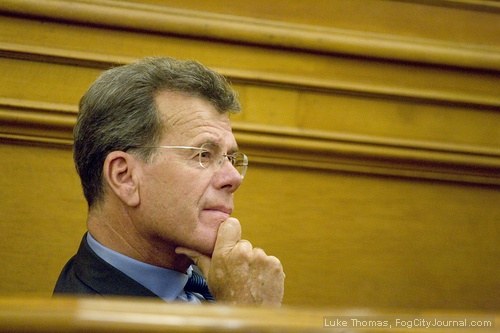 Former District 7 Supervisor Tony Hall.
Photos and Videos by Luke Thomas
By David P. Waggoner
September 10, 2008
Editor's Note: Article first published in West of Twin Peaks Observer. Republished with permission.
Long before Sean Elsbernd was a supervisor, he was a clerk at the law firm of Nielsen Merksamer. While there, Elsbernd worked with political attorney Jim Sutton. Sutton, now Elsbernd's campaign treasurer, has often been referred to as "the dark prince of San Francisco elections."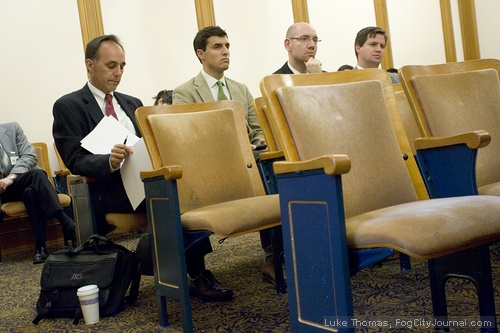 Attorney Jim Sutton appears at the second Ethics Commission hearing, 7/15/08,
into alleged campaign finance violations by Tony Hall.
For his part, Elsbernd began working in city hall after Tony Hall hired him as an aide in 2000. Upon Elsbernd's recommendation, Hall also later hired Olympic Club events planner, Olivia Scanlon. In a revealing move, Elsbernd left Hall's office in January 2004 to work for Gavin Newsom. Seven months later, in the middle of an election season in which Hall was certain to be re-elected, Newsom appointed Hall to oversee Treasure Island.
Though unprecedented, Newsom then appointed his own aide, Elsbernd, to Hall's former seat on the board. Soon afterwards, the residents of District 7 received a letter supporting Elsbernd and purportedly signed by Hall. The letter — paid for by the Building Owners and Managers Association — was a forgery. Elsbernd of course went on to win election to the board in November 2004. After Hall declined to put Olivia Scanlon in a management position at Treasure Island, she began working for Elsbernd.
With its panoramic views of the San Francisco Bay, Treasure Island is literally a gold mine for developers. Top Newsom fundraiser and lobbyist Darius Anderson recognizes such opportunities. In 2005, Anderson's Kenwood Investments sought a contract — worth hundreds of millions of dollars — to develop the Island. But Hall, notoriously independent, opposed the sweetheart deal. The Treasure Island board (nearly all appointees of Newsom) unceremoniously fired Hall after only 14 months on the job. Wielding the axe for Newsom was none other than current District 3 supervisorial candidate and Treasure Island board president, Claudine Cheng.

Willie Brown protege, Claudine Cheng, is running for District 3 Supervisor.
At about the same time Hall was fired, the Ethics Commission received an anonymous complaint — written in legalese — alleging Hall had used campaign funds to buy food and gas for campaign workers. Commission staff, led by Chief Enforcement Officer Richard Mo, began to investigate. Mo is a law school graduate but has never passed the bar exam. Over the course of three years, Mo and his staff spent thousands of hours reviewing Hall's campaign records, all on the public dime.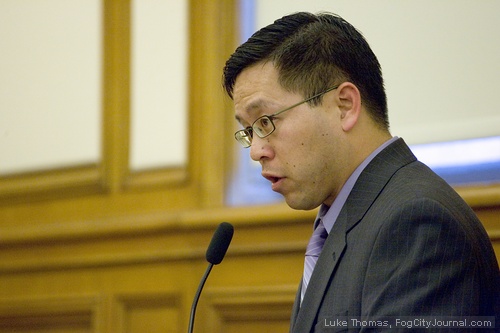 Richard Mo, J.D.
Months later, Mo's investigation culminated in a formal accusation that Hall borrowed $12,000 from Olivia Scanlon (now an aide to Elsbernd) and repaid the "loan" with campaign funds. During the course of Mo's sleuthing, he obtained photocopies of two checks totaling $12,000 from Scanlon. Scanlon told Mo that the checks were loans to Hall to pay for his daughter's wedding. But the checks — drawn on the business account of Scanlon's husband, contractor Seamus Cudden — were payments to Hall for consulting services.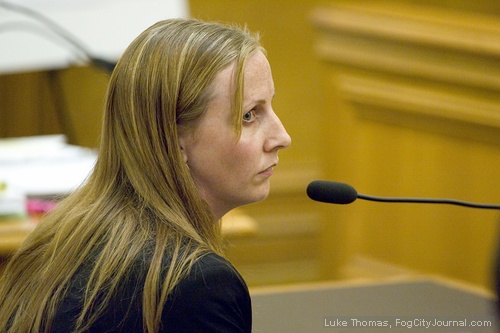 Olivia Scanlon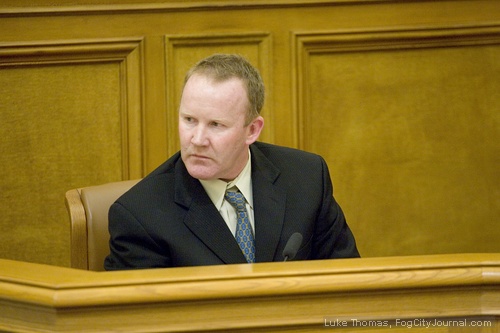 Seamus Cudden
Hall informally advised Cudden on land use matters, code compliance, investment strategies, not to mention many hours of personal advice. Hall declared the income on his 2004 tax return, paid taxes on it, and repeatedly sought an IRS form from Cudden. Cudden has never complied. Consulting fees are common forms of income for elected officials provided they conform with conflict of interest restrictions. Hall's consulting for Cudden pales in comparison to Newsom's consulting for billionaire Gordon Getty. But Mo knows where his bread is buttered.
Hall's campaign did pay Scanlon $12,000 — for her fundraising work on his 2004 re-election campaign. Scanlon was paid by the campaign before Cudden paid Hall, via one check with a notation written on the check that it was payment for "Campaign Services, Jan-Jun." But Scanlon now claims she was a volunteer the whole time. Her volunteer tale is contradicted by testimony from Hall's campaign manager, attorney, consultant, fundraiser and treasurer.
At a hearing before the Commission on June 9, Scanlon repeated her loan allegation, and swore that the photocopies of the checks she provided to Mo were accurate copies of the originals. Eager to score points against his old boss, Sean Elsbernd showed up at the hearing to testify as a rebuttal witness, despite the fact that Hall had not yet presented any evidence. As there was nothing to rebut, Chairperson Susan Harriman would not allow him to testify.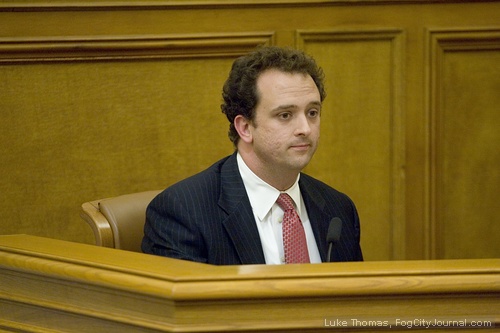 Supervisor Sean Elsbernd briefly takes the witness stand.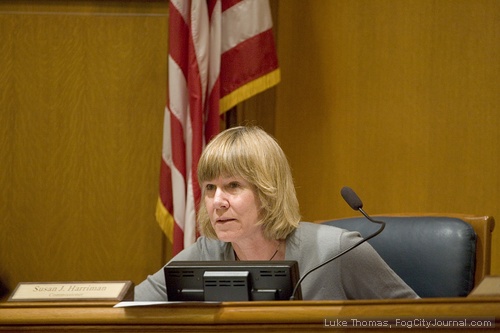 Ethics Commission Chair Susan Harriman
After the June 9 hearing, and three years after initiating his investigation, Mo issued a subpoena for Cudden's bank records. In response, Scanlon and Cudden retained white-collar criminal defense firm Swanson, McNamara and Haller. The firm offered to provide a faxed copy of one of the checks to Mo in exchange for withdrawing the subpoena, so as to spare Cudden and Scanlon "the expense of having to file a motion to quash the subpoena." Without questioning why Scanlon and Cudden hired a criminal defense lawyer to oppose the subpoena, Mo agreed to the deal and withdrew the subpoena. In contrast, Hall has not withheld a single document from the Commission.
After Mo withdrew the subpoena for Cudden's bank records, a lawyer for Scanlon and Cudden gave Mo a new copy of a check — which Scanlon swore was a loan to Hall — that was different than the first version Scanlon gave to Mo three years ago. The new version of the check has the word, "Services," written in the notation section of the lower left hand corner of the check. The "Services" notation is evidence that Hall was indeed paid by Cudden for consulting services. But the first version of the check that Scanlon gave to Mo three years ago did not have the "Services" notation. Neither Mo nor Scanlon has provided any explanation for the two versions of the same check, both of which are in Scanlon's handwriting.
Editor's Note: David Waggoner and Richard Mo respond to FCJ inquiry about the two different versions of the same check in the following videos.
After Mo withdrew the subpoena for Cudden's bank records, we subpoenaed and obtained the records. It is clear why Scanlon and Cudden were determined to keep the records concealed: the date on the check that was altered, June 1, 2004, is out of sequence with the rest of the checks before and after it, indicating that the check was backdated by about six weeks. Why would Scanlon backdate the check, and white-out the "Services" notation? Did the prosecution's star witness commit perjury?
Throughout the whole ordeal, Commission Executive Director John St. Croix and Chief Enforcement Officer Richard Mo have demonstrated a consistent willingness to ignore the facts, distort the law and show contempt for due process and the presumption of innocence. What else could explain the decision to not even bother with a subpoena until 3 years later, and to then withdraw the subpoena in exchange for a questionable check? Or the repeated illegal, prejudicial and inflammatory comments that St. Croix and Mo have made to the press?
As the hearing process unfolds, Hall is confident the public will see this case for what it is: a publicly funded, politically motivated smear campaign. The altered check raises very serious questions about who is really behind the effort to destroy Tony Hall's reputation. As the Commission spends untold resources to pursue a frivolous case against Hall, sweetheart deals for developers remain obscured by smoke and mirrors at Treasure Island.
The public is also beginning to question the usefulness of an Ethics Commission that can be easily manipulated by political factions to effectively prevent candidates from running for office. The mere threat of an Ethics Commission "investigation," triggered by an anonymous complaint from a well-financed politician, can be more valuable than a dozen mass mailings. Perhaps this is why the voters turned down the last initiative put forward by the Ethics Commission to give themselves more power and funding.
David P. Waggoner is an attorney in San Francisco specializing in political law. Waggoner successfully defended grassroots public power treasurer, Carolyn Knee, before the Ethics Commission. Waggoner is also a supervising attorney at a nonprofit legal services organization that advocates for income and healthcare for people who are homeless and disabled in Alameda County.