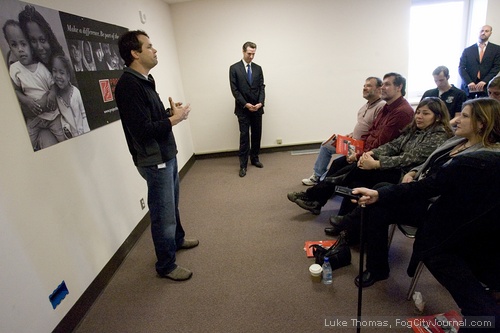 Google product manager Craig Walker with Mayor Gavin Newsom and Alex Tourk
announced plans yesterday to extend free voicemail to homeless clients
during the 21st installment of San Francisco's Project Homeless Connect.
Photos by Luke Thomas
By Nicholas Olczak
February 28, 2008
Google yesterday announced plans to extend its provision of free voicemail to homeless people under Project CARE, providing city agencies an online tool to independently create accounts for the homeless.
Senior Google Product manager Craig Walker explained that, having already given out 4000 voicemail accounts at events like yesterday's Project Homeless Connect, Google now want to facilitate the process.
"Rather than us having to find these pockets of people, we want to give a tool to agencies to create accounts for people they see every day," Walker said.
"Our goal is to get every single homeless person connected," Walker added, explaining that access to voicemail is one way Google can help the homeless stay connected with family, friends and support services.
Mayor Gavin Newsom strongly endorsed the scheme, calling it a solution to the problems many homeless have connecting with the support they need.
He described how homeless people are often told 'just give us a call and we will call you back' only to find they don't even have a quarter for the payphone, or if they do use a payphone, nobody can get back to them.
One of those signing up for free voicemail yesterday was Kevin Joseph. Staying in a shelter, he plans to use the service to contact friends and family and seek employment.
"You need to be reached sometimes," Joseph explained, "some of these shelters, the answering system…getting your messages is a nightmare. So this kind of secures your messages."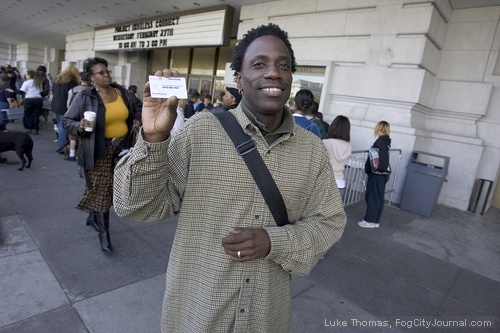 Kevin Joseph
Google announced its development of the scheme at the 21st Project Homeless Connect (PHC) multi-service event.
Speaking during the event, project organizers hailed co-operation between the private sector and city agencies as one of PHC's main successes.
"Before this effort I don't think the private sector was getting involved with the issue of homelessness," said PHC founder Alex Tourk, "I think the fact that 100 companies have gotten involved in this also speaks volumes."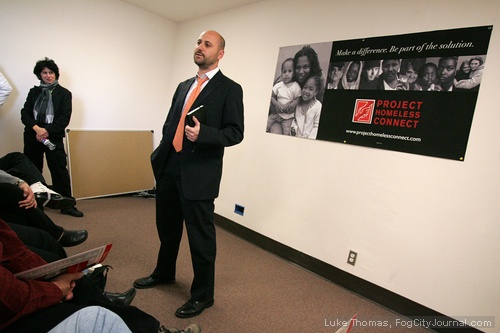 Project Homeless Connect founder Alex Tourk
Tourk emphasized the success of getting non-profit and private sector services 'under one roof' – stating that San Francisco's PHC events attract over 20,000 clients and has been copied by 150 cities across the country, together with cities in Australia, Puerto Rico and Canada.
Mayor Gavin Newsom similarly stressed the significance of private sector involvement in the Project and suggested that city government should emulate the willingness of these companies to take risks.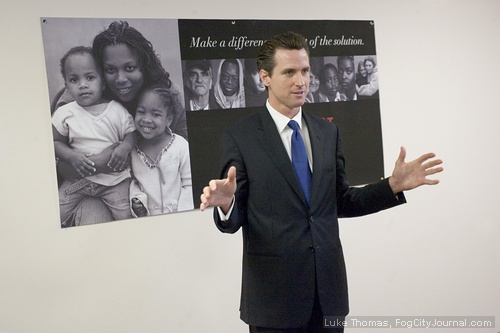 Mayor Gavin Newsom
"Google was not framed on the inability to try new things and take risks," Newsom said. "We need more of that in government. We can't continue on the frame where we have silos delivering services," he added, describing these structures as outdated and suggesting that PHC offered a more effective model to replace them.
He said PHC's success was shown by its uptake in cities across the country, expressing a hope that this would continue.
"I think there's something happening here that transcends the 47 square miles that make up our city. I think there's something very powerful and fundamental that's being advanced through project homeless connect," Newsom said.
More info
Additional information about Project Homeless Connect including how to volunteer is available online at http://www.sfconnect.org