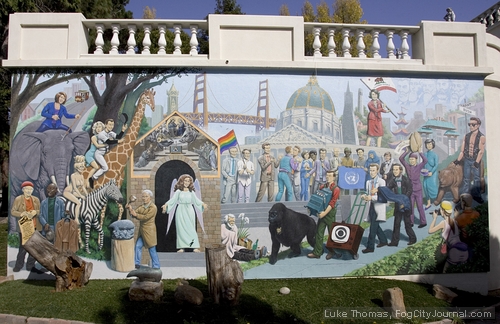 The world's largest portrait mural by artist Guy Colwell
will be officially unveiled Sunday at the Pritikin Mansion in San Francisco.
Photos by Luke Thomas
By Luke Thomas
October 21, 2009
Former Mayor Willie Brown will be the guest of honor during an invitation-only event Sunday at the famous Bob Pritikin Mansion in Noe Valley.
As masters of ceremonies, Brown and former ad-executive Pritikin will unveil and celebrate "the world's largest mural portrait, fifty feet by eighteen feet, displaying some seventy famous and infamous San Franciscans, past and present."
The colorful mural by acclaimed artist Guy Colwell features Speaker Nancy Pelosi lancing a Republican elephant; a Terminator-dressed Governor Arnold Schwarzenegger patting the back of a grizzly bear; Senator Dianne Feinstein waving the California State flag; Mayor Gavin Newsom performing a same-sex marriage ceremony; former Mayor Willie Brown brandishing a freshly pressed suit; former Board of Supervisors President Angela Alioto donning angel wings outside the Porziuncola Chapel in North Beach (an endeavor Pritikin helped to promote); a singing former Supervisor Tony Hall; former Supervisor Harvey Milk waving a Castro Rainbow flag with former Mayor George Moscone by his side; actress Marilyn Monroe hugging baseball Hall of Famer Joe DiMaggio on the back of a giraffe; San Francisco Chronicle scribe Herb Caen; actress Carol Channing; Emperor Norton; Jerry Garcia; topless stripper Carol Doda; Willie Mayes and Mark Twain, as well as the Zodiac killer, Jim Jones and Huey Newton – all set against an iconic San Francisco skyline.
Pritikin envisions the mural being the first of many works of art visitors will see when they arrive at the mansion, which is currently being considered for conversion by the City into a one-of-a-kind, only in San Francisco museum.
The sprawling mansion located on Chenery Street near 30th Street is the largest in San Francisco. It houses a "multi-million dollar collection of fine art, kitsch, San Francisco memorabilia and countless historic chotchkies," Pritikin said.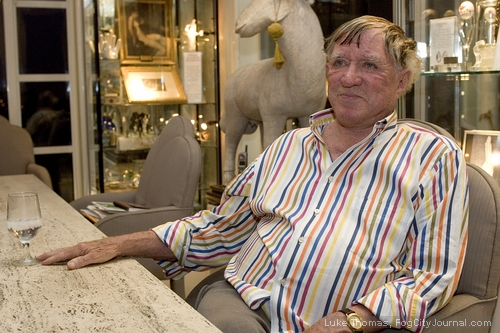 Bob Pritikin
Inside the mansion, after ascending the grand staircase, visitors are treated to a gallery of fine art including an original J.M.W. Turner oil painting, an exact replica of Rembrandt's Nightwatch, a collection of monumental works of the late San Francisco sculptor Beniamino Bufano, and an amusing oil portrait of Prince Phillip to which the Prince once snarled: "I bloody well wouldn't hang it on the walls of Buckingham Palace."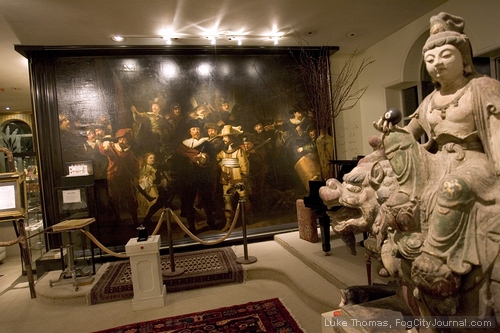 Rembrandt's Nightwatch and a Bufano sculpture.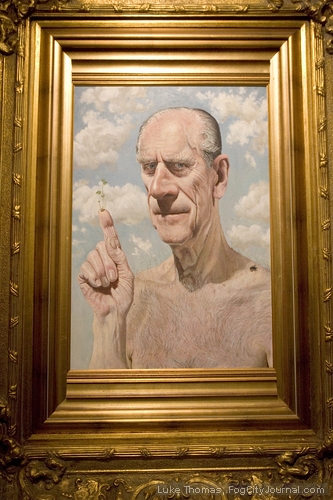 "We are not amused!"
Portrait of Prince Phillip.
The mansion also features a few shockers including an Adolf Hitler gallery containing the Fuhrer's personal world globe and his Swastika armband acquired by two American soldiers at the end of World War II. The authenticated items "are a chilling reminder of the horrendous crimes committed by the most heinous of history's despots," Pritikin remarked. The Hitler gallery appropriately displays a large disclaimer that reads: "May the bastard rot in hell."
In another room, perhaps the most shocking of all, is a working electric chair, complete with a death-row inmate dummy that sizzles and shakes at the flip of the executioner's switch.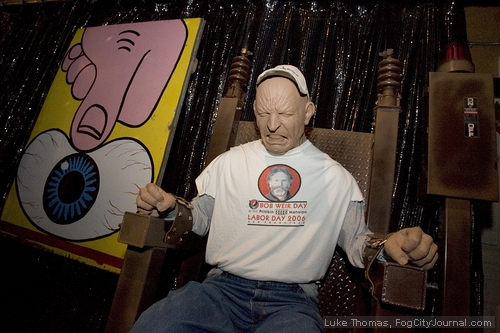 Pritikin's replica death row electric chair.
"I think it would be nice to share this hodgepodge of history with the general community and besides I'll enjoy a few afternoon visitors," Pritikin, the former hotelier, author and showman quipped.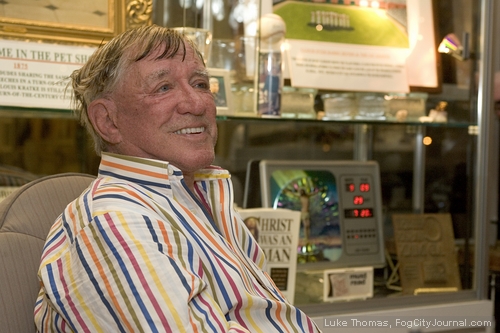 Bob Pritikin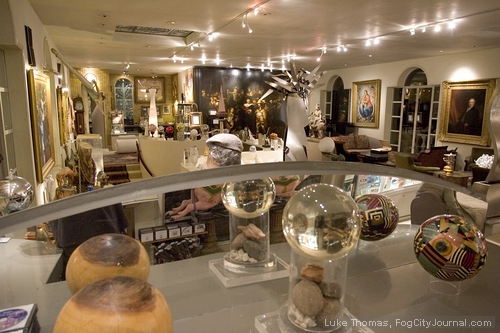 The largest room in the mansion features sculptures, oil paintings,
nickknacks and a grand piano.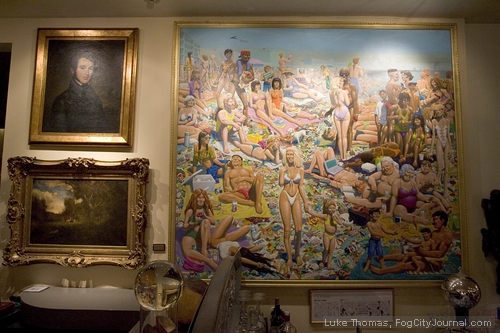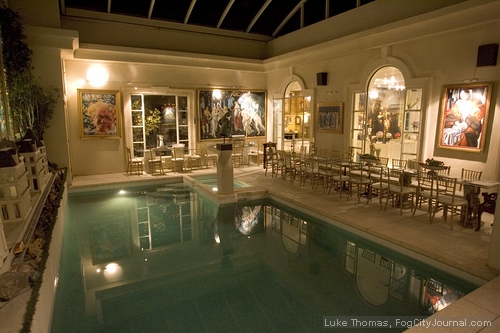 Pritikin's indoor pool with retractable roof.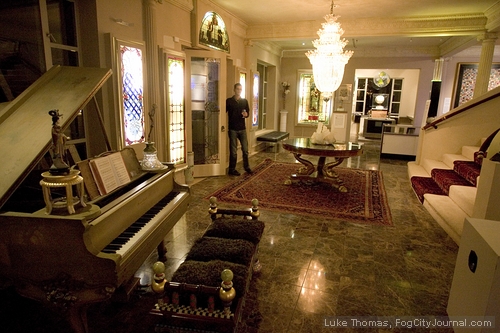 The foyer.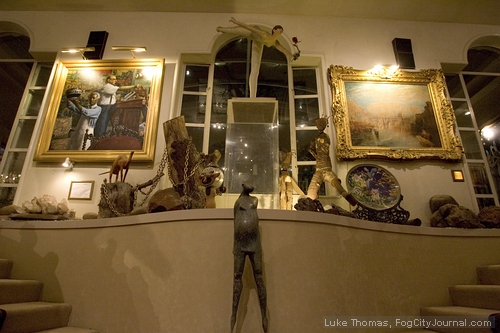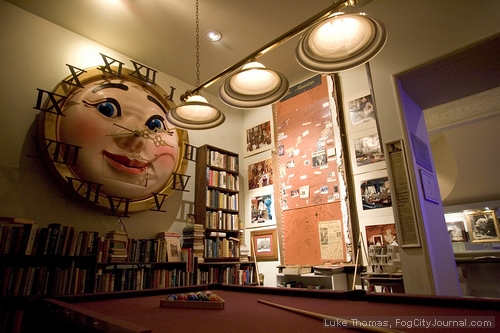 Animated clock, formerly the entrance attraction to FAO Schwartz.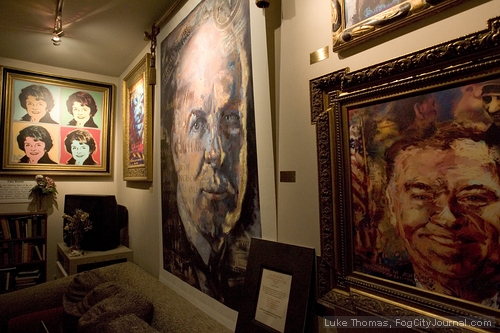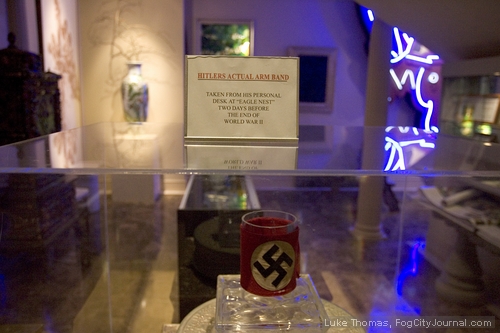 Adolf Hitler's swastika armband.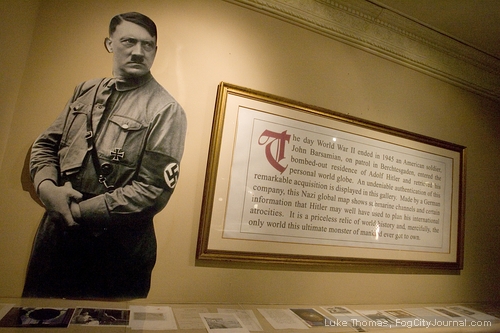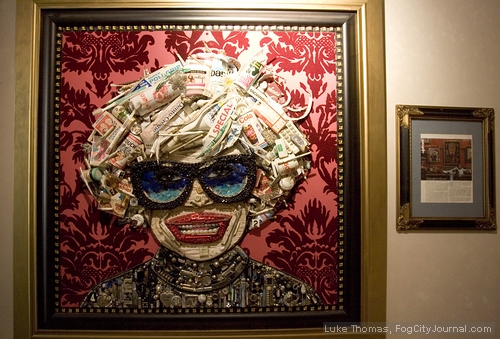 Portrait of Carol Channing.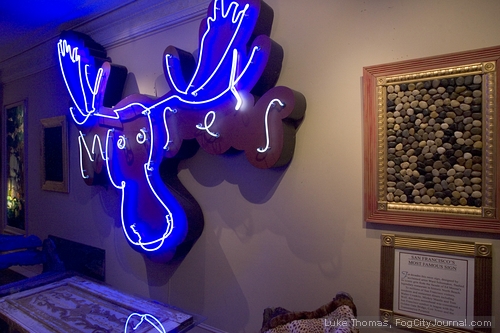 North Beach Restaurant Moose Sign.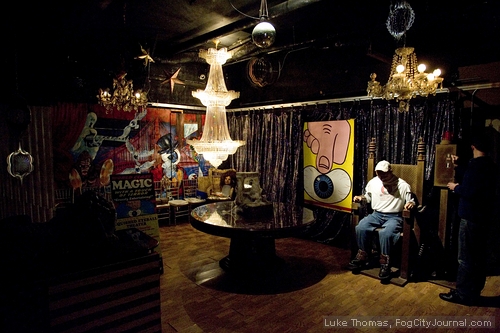 The dungeon where all the magic happens.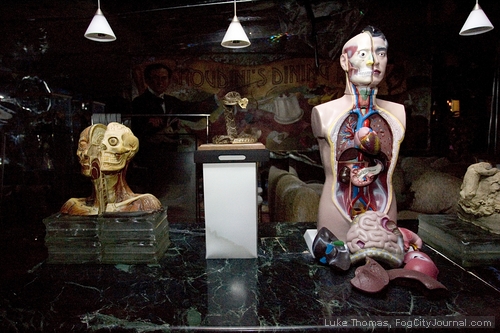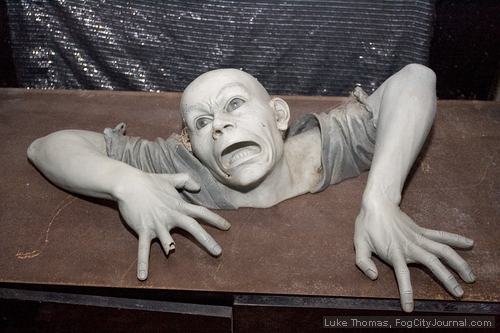 The Pritikin Mansion at Dusk.