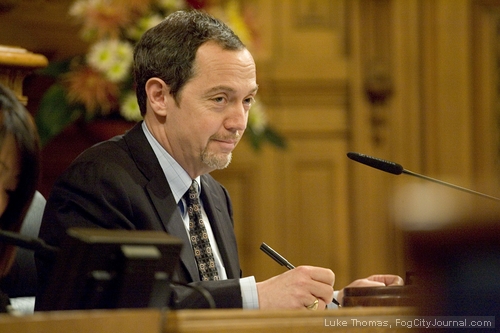 Supervisor Bevan Dufty was today elevated from vice-chair
to the chair of the San Francisco County Transportation Authority.
Photos by Luke Thomas
By Luke Thomas
January 27, 2009
By a 6-5 vote, mayoral hopeful Supervisor Bevan Dufty was today elected to the chair of the San Francisco County Transportation Authority (SFCTA).
Supervisor Ross Mirkarimi was elected Vice-chair by consent.
Dufty, who was nominated by Supervisor Sophie Maxwell, received six votes from Supervisors Alioto-Pier, Carmen Chu, Sean Elsbernd, Maxwell and David Campos. He replaces former Supervisor Jake McGoldrick who is termed out of office.
Supervisor Chris Daly, who remained the only progressive nominee after Supervisor Ross Mirkarimi rescinded his nomination for chair, received five votes from Supervisors John Avalos, David Chiu, Eric Mar, Ross Mirkarimi and himself.
The SFCTA "administers and oversees the delivery of the Proposition K half-cent local transportation sales tax program and New Expenditure Plan, which was passed by 75 percent of San Francisco voters in November 2003. The Authority was created in 1989 to administer Prop K's predecessor, the Proposition B half-cent transportation sales tax program, which began in 1990 and continued until it was superseded by Prop K."
Campos, a progressive, explained his vote for Dufty over Daly, saying: "If you look at the substantive issues that come before this body, I don't think there's a distinction between progressives and non-progressives. If there were, I certainly would have supported who is identified as a progressive."
By his own definition, Supervisor Dufty is a "liberal moderate."
"To my knowledge, there is no substantive difference between the positions that commissioner Dufty or commissioner Daly would take," Campos said.
"I think it is important for us, as progressives, to remain unified and push forward a progressive agenda where that matters. I don't think that this is that place," he added.
Campos said had he known Daly and Mirkarimi were interested in the SFCTA chairship, "it might have been a different thing."
"The only person who expressed an interest to me was Supervisor Dufty," he said, adding that Dufty approached him "within the last few days."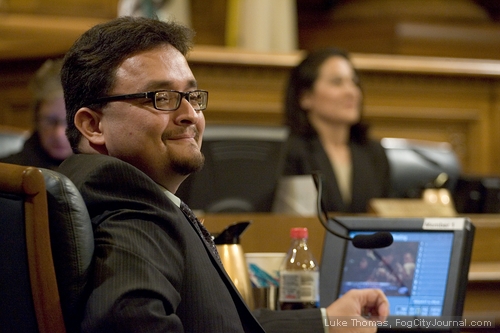 Supervisor David Campos
More Info
San Francisco County Transportation Authority
More photos after the jump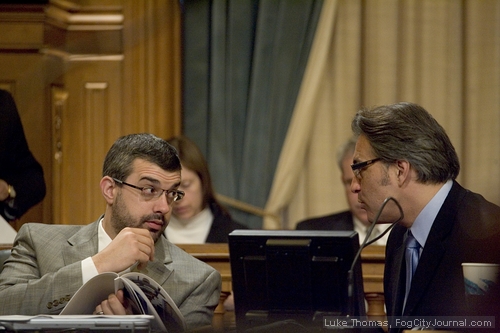 Supervisors Chris Daly and Ross Mirkarimi nominated each other for SFCTA chair.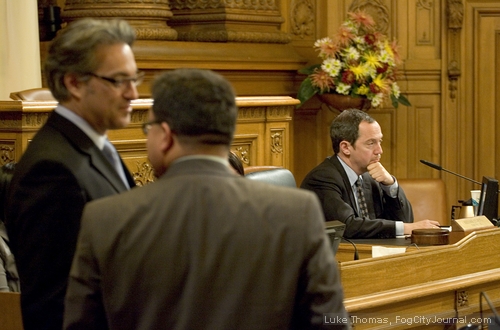 Following Dufty's election to SFCTA chair, Supervisors Ross Mirkarimi
and David Campos exchange words.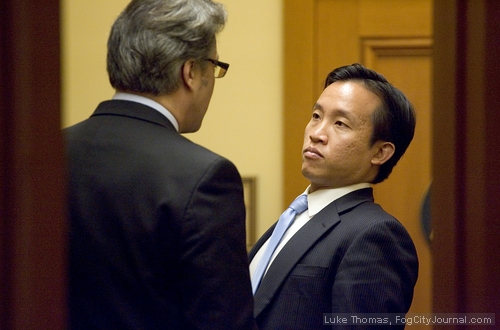 Supervisor Ross Mirkarimi and Board President David Chiu.