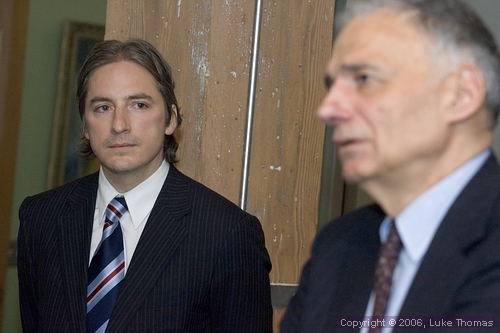 Matt Gonzalez and Ralph Nader
Photo by Luke Thomas
By Luke Thomas
February 28, 2008
Groundhog Day presidential candidate Ralph Nader pried the rusting nails out of Matt Gonzalez' political coffin today, announcing he has selected the former San Francisco Board President as his running mate.
Nader made the announcement during a Washington D.C. press conference one day after Gonzalez released an op-ed to BeyondChron attacking the legislative record of Democratic frontrunner, Senator Barack Obama.
Nader said he and Gonzalez will not seek the Green Party nomination and instead will run as independents, adding weight to an unconfirmed rumor suggesting Gonzalez plans to leave the Green Party "within a year."
Gonzalez declined to comment on the rumor following a Fog City Journal inquiry on February 25.
"I have no illusions about what is happening here today," Gonzalez said during today's press conference, "I understand what stands before us. But let me also say that I've never entered a political contest with the idea that it couldn't be won. And it's cynical to say that the American people are incapable of hearing the truth in casting a vote for someone that they believe in."
For many San Francisco Progressives, who held much promise for Gonzalez' second mayoral bid against Mayor Gavin Newsom's re-election last year, no such illusions exist.