From David Binder Research
Editor's Note: Poll commissioned by Assemblymember Mark Leno.
March 1, 2008
In a survey conducted between February 17th and 21st with 500 likely Democratic primary voters in Senate District 3, it becomes apparent that Joe Nation's entry into the race has made the contest a wide-open competition with Assemblyman Mark Leno and former Assemblyman Joe Nation leading the field.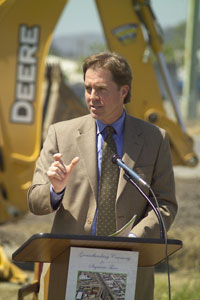 Joe Nation
The results also show incumbent State Senator Carole Migden in a surprisingly weak and consistent 3rd place position, pulling in just 17 percent of the vote at this time. Migden maintains this 17 percent and does not get within 10 percent of the contest leader both before and after candidate information is provided.
After balanced candidate information that provided basic biographical details and equal critiques of each candidate, Assemblyman Mark Leno increases his support by 3 percent, while Nation's support declines 3 percent and Migden's remains unchanged. After information, Leno holds the lead in this race.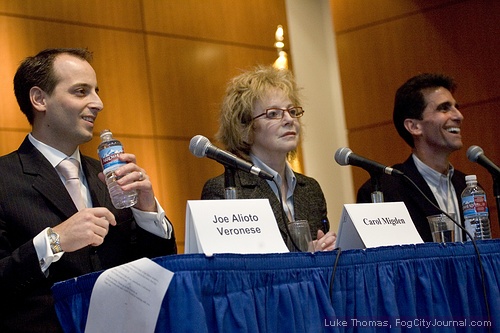 San Francisco Police Commissioner Joe Alioto Veronese,
incumbent Senator Carole Migden,
and Assemblymember Mark Leno.
Migden's vote share remains constant at 17 percent, suggesting the challenge the incumbent faces in winning over new support in this race.
| | | | | | |
| --- | --- | --- | --- | --- | --- |
| | MIGDEN | LENO | VERONESE | NATION | UNDECIDED |
| Initial Ask | 17 | 24 | 7 | 27 | 25 |
| After Candidate Information | 17 | 27 | 10 | 24 | 22 |
| CHANGE | +0 | +3 | +3 | -3 | -3 |