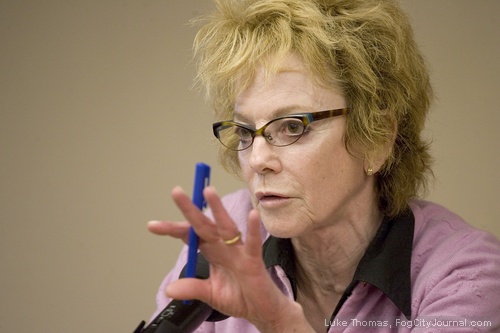 Former California Senator Carole Migden.
Photo by Luke Thomas
By Luke Thomas
April 9, 2009
Former California Senator Carole Migden is "seriously looking" at throwing her hat into the 2010 race for San Francisco District 10 Supervisor, a Migden confidante relayed to Fog City Journal yesterday.
The reliable source said Migden, who currently resides in District 6, recently met with a real estate agent to help her find a new home in District 10.  Migden had been previously rumored to be eyeing a possible run in Districts 6 or 8, but turned her attention to District 10 after Debra Walker declared her candidacy in District 6 and Rafael Mandelman declared his candidacy in District 8.
Migden declined to comment on the rumor but confirmed she is making plans to move to District 10.
District 10 encompasses Bayview Hunters Point, Portrero Hill, Dogpatch, Silver Terrace and Visitacion Valley.
Cedric Akbar, James M. Calloway, Espanola Jackson, La Vaughan Moore and Dianne Wesley Smith have so far filed papers with the Department of Elections declaring their intentions to run for the open seat that will be vacated by sitting two-term Supervisor Sophie Maxwell.