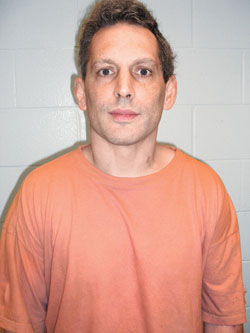 Hans Reiser
Police photo
By Jeff Shuttleworth
March 3, 2008
Computer engineer Hans Reiser calmly testified today that he had nothing to do with the disappearance of his estranged wife Nina, who disappeared on Sept. 3, 2006, after she dropped off the couple's two children at his house in the Oakland hills.
Reiser, 44, who described himself as a programmer, software architect and small business owner, said he and Nina spent about an hour talking about their bitter divorce case that afternoon while their children played on computers in a downstairs room.
Dressed in an open-neck white shirt and a blue blazer, the same clothes that he has worn since his lengthy trial began last Nov. 6, Reiser said he told Nina that he no longer would pay her $1,000 a month in child support, that he wanted her to pay him "back alimony" and that he wanted legal custody of their children.
Hans and Nina Reiser married in 1999 but she filed for divorce in August of 2004 and was awarded legal custody of the children, although he was allowed to have them stay at his house several days a week. Their divorce never was finalized.
Reiser said Nina brought the couple's two children to his house at 6969 Exeter Drive about 2:20 p.m. on Sept. 3, 2006.
He said he and Nina prepared some food for the children, then the children went downstairs while he and Nina talked as they sat on a black leather couch in the living room on the main floor. Speaking in a matter-of-fact but confident tone as he answered questions from his attorney, William DuBois, said that after about an hour of talking with Nina she told him, "Hans, I have to go." He said he wanted to talk some more because, "I wanted to finish convincing her of all the points in the divorce."
However, Reiser said Nina insisted on leaving, said good-bye to the children, walked out the front door, got into her Honda Odyssey mini-van and drove away.
Asked by DuBois if he ever saw Nina again, Reiser said, "No, I did not."
The body of Nina Reiser, who was born in Russia and was trained as a physician there, has never been found, despite extensive searches in the Oakland hills and elsewhere. But in October of 2006 Hans Reiser was charged with murdering her because prosecutors believe that DNA and blood evidence proves that he killed her.
He has pleaded not guilty to the charges against him.
DuBois has said that he thinks Nina Reiser may still be alive and in hiding somewhere, possibly in her native Russia. The couple's two children, Rory and Nio, currently are living in St. Petersburg, Russia, with Nina's mother, Irina Sharanova.
After briefly asking Hans Reiser about the last day that Nina was seen alive, DuBois turned to asking him about his background.
Reiser said he "hated" Manteca Junior High School in Oakland so he took some "self-based" math classes and was admitted to the University of California, Berkeley at the age of 15. He said his Scholastic Aptitude Test score was 1,410 and his score on another entrance exam was in the top 1 percent.
Reiser said he dropped out of UC-Berkeley in his senior year, in part because "I do better teaching myself than learning from others." He said he began working in the computer industry and by 1984 he began developing a file system, a project on which he said he devoted the next 20 years of his life, including the formation of his company, Namesys Inc.
Reiser said that in 1984 he also wrote a first draft of a novel but never got around to re-writing it because developing his file system took most of his time.
"It needed a re-write and I still want to do it," Reiser said of his novel.