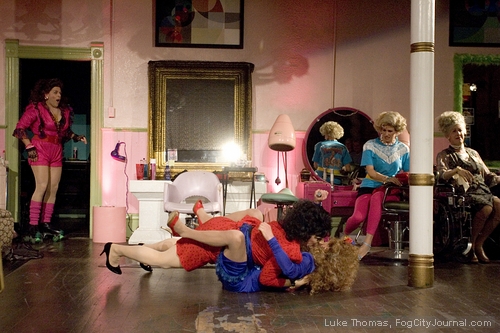 Raven Looney (Jef Valentine) and Spuvina Fetlock (Arturo Galster)
release years of pent up rivalry towards each other during an hilarious scene
in Stale Magnolias, now playing at Glama-Rama Hair Salon through June 14.
Photos by Luke Thomas
By Hope Johnson
May 4, 2009
Debra Walker, who is running for re-election to the San Francisco Democratic County Central Committee, held a unique and entertaining fundraiser last night at the Glama-Rama Hair Salon in the Mission. The event kicked off with a VIP reception where Walker went glam with a makeover, making a splashy appearance in a purple skirt, shiny silver stockings and high heels, all topped off with a pink B-52s bouffant wig.

Debra Walker made over in purple and pink.
The makeover began a fun evening of glam eighties-fashion as guests became the audience for Foul Play Production's extraordinary and flamboyant play, Stale Magnolias.
Stale Magnolias offers comic tribute to the southern comfort "chick flicks" of the 1980s through a brilliant parody of films such as Crimes of the Heart and Steel Magnolias.
Written and directed by Sean Owens, Stale Magnolias is an exquisite treat – fresh, original, fabulously acted, and laugh out loud funny.
The script, set, and costumes (designed by Steven Lemay) are wonderfully exaggerated. Sickeningly sweet southern accents, big 80s hairdos, flashy make-up, and neon bright colors combine to skillfully evoke the 1980s film genre of a group of women trying to get along with each other. It has the exact effect one might expect from a live production involving four drag queens playing women desperately seeking attention. Yet, this production is surprisingly clever and intelligent without once crossing the line into pretentious or "snarky."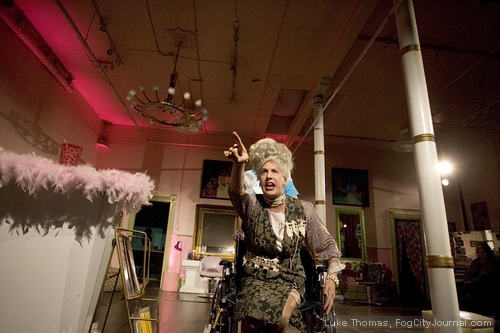 Fanny Chaffer (Sean Owens)
The action takes place at the Last Chance Salon located in "Rectal," Texas. Proprietress CC Chesterfield, played by the only female cast member, Julia Mitchell, balances the competing personalities and ulterior motives of her beauty salon clients, all the while training the newly hired stranger in town, Sugar Sweetly (David Bicha). Sparks fly, along with accusations of murder, when two of the small town's rivals, Raven Looney (Jef Valentine), a ruthless business woman, and Spuvina Fetlock (Arturo Galster), an aging beauty queen, meet serendipitously at the salon. The story is rounded out by the ill-tempered salon co-owner Fanny Chaffer (Sean Owens) and disc jockey Loos Morales (Rik Lopes).
Take note of the exquisitely named characters and locations because the witty dialogue follows the same hilarious style. It's fast-paced and full of intelligent, funny lines. For example, the town of Rectal has a radio station with the call letters "KY." The disc jockey ends her weather report with, "It's dry and dusty in Rectal. Thank God for KY!"
There is nothing hollow about these characters. Owens and his production partner, Cameron Eng, have created a completely believable and fun alternate world. The audience is privy to the emotional and psychological evolution of larger-than-life women. We're shown a glimpse beyond the exterior vanity and see a multiplicity of motives behind the characters' actions. We learn of fading dreams of fame, unrequited love, political aspiration, and see newly formed romances and roller-blade fame ambitions. Spiteful female relationships are resolved through female bonding via parody of Hollywood's stereotypes – but with a delightful twist only possible from a drag queen perspective.
Each actor's performance is so well crafted, it's difficult to separate out a favorite. Truly a group effort, no one actor upstages another.
The audience gets its money's worth as the highly professional actors deliver quality performances at perfect pace, keeping viewers alert, interested, laughing hysterically and wondering what could possibly happen next. Owens said one of the interesting things for the actors is to see if the audience can keep up with the quick pace of the story.
An integral part of the play is its natural "stage" setting. The production is presented at Glama-Rama, a real life hair salon and art gallery located in San Francisco's Mission District. Art-deco appointed Glama-Rama is worth viewing all by itself, as exaggeratedly decorated as the play's characters, and demonstrating the same cleverness. Owens said the play was completed a couple of years ago but was put on hold pending permission to use Glama-Rama as its stage. Although not written with the space specifically in mind, Glama-Rama is perfectly suited for the show. Outside of already being furnished with old-school beauty salon ambiance, Owen said he believes the intimate room setting encourages the audience to be more engaged and connected, as if the audience is actually part of the play.
This is the first play presented at Glama-Rama, and the space is used cleverly and effectively. The salon has been outfitted with professional stage lighting, including use of props such as flashlights by the actors during a scene when the characters worry they might be murdered.
Sean Owens lives up to his title of SF Weekly's "Best Comic Playwright" and Stale Magnolias is the proverbial "must see" theatrical production of the year.
Shows are most Saturdays and Sundays at 8:00 p.m. through June 14 at the Glama-Rama Hair Salon, located at 417 South Van Ness. Tickets are $20 at the door or $15 online.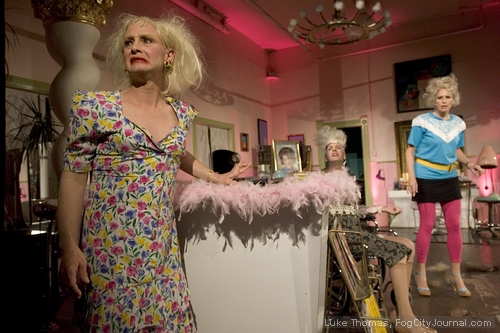 Sugar Sweetly (David Bicia), CC Chesterfield (Julia Mitchell)
and Fanny Chaffer (Sean Owens) anxiously await the arrival
of a dead body.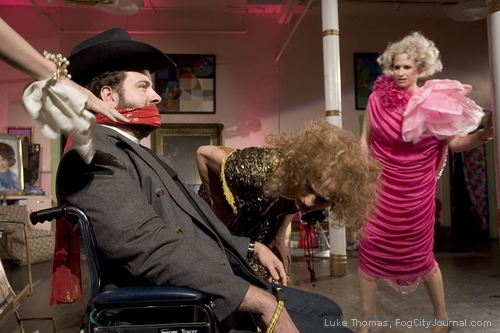 What's he got down there?