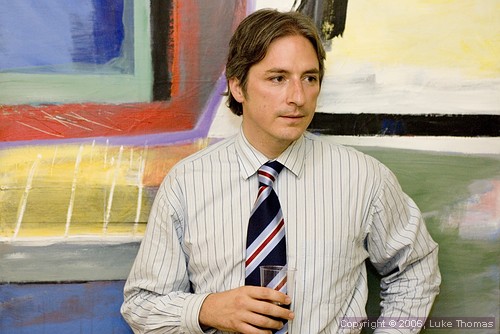 Independent vice-presidential candidate Matt Gonzalez
announced today he has left the Green Party.
Photo by Luke Thomas

By Luke Thomas
March 4, 2008, 6:15 a.m
Vice-presidential candidate Matt Gonzalez ended weeks of speculation about his political party affiliation, announcing today he has left the Green Party.
In a statement released to Fog City Journal, Gonzalez said he made the decision to withdraw his Green Party affiliation "to increase ballot access for the Nader/Gonzalez ticket."
According to Gonzalez, states including Delaware, Idaho and Oregon do not allow members of political parties to run as independents.
"I have enormous respect for the Greens but I don't want to create additional hurdles for the campaign by remaining in the party," Gonzalez wrote. "I expect to work in tandem with future Green campaigns, and remain committed to alternatives to the two-party system."
Hansu Kim, a senior advisor to Gonzalez, stated, "As a prominent member of the Green Party, Gonzalez has been credited with helping recruit candidates and raise money for campaigns. He will remain committed to all progressive political efforts as an independent."
Gonzalez currently serves as the treasurer of Green Party school board president Mark Sanchez's bid for the District 9 Supervisorial seat being vacated by Tom Ammiano.