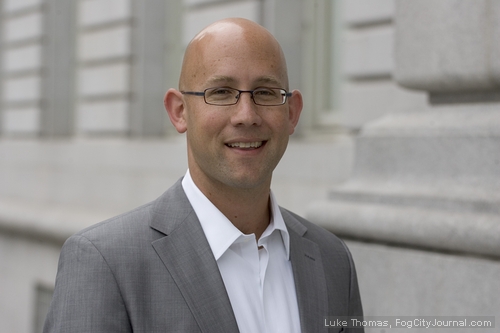 Rafael Mandelman is the first candidate to declare candidacy
in the 2010 race for District 8 Supervisor.
Photos by Luke Thomas
By Luke Thomas
June 11, 2009
Lawyer and Board of Appeals Commissioner Rafael Mandelman filed papers with the San Francisco Department of Elections Wednesday, formally declaring his candidacy to replace sitting Supervisor Bevan Dufty in the 2010 race for District 8 Supervisor.
Considered a Progressive, Mandelman is the only candidate so far to declare candidacy in what is expected to become a competitive race in a district regarded as socially progressive but economically moderate.
District 8 encompasses Noe Valley, The Castro, Glen Park, Diamond Heights, Duboce Triangle, Dolores Park & San Jose/Guerrero, and Buena Vista Heights neighborhoods.
"I think it's a Progressive district," Mandelman told Fog City Journal, "but it can vote conservative and it has sometimes voted for the more conservative candidate in previous races. But I do think the that the people who live there have Progressive values."
And though it is considered early to declare candidacy for a race more than a year away, Mandelman said he filed now to legally begin his fundraising campaign against candidates he expects will court deep-pocketed downtown corporate interests, interests that are more concerned with development than social issues. Filing early also gives Mandelman a head start in securing important endorsements.
As in previous contests for district supervisor, candidates with the strongest ground campaigns who make the effort to canvass constituents across the district, have had the greatest electoral success. Winning labor support can also be a boon to a candidate's door-to-door ground campaign.
"I have strong hopes I will win union support," he said. "I would very much like to get the (San Francisco) Labor Council endorsement. I have good relationships with Local 2 and SEIU and other unions."
On the question of whether constituent politics has changed as District 8 has become more affluent, Mandelman said: "It's become a more affluent district, but gay people and straight people in the district have chosen to live there because of the culture they've found there, the history – people are aware of that and they've made a choice."
Thrice-elected former Supervisor Harry Britt joined Mandelman during his filing with an enthusiastic endorsement.
"Rafael has been a friend and hero of mine for a long time and he's really the Progressive candidate in this District race and someone who's earned the support of the present members of the Board of Supervisors," Britt said, "and he'll be an extraordinary leader for San Francisco."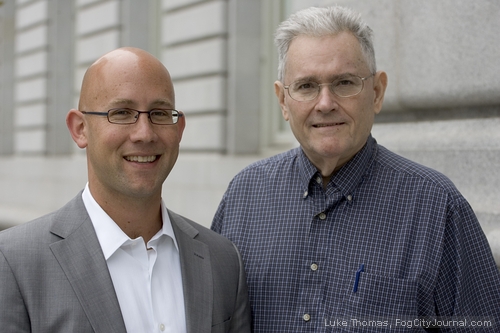 Harry Britt has formally endorsed Mandelman.
Though not officially declared, San Francisco Public Utilities Commission Assistant Manager Laura Spanjian, Deputy City Attorney Scott Wiener, and Assistant District Attorney Rebecca Prozan are expected to join Mandelman in the race.
"I like all of my opponents," Mandelman said. "I think all of my opponents are talented, excellent candidates. We're all good candidates."
Asked what differentiates him from his expected opponents, Mandelman said: "I have a range of experience that actually is pretty good qualification for this office. I have been a lawyer for cities and affordable housing developers for the past nine years. I'm a commissioner on the Board of Appeals, which is sometimes said to be the most powerful commission in San Francisco. I've been President of the (Harvey Milk) Democratic Club and I am very active in Democratic Party politics."
"So, at the level of credentials, I offer good credentials, but what I also offer is a lot of heart and passion for San Francisco and also the passion about the things that the City government does to make peoples' lives better, taking care of the people that need to be taken care of, and to create opportunities for people who need to have opportunities created for them."
More Info
Rafael Mandelman bio