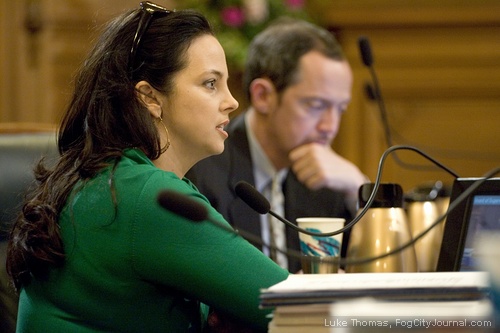 Supervisor Michela Alioto-Pier, a paraplegic who relies on a self-powered wheelchair, argues for support of a wheelchair accessible ramp in Board Chambers at yesterday's weekly Board of Supervisors meeting. The $1.1 million project, estimated to take 4.5 months to complete, was rejected by Supervisors on the grounds that the project is too costly.
Photos by Luke Thomas
By Nicholas Olczak
March 5, 2008
The Board of Supervisors yesterday rejected plans for the construction of a $1.1 million wheelchair ramp in City Hall's legislative chamber, citing a need to find a less expensive solution at a time of large scale budget cuts.
Supervisors supporting the project – intended to improve disabled access to the President and Clerk's desk – denied suggestions it was for a single supervisor's benefit, saying it was a civil rights issue.
"This isn't just about the disabled community," said Supervisor Michela Alioto-Pier who has vowed to sue the City following the 6-5 dissenting vote. "We are voting on whether or not this room should be accessible."
However Supervisor Jake McGoldrick protested that the ramp was "ridiculously expensive." He insisted planners "bring us a solution at a lower cost" rather than use money that could be better spent on other causes.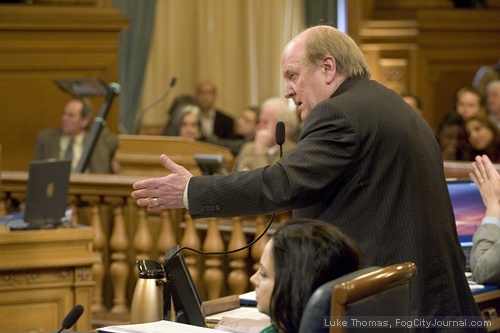 Supervisor Jake McGoldrick
Board President Aaron Peskin supported this position, arguing there are "other ways" to improve accessibility during a fiscally difficult period. He said future Board Presidents could be made to remain in the lower position he has adopted.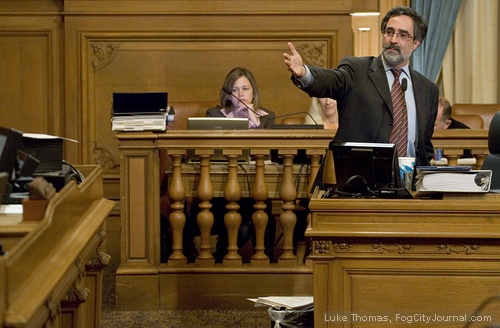 Board President Aaron Peskin
Supervisor Chris Daly said it was "a sad and sorry state of affairs" that the Board was considering this expenditure whilst also making cuts to services like Buster's Place Homeless Shelter which will "heavily impact" disabled communities.
"If we want to be real about accessibility, we need to be talking about accessibility for the majority of San Francisco," Daly said.
Supervisor Sean Elsbernd criticized the "either or of budget" discourse, arguing money could be found and was being spent on less important issues.
"Money should not be used as an excuse," Elsbernd said.