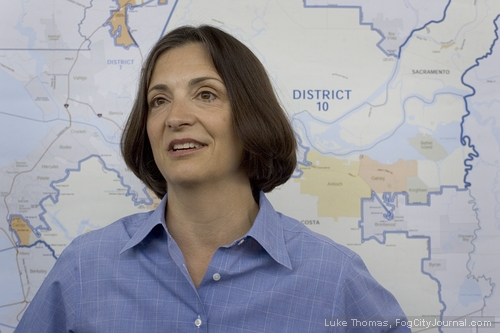 Assemblymember Joan Buchanan
Photos by Luke Thomas
By Luke Thomas
June 16, 2009
Democratic Party Assemblymember Joan Buchanan kicked off her campaign Sunday to replace Rep. Ellen Tauscher in the tenth congressional district.
"The reason I am running for Congress is because I believe I have the skills and knowledge to help rebuild our nation," Buchanan told her supporters and campaign workers during a mobilization speech at her campaign headquarters in Walnut Creek, adding that job creation is key to turning around a flagging US economy.
A mother of five children, Buchanan left her position in the private sector to serve on the board of the San Ramon Valley Unified School District. She successfully ran for State Assembly in California's 15th District in 2008.
"We need to invest in our children, our schools, and rebuild the education system," she said. "And we have to rebuild our healthcare system."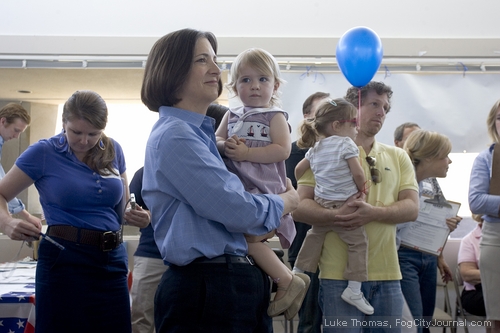 Fog City Journal conducted an interview with Buchanan following her campaign speech to talk about a range of issues facing the district, a vast geographical area that comprises Contra Costa, Solano, Alameda and Sacramento counties.
Jobs, peak oil and mass-transit
"Short term, obviously, jobs is the big issue," she said. "Getting people back to work has to be the number one priority."
If elected, Buchanan said she would press for federal stimulus dollars to improve the district's existing roads as well as invest in mass-transit development, including the expansion of BART.
"More (stimulus funds) should go to regional rail," she said, "because you create jobs by doing that and we need to give people those options."
With an expectation of a never-ending supply of cheap oil following the end of World War 2, new automobile-centric communities were expanded into the hinterlands and interconnected by freeway systems. Today, American suburbs are at the mercy of increasing worldwide demand for a limited supply of oil, a finite resource that has seen its market price soar to levels of unaffordability.
"If we believe that we need to reduce our dependence on foreign oil – which I believe – and you want to move to having a sustainable society and sustainable economy, then we're going to have to plan differently," Buchanan said.
"Ultimately we're going to have to look at more mass-transportation options. I think those are the right priorities," she added.
Healthcare reform
On the issue of spiraling healthcare costs and the estimated 50 million uninsured Americans who cannot afford private health insurance, Buchanan said she supports President Obama's efforts to reform healthcare. Thirty-one percent of every dollar spent on healthcare insurance is profit for the private health insurance industry, a profit margin realized in large part by declining health insurance premiums to Americans with pre-existing medical conditions.
"My ideal would be universal single-payer health care," she said. "But I really applaud President Obama – as you know he's a proponent of a public option – and I think the first step we have to take is getting everyone covered."
Buchanan believes an Obama-supported public healthcare option could be the "stepping stone" to move the country to a single-payer healthcare solution.
The US is the only industrialized nation that does not provide publicly available healthcare to its citizens.
"If we can make sure that every American has basic healthcare coverage, we're going to go a long way to reducing the costs of those of us who are fortunate enough to have insurance," she said.
Buchanan said she was not familiar with the funding component of HR 676, a universal single-payer health care bill that would expand Medicare coverage to all Americans. First introduced in 2005 by Rep. John Conyers, HR 676 would be funded through an increase in personal income taxes on the top five percent of income earners. It would also institute a modest payroll tax on workers and employers and levy a small tax on stock and bond transactions. HR 676 would also close corporate tax loopholes and repeal tax cuts initiated under the previous Bush administration for the highest income earners.
"If we want to move forward with Medicare for all, we have to make sure the funding is there and people are getting high-quality service," she said.
"Everyone has interests in this (healthcare reform). You need to find a way to balance those interests so you can move forward, and clearly we've got to find a way to stop the double-digit inflation we're experiencing in healthcare, year after year."
War funding
On the issue of war funding, hundreds of billions of dollars that could be used instead for healthcare, housing, education, renewable energy investment and other priorities, Buchanan said: "I opposed the war in Iraq before the first bombs and missiles were levied at the nation."
"I don't believe Iraq was ever an imminent threat to the United States," she said. "So, do I think it was a mistake? Absolutely. That's not the way we should be spending our money."
Asked if she would support war appropriations if elected, Buchanan said (sounding like Speaker Nancy Pelosi who opposed the Iraq war but supported its funding): "I support Obama's troop withdrawal plan, and we need to withdraw our troops in an orderly manner that protects their safety and allows the transition of the Iraqi government to have economic and political stability."
"We're going to have some appropriations to bring the troops home," she said.
"On Afghanistan, I support the President increasing the number of troops there," she said. "I think the goal there is to stabilize the country, to secure the border with Pakistan."
"I think the war in Afghanistan is a war on terrorism," she said, unaware of the proposed construction of the Trans-Afghanistan Pipeline to transport natural gas from the Caspian Sea through Afghanistan into Pakistan and to India.
Buchanan emphasized the need to reduce US dependency on foreign oil and the need to invest in renewable energy alternatives. She said she supported similar public policies in Germany that has resulted in the highest generation and deployment of solar energy creation in the world, achieved via the government's implementation of fossil fuel energy tariffs and renewable energy subsidies.
"I believe that we are going to be able to switch to more alternative energies," she said.
Campaign funding
On campaign funding, Buchanan said she has not taken money from corporations.
"All of our funding is from individuals and we have a donation that we took from the Women's Political Committee in Los Angeles," she said.
Asked why voters should consider voting for her to represent them in Congress, Buchanan said: "I think I bring a unique set of skills as a candidate because I have strong – both private sector and public sector – financial backgrounds. I have deep, deep knowledge of education. I have deep understanding of the healthcare system and I have a track record of getting the job done, a track record of solving problems, and a track record of being very accessible and meeting with people at the local level and working with them to solve problems."
Other officially declared candidates, or those likely to run for the soon-to-be vacated congressional seat, include Democrats Tiffany Attwood, Tony Bothwell, Joan Buchanan, Mark DeSaulnier, John Garamendi, Adriel Hampton, and Anthony Woods; Republicans Nick Gerber, David Harmer and Catherine Moy; Green Jeremy Cloward; and independent Gino VanGundy.
More Info
Joan Buchanan for Congress