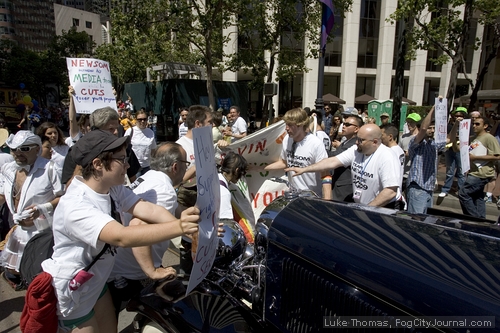 Public health and human service activists staged a die-in protest during Pride 2009 today
to draw attention to Mayor Gavin Newsom's budget
that includes over $121 million in cuts to health and human services.
Photos by Luke Thomas
From Direct Action to Stop the Cuts, Coalition for Budget Justice, Coalition to Save Public Health
June 28, 2009
SAN FRANCISCO – On the 40th anniversary of the Stonewall riots, LGBT activists and SF Pride-at-Work held a die-in at the San Francisco Gay Pride Parade today in front of Mayor Gavin Newsom's float to protest his budget cuts to public health. Protestors lay down in front of the Mayor's float to symbolize deaths that will follow from his defunding of HIV/AIDS services. The action was reminiscent of the ACT UP die-in's of the 1980's and 90's which used civil disobedience to urge a co-coordinated response to fight the AIDS epidemic.
During the protest, Mayor Newsom's vehicle attempted to plow through the protestors who held the space as he exited and walked down Market Street. The mayor and a small group of supporters attempted to dodge the protestors who performed several die-ins while chanting, "Newsom's cuts are killing us."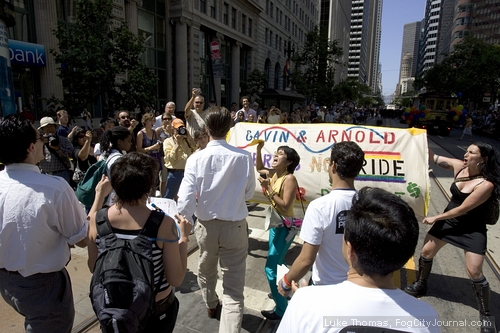 "Gavin and Arnold: There's no Pride in your budget."
Mayor Newsom's 2009-2010 budget makes severe reductions to HIV/AIDS prevention, health services, counseling, education, advocacy, outreach, housing and testing.
"These cuts are killing us, specifically cuts to HIV prevention and care, and public health safety net services being decimated in this budget," said Robert Haaland of Pride-at-Work.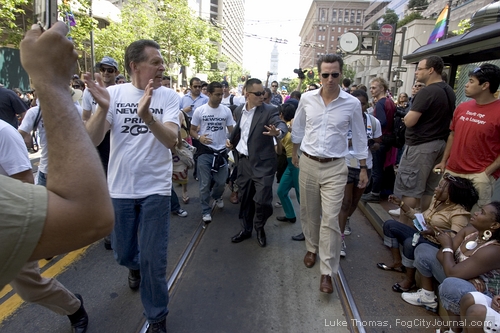 Dozens of people, with the group Direct Action to Stop the Cuts, passed out flyers to the crowd comparing Mayor Newsom's budget to that of Republican Governor Arnold Schwarzenegger's budget.
LGBT leaders have acknowledged the important role Mayor Newsom has played with respect to advancing same-sex marriage but are outraged about his draconian cuts to public health services.
"It is unconscionable to use gay marriage as a shield for legitimate criticism of how these policies are impacting low-income and LGBT residents of San Francisco," said Rafael Mandelman, president of the Harvey Milk Democratic Club.
Among the programs facing elimination are the San Francisco AIDS Foundation's Stonewall Program, the SRO Collaborative (which works with very low-income tenants to ensure that their housing and health needs are met), and Baker Places, a residential drug treatment center. Countless other programs face elimination or severe reductions.