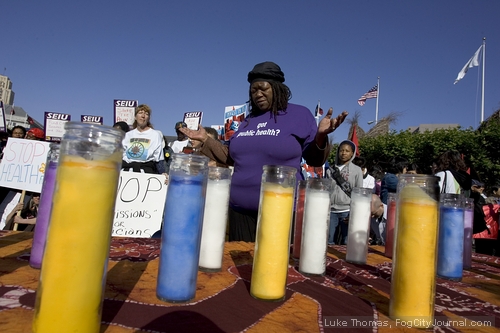 A candlelight vigil was held yesterday outside City Hall
to protest Mayor Gavin Newsom's budget which includes over $125 million
in cuts to health and human services.
Photos by Luke Thomas
By Luke Thomas
June 30, 2009
Protests against Mayor Gavin Newsom's budget proposal continued Monday with a candlelight vigil and die-in outside City Hall.
As many as two hundred protestors, mostly from SEIU Local 1021, gathered around 5 pm to draw attention to a budget that includes over $125 million in cuts to health and human services.
"City Departments that serve the most vulnerable San Franciscans have been asked to shoulder the lion's share of the budget deficit," said Coalition on Homelessness Executive Director Jennifer Friedenbach. "At the same time, progressive revenue options have not been sought and the budget ax seemed to have missed police, fire, high paid executives and public relations staff inside the Mayor's office."
Event organizers provided free hot dogs, soft drinks and potato chips to rally participants who were also entertained by a theatrical skit, music and dancing.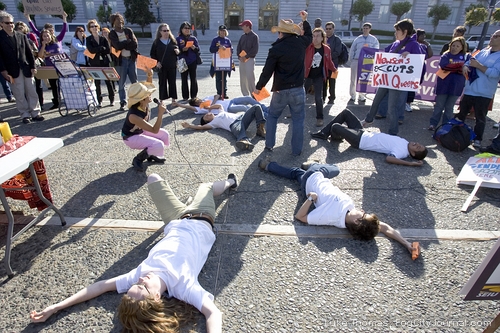 A die in was performed to demonstrate that "Newsom's cuts kill Queers."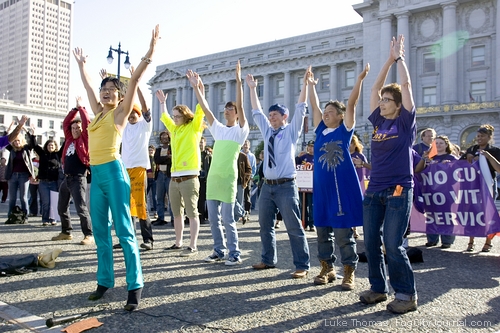 Yesterday's rally followed a die-in protest Sunday during the annual Pride celebration that brought the parade to a temporary halt and forced Mr. Newsom to exit his vehicle and abandon his float.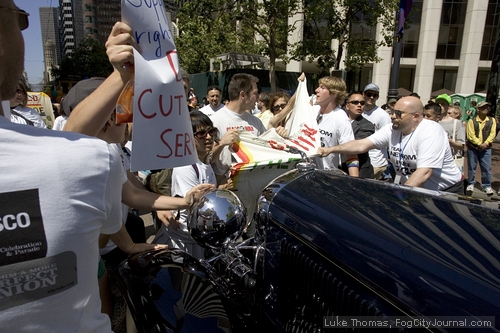 Newsom supporters grapple with protestors during Pride 2009.
Meanwhile, budget negotiations yesterday between the Office of Controller, Budget Chair John Avalos and Board of Supervisors President David Chiu identified $20.1 million in potential restorative add backs. Discussions also focused on placing $50 million in revenue measures on the November ballot to help close the City's $576 million budget shortfall.
"We have to push for more revenue," Avalos told Fog City Journal.