San Francisco Public Defender Jeff Adachi.
Photos by Luke Thomas
By Matt Gonzalez and G. Whitney Leigh, special to Fog City Journal
July 8, 2009
San Francisco Public Defender Jeff Adachi is facing a $1.9 million dollar cut from his budget. The cut comprises nearly 10 percent of his operating budget, which is primarily used to pay for lawyers who provide services to the City's poor.
No other big city department in San Francisco is facing cuts of this magnitude and the machinations that have led to this are among the most unusual at City Hall.
First, Mayor Gavin Newsom proposed cutting the public defender budget under the guise of saving money. He decided, against a trend followed in many other California cities (who are working to expand or create "second" public defense offices), that the public defender is too expensive and a large portion of its cases could be transferred to the private defense bar at a savings.
But audits by the City's controller showed that Newsom's plan to substitute private attorneys for public defenders would cost the city more, for simple reasons. Public defender lawyers work on a salary and do not earn overtime, even though their workload routinely compels a 10-hour+ workday. Private attorneys, by contrast, who customarily only handle cases the public defender cannot due to a conflict of interest, charge $85-$125 an hour. Not surprisingly, the evidence established Newsom's plan to transfer cases to private attorneys would significantly increase the costs to the City by over $1 million dollars each year.
So why was this plan put forward in the first place?
Jeff Adachi, the only publicly elected Public Defender in California, is unafraid to disagree with our mayor (or any other public official) on policy issues and routinely exhibits independence.
For example, Adachi is a vocal opponent of the City Attorney's use of so-called "gang injunctions," that facilitate the profiling and unlawful arrest of African-American and Latino youth based on vague criteria easily susceptible to abuse. Adachi's critique has proved prescient, as trial courts have found that several men have already been wrongfully identified by police as gang members.
Adachi also is a vocal critic of the community courts, a pet project of the mayor that diverts enormous funds to the prosecution of "quality of life" crimes – a project that many view as more important to Newsom's gubernatorial aspirations than to making San Francisco a safer place to live. (Adachi staffed the court himself after the Mayor refused to allocate any resources to his office for doing so and a recent report shows that the court has been ineffective in its first three months of operation.)
Newsom's proposed cuts would effectively require Adachi to lay off at least 15 lawyers – each of whom already handles a caseload that would stagger the average San Francisco attorney. The impact of such a reduction on the ability of attorneys to provide the poor and indigent with a basic criminal defense is hard to overstate.
Facing such severe budget cuts, Adachi sought help from the Board of Supervisors. Given the uncontested evidence that slashing the Public Defender's office would cost the City greatly – in addition to harming the poorest among us – one would assume he would have found a receptive, or at least fiscally responsible ear.
But several members of the Board including many "progressives," have endorsed a new, equally foolish and, in fact, more suspect justification for not helping preserve the Public Defender's resources, inexplicably not understanding Adachi's office's role in aiding the poor.
The Board's budget and finance committee initially voted 4-1 to reinstate $600,000 of his budget, but under the direction of Board President David Chiu, the budget committee decided to transfer $300,000 from Adachi's budget to the District Attorney's office. Chiu, a former prosecutor who once handled misdemeanor cases, justified his actions on July 1, 2009 by saying he could not support giving money to the Public Defender and not giving the equivalent to the District Attorney's office.
Chiu's reasoning is flawed for a number of reasons. Budgeting is based on need. Adachi established that his caseloads were high and that he would most likely be forced to outsource cases if the cuts took effect. So why on earth should there be an expectation that some of these monies first cut from, then restored to, his budget should be allocated to the District Attorney's office?
But Chiu's comments also demonstrate a deep misunderstanding of the fundamental differences between each office. The District Attorney's office budget is $40 million, nearly twice the amount of the Public Defender's budget. And the District Attorney receives over $7 million a year in state and federal grant funding not available to the Public Defender's office.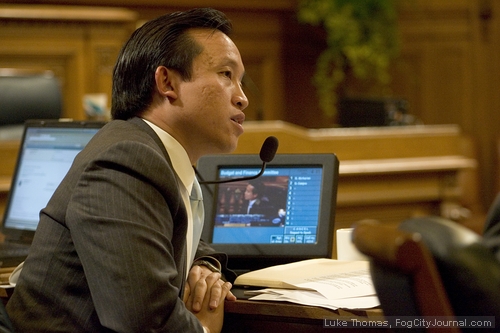 Board of Supervisors President David Chiu.
Under these circumstances, simply taking $300,000 from the Public Defender's office and giving it to the District Attorney for the sake of "equity" makes little sense, to put it mildly.
Even the San Francisco Chronicle published an editorial in Adachi's favor. On June 29, 2009 they called the Mayor's proposed cuts "seriously shortsighted and dishonest". They noted the Public Defender's office of 90 lawyers handle nearly 29,000 cases a year.
No Supervisor that votes to cut this budget while transferring monies to the District Attorney's office should call themselves "progressive." By comparison, the District Attorney's office has only suffered a 3 percent general fund cut (more easily absorbed in a budget twice the size) and will likely grow in size when homeland security and stimulus package money is taken into account.
So why are progressives taking money from our public defender and transferring it to the District Attorney's office? That's a question that the full Board will answer when it reconsiders the Public Defender's budget on July 14th – ironically, Bastille Day.
In trying economic times, the workload of our public defender's office is only going to expand. Gutting a department that is already overloaded with cases with substantially fewer attorneys and resources than the City Attorney's office and District Attorney's office doesn't make sense. And turning a blind eye to the effect such cuts will have – on poor people accused of crimes denied adequate representation – or to the increased costs the City will incur as a result, is not consistent with San Francisco values, or common sense.
Correction from Matt Gonzalez:
It appears that the budget committee may not have exactly transferred 300K from Adachi's budget to the District Attorney's budget. However, what is clear is that a proposed restoration of 600K to the Public Defender was cut in half when Board President David Chiu stated he would not support giving the Public Defender money if equal money were not given to the District Attorney.  Thereafter 300K was given to the District Attorney (According to Budget Chair John Avalos this was done via stimulus package money, ARRA funds) and only half of the proposed restoration (300K) was given to the Public Defender.
As things stand now, despite the 300K restoration, the Public Defender's budget has been cut by $1.6 million.
Additional comment by Whitney Leigh:
This correction, of course, underscores the fundamental illogic of tying a restoration of funds taken from the public defender's budget with a "quid pro quo" allocation of funds to the district attorney's office in the first place. As previously observed, the district attorney's budget dwarfs the public defender's budget and is backed by multiple additional funding sources (including stimulus funds, like the AARA) not available to the public defender.
Matt Gonzalez & G. Whitney Leigh are partners in the law firm Gonzalez & Leigh LLP that primarily handles civil rights cases. They are both former deputy public defenders in San Francisco. Leigh also served as a deputy public defender in Santa Clara County and was a partner at Keker & Van Ness LLP, and Gonzalez is a former San Francisco Supervisor.