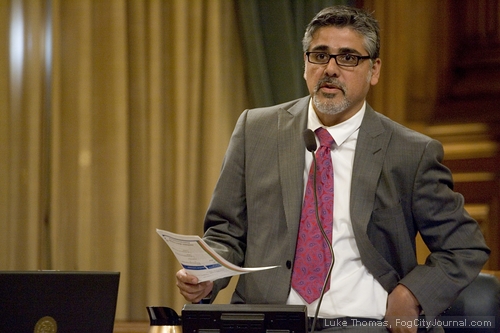 Dear Budget Chair John Avalos…
Photos by Luke Thomas
By Hope Johnson
July 21, 2009
Dear Supervisor Avalos:
In a rarely seen move at Stay Tuned, I'll get right to the point.  WTF is going on with this budget deal?  Relying on the long standing, wealthy power structure to keep promises is no way to wield the progressive power that voters put in place last November.
Please do not approve this budget for San Francisco.  At the very least, please incorporate Supervisor Ross Mirkarimi's proposal to place funds for Newsom's pet projects and excessive staffing on reserve for use as budget bargaining tools.  We often advocate speaking truth to power, but now is the time to speak power to power.
I don't know who convinced you this budget deal is the reasonable and mature, collaborative effort, but don't buy into it for a second.  Of course that's what those in power and those climbing the political power ladder urge you to believe.  Why?  First, there's no precedent for trusting Mayor Newsom, who has proven himself untrustworthy on any number issues from adultery to eco-chic to not spending money on approved social services.  Second the powers that be don't care about this 'payback is a bitch' idea.  It's only a bitch when you're not in control of the conditions that determines or "fixes" the outcome.  Think along the same lines as 'winning a battle is not the same as winning the war.'
Mirkarimi's bargaining tools speak power to power, the only language the politically powerful consider worthy of a response.  Not sympathy, not empathy, not money, not kindness, not position, not title, not greater good, but power – determining power.  If you implement your own ability to block their quest to be the sole determinants of our city's values by requiring negotiations for funds, then you've taken from the current power structure what they fear you'll most realize.  You'd be telling them they can't do whatever they want, whenever they want.  You'd be demanding your say in the ultimate power, the power to determine the course of public policy.
Frenemy Mine
Wow, you sure are paranoid, you say.
Hey, no need to believe me.  Ask your colleague President David Chiu how it works.  He used the same idea to get Mayor Newsom to discuss the MTA budget.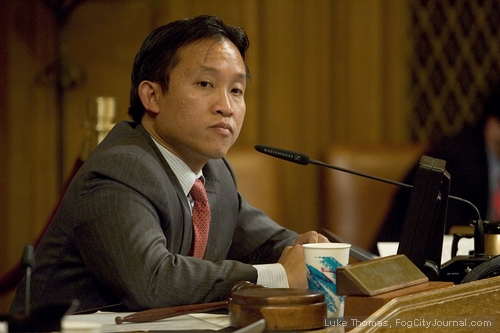 Frenemy Board Prez David Chiu?
Back in May, Chiu skillfully ripped Nat Ford a new one during the special Budget and Finance Committee meeting on rejection of the MTA budget.  Demanding Ford provide substantive answers to tough questions such as the MTA's spending on work orders exceeding Prop A funds, Chiu appeared to be the people's hero.  He especially focused on special interest groups and the Mayor's pet projects.  Ford was put on the spot for Muni payments to 311, a project used endlessly by Newsom to boost his public persona and ambition for higher office.  Chiu also revealed little known payments to the police department for protection of city-owned garages.  This charge, spawned from Muni's decision to reimburse the police department for free parking at a North Beach garage, contrasted badly with the fact private stores are not required to reimburse the police for patrolling private Union Square garages.  Additionally, Chiu attacked the Mayor's public campaign lauding prevention of bus fare evasion.  He asked for the reasoning behind spending $8 million for officer salaries that collected only $350,000 in fines.
Chiu then backed up his performance at committee by lining up the seven votes necessary to reject the Muni budget.  What was that?  That's right.  He demonstrated the Board of Supervisors' ability to effect public policy.  And, whammy, missing Mayor Waldo Newsom was suddenly in the city and very interested in negotiating with the Board President.
Another thing, though, to keep in mind about this.  Chiu's deal was not as beneficial for Muni riders as all that power brokering would warrant.  One wonders what his own deal brought him.  Just as we are all wondering the same thing on this budget deal.
Or you can turn to Mayor Newsom himself for questions on the importance of wielding the power of determining public policy.  Giving budget money to the district attorney from the public defender's budget is nothing more than a demonstration to public defender Jeff Adachi that Newsom still has the final say in policy decisions.  Newsom would be sending a message to Adachi that he'd better stay in line, especially during the upcoming 2011 mayoral elections.
How big is your dome?
So, hanging in the balance is not simply a one time win of add backs or saving one or two social programs.  The bigger picture is setting up the ability to be determinants of future progressive public policy.  Similar to FCJ's opinion article on the recent Recurrent Energy contract, Supervisor Mar's decision to allow the untrustworthy Newsom to be in total control earned Mar the 'weakest link' label on the deal.  That's what MLK's Montgomery Bus Boycott and Gandhi's Non-cooperation Movement were all about.  Tired of relying on promises repeatedly broken, they demonstrated the ability to derail the power structure's unfair public policy decisions.
According to local tour guides in France, City Hall in Versailles was intentionally built taller than the most famous resident, the Palace of Versailles, to commemorate the victory of the people over the rule of monarchy.
An intriguing idea, made all the more appealing when one considers City Hall also represents the ultimate power, the power to determine public policy.  After the French Revolution, no longer would the wealthy monarchy be allowed to create and enforce rules enabling their dominance to continue.
San Francisco City Hall's dome is the tallest in the United States.  Give it the same symbolism.  Start by rejecting the budget or including Mirkarimi's bargaining tools.  Then the next budget may not be dominated by cuts to social services and education because you'll have a say in public policy.  Moves like taking money from homeless advocacy programs to fund PR campaigns like the Community Justice Center will be less acceptable because you'll have demonstrated your ability to influence public policy.
I do believe in you.  I recognize you are trying to do what is ethical.
Speak power to power.  What good are your principles if you don't use them when times are toughest?  Don't shake hands with Mr. Potter.  Reject the budget or use your bargaining power rather than rely on promises.  It's time for Progressives to start building airplanes instead of parachutes.
Stay tuned.