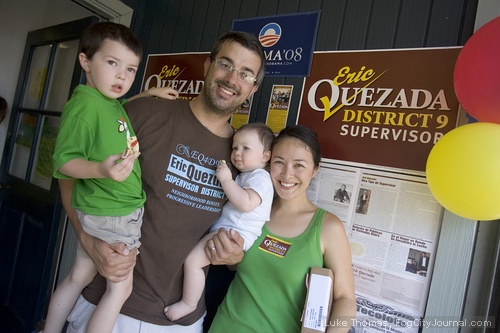 Daly family portrait: Chris, Sarah, Jack and Grace Eolen Daly.
Photo by Luke Thomas
By Chris Daly, special to Fog City Journal
July 22, 2009, 2:57 pm
As an elected official, I take seriously my obligations to my constituents and to San Francisco. As a father of two young children, and a husband, I take seriously my family responsibilities as well.
Recently, my wife, Sarah, and I had an opportunity to purchase a house in Fairfield, two doors away from Sarah's childhood home, where her parents still live. Last month Sarah and the kids moved in. It is in a diverse neighborhood that Sarah loves, and it gives our children the opportunity to grow up with grandparents steps away.
Even though Sarah and the kids make frequent visits to the City, it is tough to be apart from my family. But Sarah and I are determined to do what is best for our kids – which means moving them closer to multi-generational family support.
I continue to eat, sleep, and bathe in my home on Stevenson Street. I bicycle to City Hall and to district meetings from my home and intend to continue to do so until the end of my Supervisor term and probably for longer.