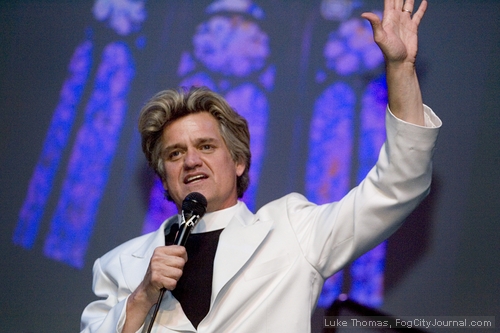 A fundraiser was held yesterday in San Francisco
for Reverend Billy Talen of the Church of Life After Shopping.
Talen, a Green,  is running against Michael Bloomberg for Mayor of New York City.
Photos by Luke Thomas
By Luke Thomas
July 22, 2009
An entertaining fundraiser was held for the Reverend Billy Talen of the Church of Life of After Shopping in San Francisco last eve.
A man on a mission spreading an anti-corruption/corporate/consumerist gospel, Fog City native Talen is challenging billionaire Michael Bloomberg for the mayorlty of New York City.
"The corruption we have in New York City is the same as the corruption we recognize everywhere," Talen told a packed congregation during a 27-minute sermon at the DNA Lounge.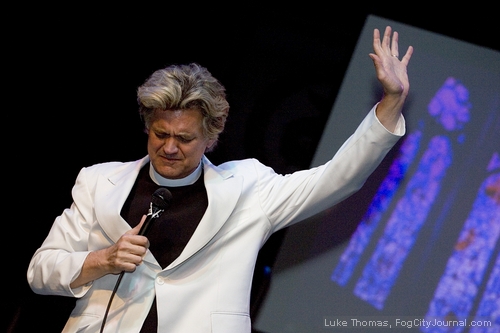 Praise be…
Earlier in the day Supervisor Ross Mirkarimi honored Talen during a Board of Supervisors commendation ceremony, proclaiming July 21 "Reverend Billy Day."
Talen is "a satirical genius with a very prophetic message who has very brilliantly applied his craft to helping others, especially in the high citadel of our global free market system in New York," Mirkarimi said.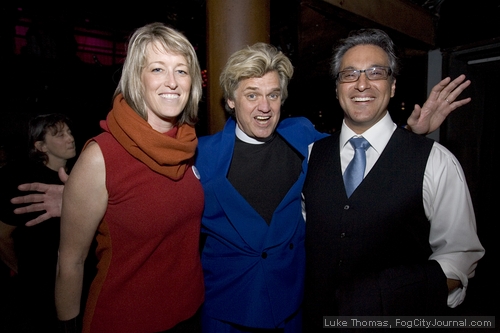 Supervisor Ross Mirkarimi (right) with Reverend Billy and Alix Rosenthal.
An activist and a community leader, Talen "has worked for more than a decade to keep New York City's diverse neighborhoods healthy, safe and vibrant. He has joined forces with communities and grassroots organizations across the world, promoting sustainability and economic justice, and defending public space, neighborhoods, self-determination and the right to earn an honest, independent living," according to his campaign website.
Talen's activism includes opposing the privatization of public resources, anti-labor initiatives, racial profiling and discretionary police enforcement. He has also campaigned against gentrification through displacement, is a defender of local business development over big box retail chains, and a vigorous supporter of sustainable communities.  He routinely includes singing a recitation of the Bill of Rights during sermons.
In 2000, Talen correctly predicted a monolithic economy driven by Wall Street and corporate profits would ultimately collapse.
Organized by Andy Blue, Marnie Glickman and Ken Masters, last night's fundraiser included entertainment by DJ Smoove, Esmerelda Strange, Loyd Family Players, Miss Rosie and Friends, The Bombshells and The Cheese Puffs, and was attended by Supervisors Ross Mirkarimi and Chris Daly as well as several candidates running for elected office including Eric Smith (District 10), Debra Walker (District 6) and Michael Goldstein (Community College Board).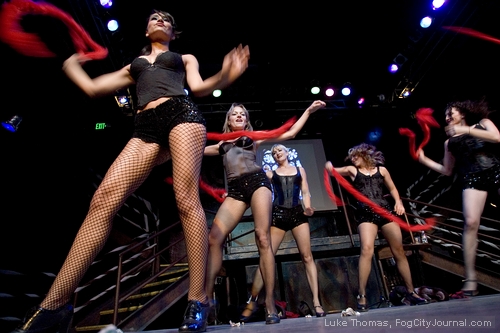 The Cheese Puffs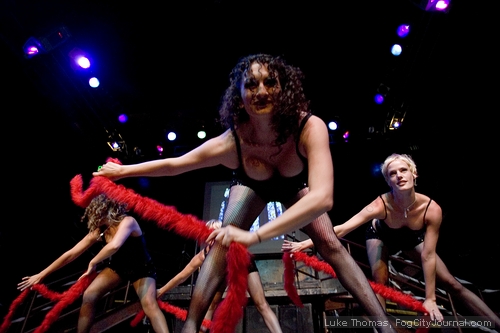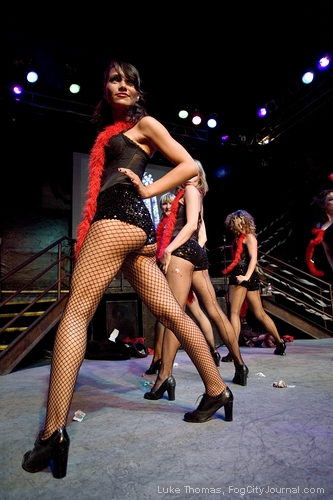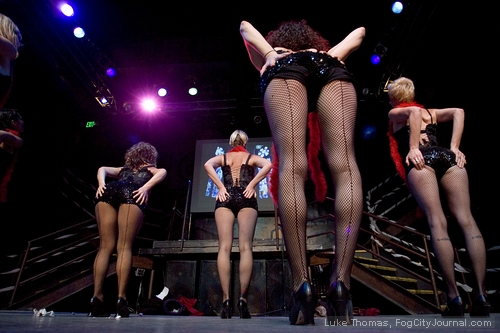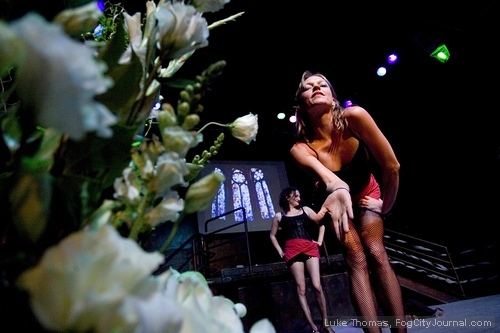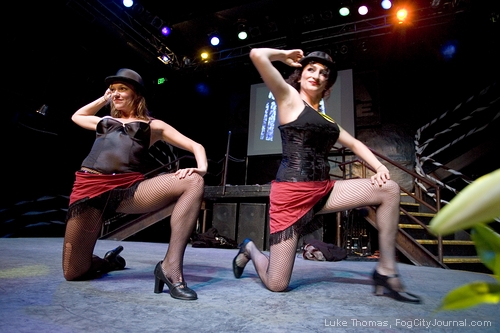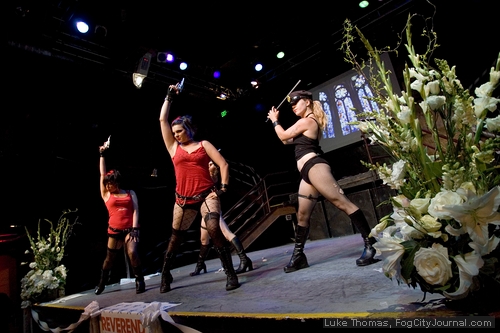 The Bombshells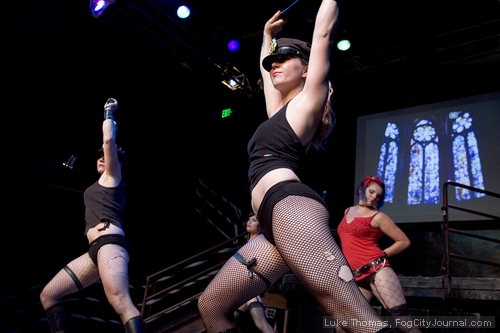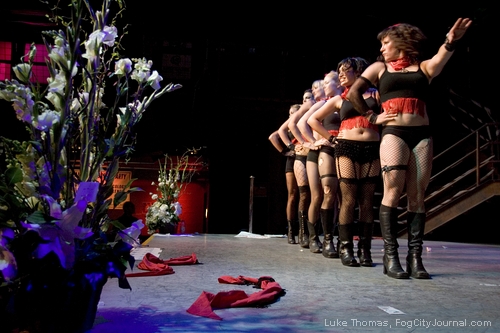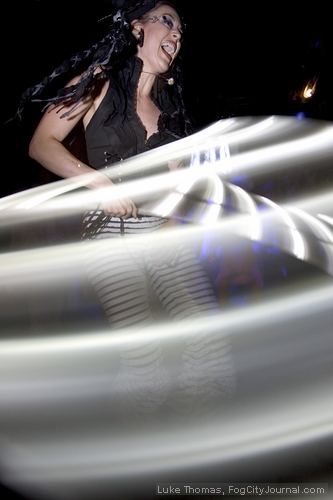 Miss Rosie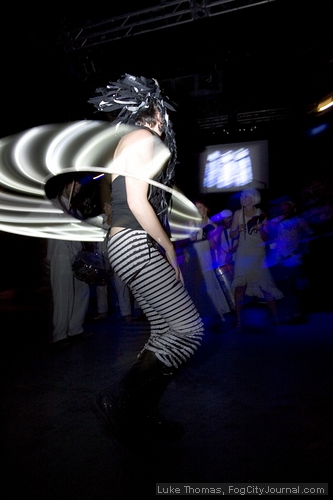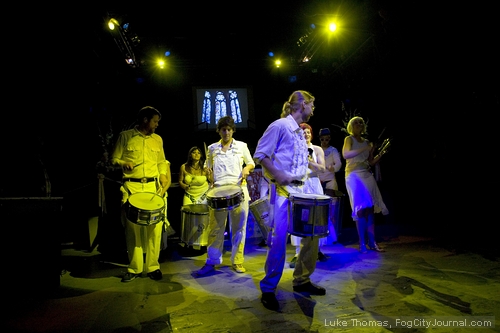 Loyd Family Players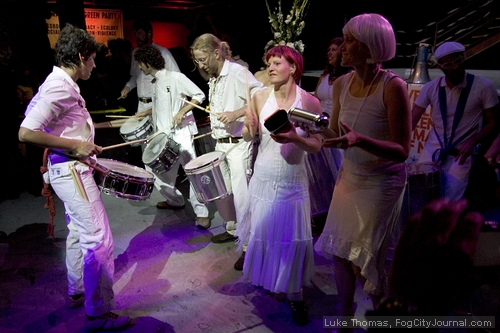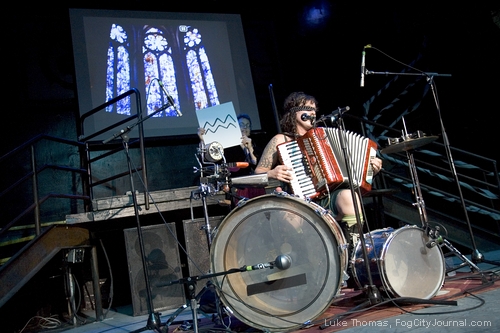 Esmerelda Strange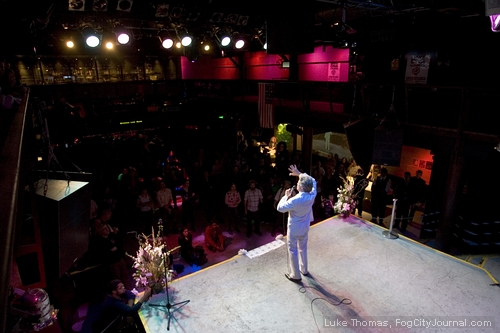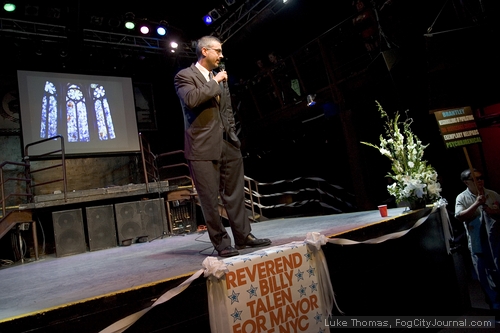 Supervisor Chris Daly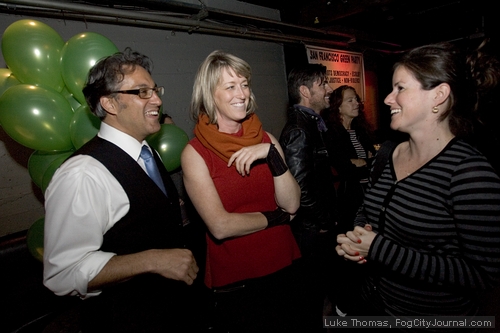 Supervisor Ross Mirkarimi, Alix Rosenthal and Jordanna Thigpen,
who told FCJ she will not run for District 6 Supervisor.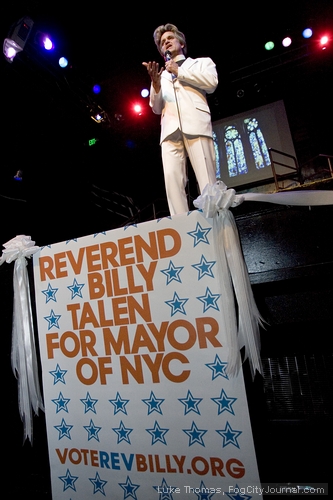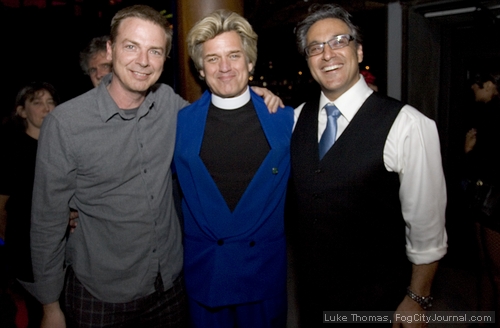 Reverend Billy with Supervisor Ross Mirkarimi (right) and Luke Thomas.
Photo by Alix Rosenthal