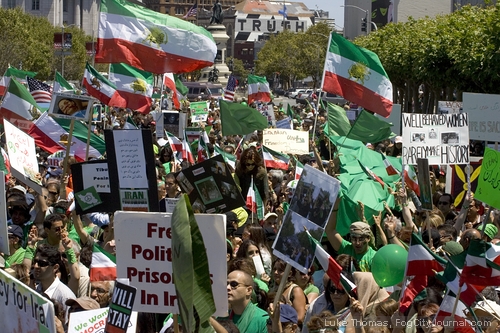 As many as 4,000 protesters convened in San Francisco Saturday
to protest a brutal post-election crackdown by Iranian authorities.
Photos by Luke Thomas
By Luke Thomas
July 27, 2009
Rallies were held around the world and in San Francisco Saturday to condemn a brutal post-presidential election crackdown by Iranian authorities, an election tainted by widespread allegations of corruption, fraud, and vote rigging.
"People are being executed and tortured in prison simply because people are exercising their right to peaceful dissent," said event sponsor Supervisor Ross Mirkarimi, the first Iranian-American to be elected to public office, "and we stand in solidarity with them."
Several elected officials including California Attorney General Jerry Brown, California Senator Mark Leno, Assemblymember Tom Ammiano, Mayor of Brisbane Sepi Richardson and DCCC Chair Aaron Peskin, joined in unity with an estimated 4,000 protesters in front of San Francisco City Hall.
"I have no confidence in the current president, vice-president, and all the Islamic Republic in Iran," Richardson, the first Iranian-American woman to be elected to public office, said. "I'm giving a vote of no confidence."
Attorney General Brown encouraged the protests to continue to force the collapse of the hard-line regime.
"The people who run the show in Iran, they know that the people are fed up.  They don't believe their games and their manipulation of the election," Brown said. "It's only a matter of time before that tyrannical, theological superstructure collapses – and it will collapse."
Following the announcement President Mahmoud Ahmadinejad had been re-elected, massive demonstrations erupted into violent clashes with Basijs, a paramilitary volunteer force loyal to Iran Supreme leader Ayatollah Khamenei.
The violent crackdown resulted in several murders of protesters by Basij forces. Neda, a young woman killed by a sniper, has become a potent symbol of the Iranian rebellion.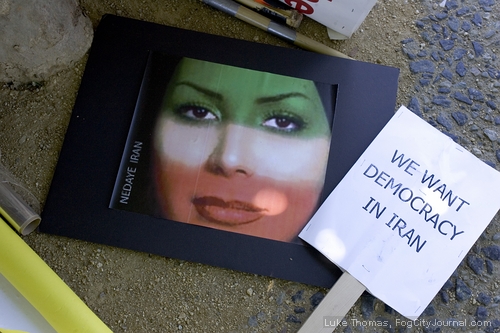 The crackdown resulted in the arrests of as many as 5,000 protesters, dissidents and journalists. The International Campaign for Human Rights in Iran lists 242 dissidents and journalists forcibly detained without due process.
Turaj Zaim said his father, Karoosh Zaim, is an outspoken critic of the theocratic regime and a member of Iran National Front Party, Jebhe Melli. He was arrested without warrant at his home by Basij forces June 21.
"They came into his home and arrested him," Turaj said. "He could be anywhere and they can hold him however long they want to."
The Basijs "are horribly brutal," Turaj added. "They beat children, they beat women, they beat old people, they rape many of the detainees – sometimes to death – and then they burn the bodies of these women to cover what they've done."
"My message to my father is that I'm letting it be known what is happening to you and I'm speaking out for Democracy over here, just like he's done over there. I know you're not afraid. I know you've waited for this moment your whole life. My message to the Iranian people is the world is watching, that your government knows the world is watching."
The protests are continuing. In New York City today, a coalition of 30 intellectuals, human rights and pro-democracy activists began a 3-day hunger strike outside the United Nations to help garner international support for the release of the detainees.