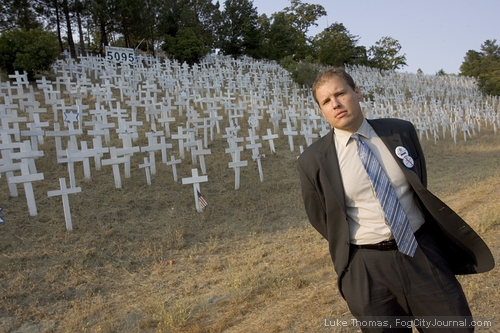 CA-10 Congressional candidate Adriel Hampton.
Photos by Luke Thomas
By Luke Thomas
August 25, 2009
Former San Francisco Board of Supervisors President Matt Gonzalez and legal partner Whitney Leigh today announced their endorsement of CA-10 Congressional candidate Adriel Hampton in the special election race to replace Rep. Ellen Tauscher.
A fundraiser/endorsement party will be held at their offices, Wednesday at 7 pm.
"We're enthusiastically endorsing Adriel Hampton's candidacy for Congress," Leigh said. "Adriel has a long history in San Francisco and a deep commitment to the issues that Progressives care about. He's taken a principled and pragmatic stand on the important issues facing the nation, and his District, and will be a positive legislative asset in Congress and a committed representative for his constituents."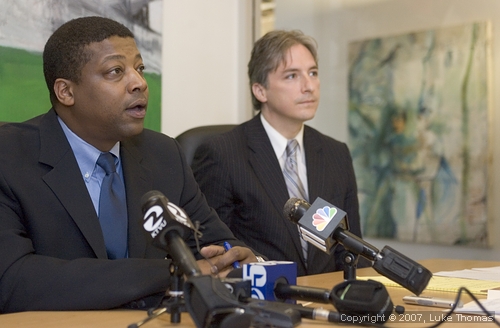 Whitney Leigh and Matt Gonzalez
Hampton, an investigator and former San Francisco Examiner political editor, has fought to bring progressive issues to the top of the agenda in the CA-10 race – to end the wars in Iraq and Afghanistan, the US drug war, and promote open government, labor rights and equality at home.
"Matt Gonzalez and Whitney Leigh are progressive leaders not only in San Francisco, but across the nation – on issues from the living wage to important electoral reforms," Hampton said. "I am humbled and honored to have their support in my race in the East Bay's CA-10. I look forward to gathering tonight to celebrate and build on the common dreams we share."
More Info
Facebook invite – http://www.new.facebook.com/event.php?eid=132845651008&ref=mf
Donate and print tickets (or bring a donation of $20+ to the event)