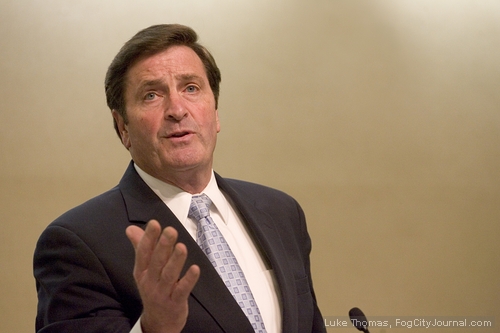 Lt. Governor John Garamendi
Photo by Luke Thomas
By Luke Thomas
September 2, 2009
With all 176 precincts reporting, Lt. Governor John Garamendi has won the CA-10 open primary in the special election race to replace Rep. Ellen Tauscher.
Garamendi, a Democrat, won with 26.15 percent of the vote. He will face Republican Party candidate David Harmer (20.58 percent), Green Party candidate Jeremy Cloward (0.52 percent), American Independent Party candidate Jerome Denham (0.29 percent) and Peace and Freedom Party candidate Mary McIlroy (0.27 percent) in the runoff election in November.
Garamendi's victory eliminates fellow Democrats Senator Mark DeSaulnier (17.55 percent), Assemblymember Joan Buchanan (12 percent), Anthony Woods (8.48 percent), and Adriel Hampton (0.36 percent).
Harmer's victory eliminates fellow Republicans Chris Bunch (4.59 percent), Gary Clift (3.99 percent), John Toth (3.22 percent),  David Peterson (1.59 percent), and Mark Loos (0.39 percent).