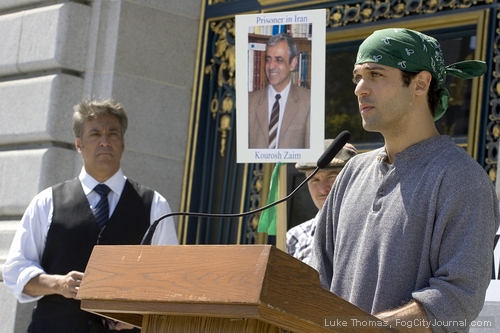 Turaj Zaim held a press conference yesterday with Supervisor Ross Mirkarimi (left)
to announce he is undertaking a 14-day hunger strike in San Francisco to help draw international
attention to ongoing human rights abuses in Iran.
Photos by Luke Thomas
By Luke Thomas
September 9, 2009
The son of a political dissident arrested and jailed in Iran in June began a 14-day hunger strike in front of San Francisco City Hall yesterday.
Poet, musician and political activist, Turaj Zaim, 33, said he is undertaking his hunger strike to help draw international attention to the plight of his father's imprisonment and the ongoing persecution and human rights abuses inflicted on Iranian citizens who dare to speak out against Iran's repressive theocratic regime.
Those abuses include torture, rape and murder.
Turaj' father, Kourosh Zaim, was arrested June 21 by Iranian authorities without warrant or charges following a protest in which Kourosh condemned the re-election of President Mahmoud Ahmadinejad, an election tainted by widespread allegations of corruption, fraud and vote rigging.
Following the election, massive demonstrations erupted into violent clashes with Basij forces, a cadre of paramilitary volunteers loyal to Iran Supreme leader Ayatollah Khamenei. The brutal crackdown resulted in the deaths of as many 69 people and the arrest of as many as 5,000 protesters.
Recent reports allege the discovery of mass graves in Iran's capital, Tehran.
"The most import thing we can do outside of Iran is to raise awareness through the same means they're using in Iran, and that is through non-violence and speaking out," Turaj said during a press conference led by Supervisor Ross Mirkarimi, adding that while pro-democracy voices are being suppressed in Iran, "voices in the free world are having a impact on the Iranian regime."
Though he remains imprisoned, Turaj said his father was released from solitary confinement following internationally coordinated protests on July 25.
Corrupt regimes "find it hard to hide their crimes when the light is shining on them from the outside," Turaj said.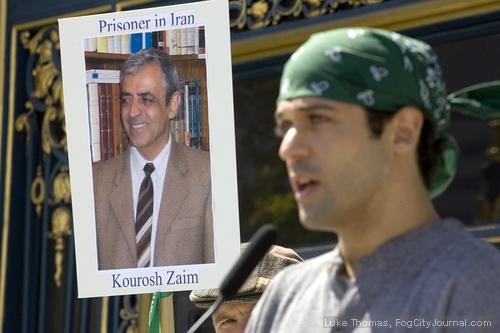 "Turaj and his father exemplify the exact reasons why we stand in solidarity with Iranian-Americans here and with our friends and families in Iran who are being persecuted right now," Mirkarimi, the first Iranian-American to be elected to public office in the US, said. Kourosh, "like many dissidents inside Iran, are facing persecution reprisal, torture and even death."
Following his two-week fast, Turaj will fly to New York to speak at several planned protests against the United Nations' recognition of Ahmadinejad as Iran's legitimate leader. The protest is expected to draw as many as 250,000 Iranian-Americans and pro-democracy sympathizers.
On behalf of the Iranian Diaspora, Turaj has drawn up a list of "Seven Missing Rights" in Iran, including the right to free speech; free assembly; free elections; to unionize; due process and the right to be presumed innocent until proven guilty.
"If we continue to pressure and keep up the momentum, we can accomplish everything the people of Iran want," Turaj said.