Former Mayor Willie Brown, former Supervisor Tony Hall and former ad-executive Bob Pritikin
performed at the Pritikin Mansion Sunday as part of an official ceremony
to unveil the world's largest portrait mural.
Photos and video by Luke Thomas
By Luke Thomas
October 26, 2009
Former San Francisco Mayor Willie Brown, former Supervisor Tony Hall and former ad-executive Bob Pritikin bedazzled an audience of friends and politicos Sunday when they took to the stage under clear blue skies to sing and perform 'I left my heart in San Francisco.'

Brown, Hall and Pritikin perform 'I left my heart in San Francisco.'
The enchanting ensemble was assembled at the Pritikin Mansion as part of official ceremonies held to unveil "the world's largest portrait mural" by acclaimed artist Guy Colwell. The mural will be the first of many world class works of art visitors will see when they arrive to tour what is expected to become an only in San Francisco museum.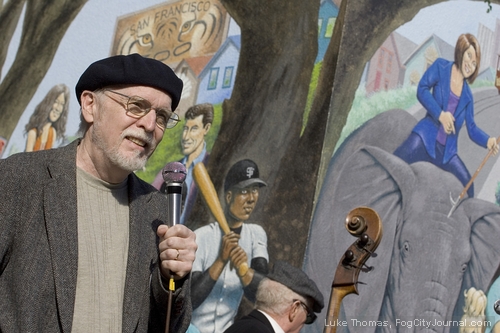 Mural artist Guy Colwell
"When the museum opens, it's going to be very limited to the number of daily guests so there certainly won't be any impact on the neighborhood with sound and parking and everything of that nature," said Pritikin, an avid classical musical saw performer.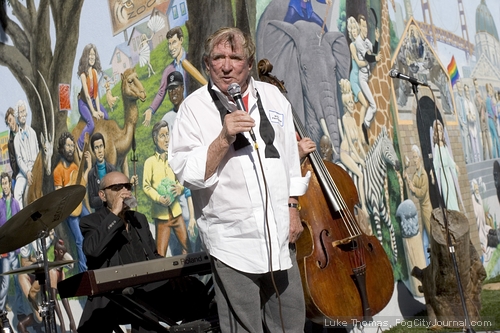 Bob Pritikin
The museum houses an art collection valued at an estimated $40 million including sculptures by Beniamino Bufano, an oil painting by J.M.W. Turner, and an exact replica of Rembrandt's Nightwatch.
Ever the shock and awe ad-man, Pritikin warned that his "magic room," which houses a number of scary artifacts including a working electric chair, is off limits to children.
"The one piece which is quite shocking is an execution in an electric chair," he said, adding, "My grandchildren are not permitted to be in that room because one of them saw it and was terrified and traumatized to the degree of almost being hospitalized." He warned his guests they should be prepared to be "shocked and terrified, and possibly even vomit."
Of course, he was joking.
Brown, who showed up fashionably late due to post game 49er show with Gary Radnich, spoke of his friendship with Pritikin, which dates back to the early 1970s.
"San Francisco is a City of museums. It's a city of cultural attractions. It's a city of sights and sounds, and Bob Pritikin is one of those sights and sounds and he's now sharing it," Brown said. "And if you're up there, if you're one of the people who's been painted in, all I can say is – you're now in perpetuity."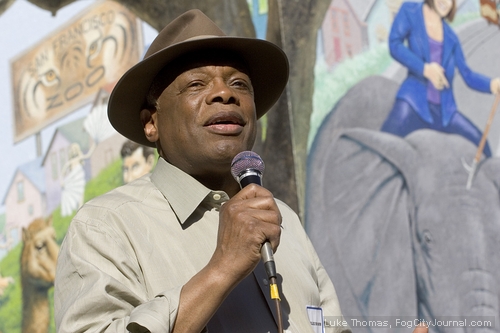 Willie Brown
Other notables in attendance included former Board of Supervisors President Angela Alioto, Supervisor David Campos, former Police Commissioner Joe Veronese (who is running for a seat on the San Francisco Democratic County Central Committee and is expected to enter his candidacy into the 2010 race for District 2 Supervisor), Planning Commissioner Michael J. Antonini, singer Carol Doda, Attorney David Waggoner, Journalist/Writer/Author Warren Hinckle, Daly City Council Member David J. Canepa, and 2010 District 8 candidates Rafael Mandelman, Rebecca Prozan and Scott Wiener.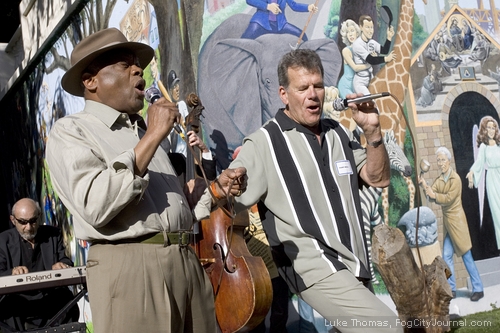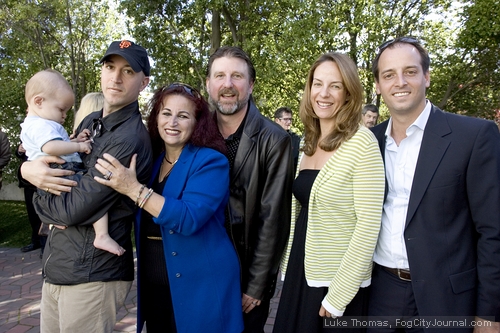 The ever expanding Alioto clan.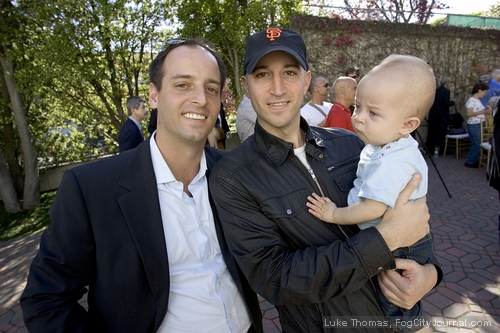 Joe and Gian Paolo Veronese.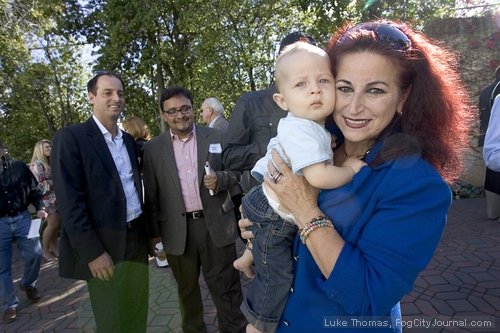 Angela Alioto and grandson.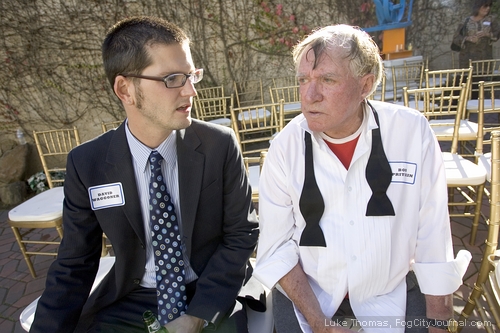 Attorney David Waggoner and Bob Pritikin.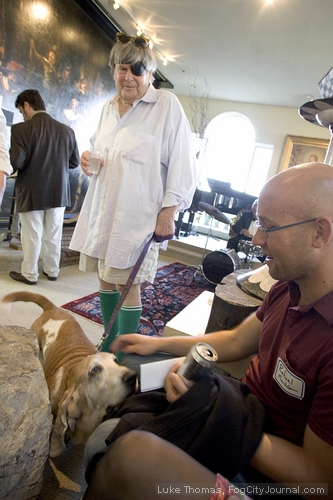 Rafael Mandelman and Warren Hinckle.