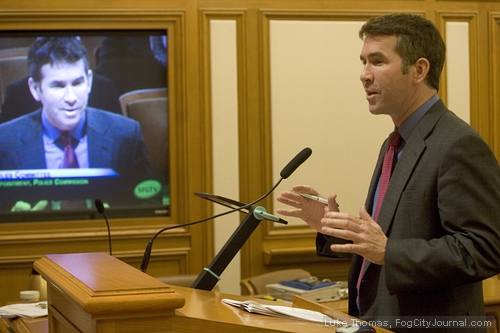 Attorney James Hammer won the nomination for the open seat
on the San Francisco Police Commission yesterday.
Photos by Luke Thomas
By Luke Thomas
November 6, 2009
Attorney James Hammer won the backing of the Rules Committee yesterday for the open seat on the San Francisco Police Commission vacated by recently appointed Human Rights Commission Executive Director Theresa Sparks.
"I'm really grateful for the opportunity to serve," Hammer said following the two-hour hearing. "I'm a third-generation San Franciscan. I tie into a lot of different parts of San Francisco. My parents are from the Westside. I'm gay. I've worked with Latino immigrants, African-American victims, and I look forward to being a really strong voice to make the San Francisco Police Department even better, and to work even more closely with communities."
Supervisors Chris Daly and Michela Alioto-Pier provided Hammer the nomination on the three-member panel over Attorneys David Waggoner and Robert Retana, the two closest contenders.  Rules Committee Chair David Campos, though supportive of Hammer's candidacy, voted for Retana.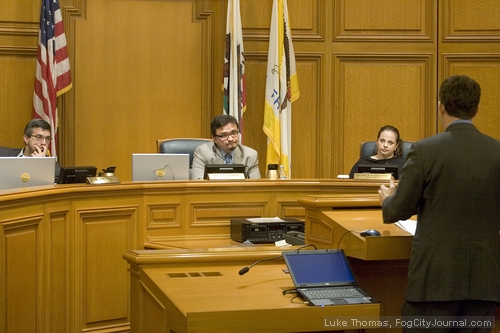 Hammer makes his presentation before the Rules Committee.
Daly, who publicly supported Hammer's nomination, said Hammer would be "an immediate game changer, and I think that we need an immediate game changer right now on the San Francisco Police Commission with the new administration."
"I think Mr. Hammer would have an impact at the first meeting," Daly added.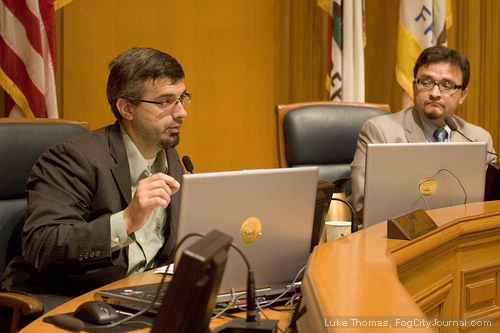 Supervisors Chris Daly and David Campos.
Alioto-Pier, who appeared to be supportive of Civil Service Commissioner Morgan Gorrono's candidacy, said she "found [Hammer's] testimony to be exemplary," while noting Hammer's unique experience working both as a public defender and prosecutor.
"He has also been very vocal when it comes to women's rights… and that is something that is very important to me," Alioto-Pier added.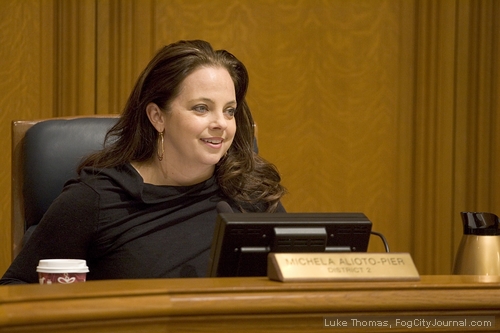 Supervisor Michela Alioto-Pier
On Alioto-Pier's support, Hammer told FCJ: "I know politics plays a part often in these things, but I think sometimes people look at peoples' qualifications and who they are," adding, "When you put politics aside, I think my life speaks for itself and I'm really gratified that I got support from people who normally don't agree on anything."
In addition to his tenures as a criminal prosecutor and public defender, Hammer worked as a reserve police officer for four years. He also studied to be a Jesuit priest and briefly worked as a high school teacher in Watts, Los Angeles. He currently works in private practice as a defense and civil rights attorney.
Hammer has also been associated with rumors that he will run for the Office of District Attorney in 2011. On this subject, Hammer told FCJ: "I have no plans to run for anything right now.  It's a job I would love to hold.  I've made no secret about that.  We have a D.A. now and I don't even know if the job will be open, but I can say unequivocally if I make it past the Board in twelve days, I'm going to spend my time, frankly away from my law practice, focusing on this because I think this is very important."
The full Board of Supervisors is expected to vote on Hammer's nomination next week.