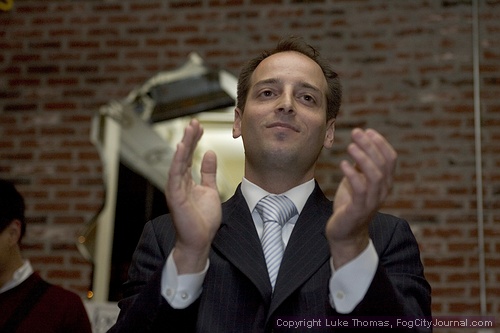 Joe Alioto-Veronese has withdrawn his candidacy from the Senate District 3 race.
Photo by Luke Thomas
By Luke Thomas
March 7, 2008 5:45 p.m.
San Francisco Police Commissioner Joe Alioto-Veronese has pulled out of the Senate District 3 race.
"It's a hard thing to do. I poured my heart into this," Veronese told Fog City Journal.
Veronese cited former Assemblymember Joe Nation's entry into the race February 9, as the primary reason for his withdrawal from the race.
"The landscape has changed since Joe Nation got into the race," Veronese said. "This was the right move to make."
A recent poll has Nation and horse favorite, Assemblymember Mark Leno, tied in a statistical dead heat with incumbent Senator Carole Migden lagging in third place.
Veronese, who said he raised $250,000 for his campaign, said he was gratified by the support he has received.
"This has been an amazing experience," Veronese said. "Ultimately this decision was based upon being true to my supporters who have supported my ideas and my campaign."