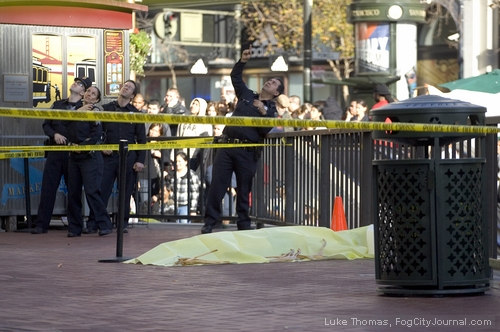 An SFPD officer points to a 4th-floor loft apartment located at Market and Powell streets
from where a man dressed in blue shorts leapt to his death yesterday.
Photos by Luke Thomas
By Luke Thomas
February 17, 2010
A man dressed in blue shorts committed suicide yesterday when he jumped from the top floor of a 4-story building above Forever 21 located at Powell and Market streets.
According to police, the man leapt to his death from a loft apartment at approximately 3:25 pm in full view of shoppers and tourists lined up to take the Powell Street cable car.
A specially trained police negotiator arrived on scene at approximately 3:15 pm but was unable to effectuate a rescue – the man had locked the door from the inside to the apartment.
Several witnesses said some bystanders were calling from the street to urge the man to jump.
"Some people in the back were yelling at him to jump," said eyewitness Nick LaMonica. "They just said it once – it wasn't like people were chanting it or anything."