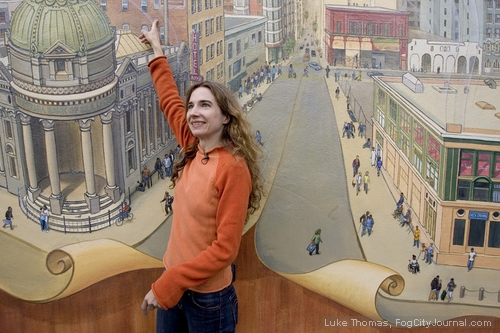 Swiss-born artiste Mona Caron was honored Saturday
during an official unveiling of her mural entitled "Windows into the Tenderloin."
Photos by Luke Thomas
By Luke Thomas
March 8, 2010
A recently completed mural in the Tenderloin by acclaimed artiste Mona Caron was officially unveiled Saturday with much fanfare, enthusiasm and celebration.
Located on the corner of Golden Gate Ave and Jones streets, Caron's paneled mural, which many are calling a masterpiece, depicts a utopian vision of neighborhood transformation while celebrating the Tenderloin's diverse community and history.
"I called it 'Windows into the Tenderloin,'" Caron told FCJ, "because, really, it is just a series of different panels, different windows, different moments in time in the Tenderloin District. The moments in time include all sorts of different eras, but also the present and a made up vision of the future."
Caron, who went to great lengths to include in the mural all the Tenderloin residents she met, described the panels as "whimsical" and "humorous." The mural includes "a lot of actual dreams that are out there," she said.
Her uplifting vision includes a community center with open green space decorated with trees, flowers, fountains and pools, as well play areas for the children and families of the Tenderloin. Gone are the ubiquitous drug dealers and inebriants that plague this neighborhood's clamor for transformation.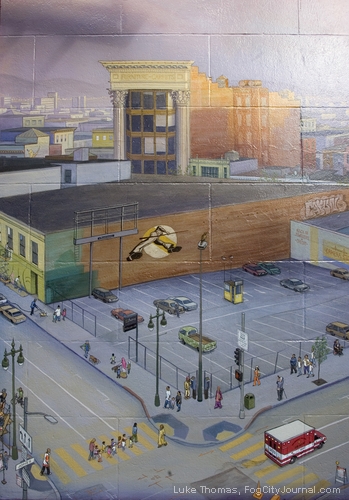 One of Caron's panels depicts the SE corner
of Golden Gate Ave and Jones Street with its present day parking lot…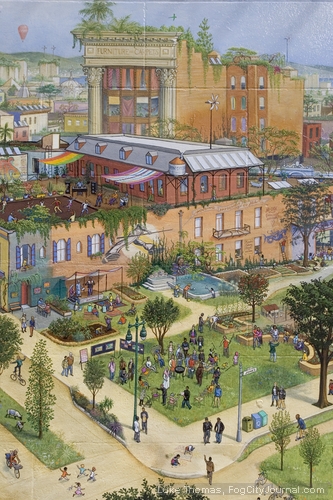 … another panel reflects Caron's vision
of the same parcel (above) with open green space,
lined with trees and decorated with flower beds,
fountains and pools.
"It's wonderful," said fourteen-year Tenderloin resident Larry Hunt who produces programs for NBC. "Mona's mural really brightens up the corner, showing the community in a positive light. You can do anything if you put your mind to it."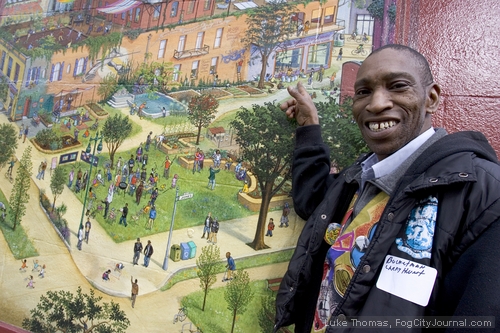 Tenderloin resident Larry Hunt.
"This is really a beautiful thing," added David Jones, a Tenderloin resident for 30 years. "This is my street and everyday I come by here I watch Mona, I see her working hard. Even when it's almost raining, she's still working and I'm loving her for what's she's doing for the neighborhood and we're all family around here. I told her the day she started; she's going to be famous like Amos."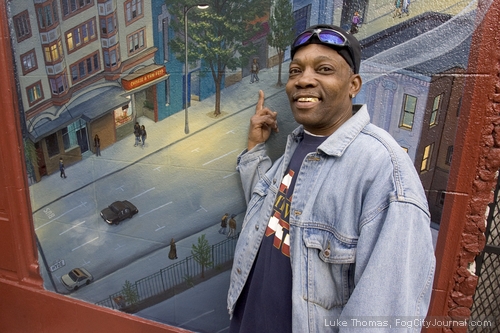 Tenderloin resident David Jones.
Caron is also known for her Duboce Bikeway Mural and the Market Street Mural on Church and 15th streets.
"Windows into the Tenderloin," which took over a year to complete, was funded by a combination of sources including a public grant from the Community Challenge Program; the Mayor's Office of Economic and Workforce Development; a Hamilton Condominiums fundraiser; and the building owners.
Caron paid special tribute to North of Market/Tenderloin Community Benefit District Manager Elaine Zamora for spearheading the project, calling her the "godmother" of the mural.
"Without Elaine, this wouldn't have happened," Caron said.
"I had the idea that this big wall needed to have a mural on it," Zamora said, responding to FCJ inquiry. "The inspiration was finding a piece of art that would suit this building. We started out thinking about a smaller mural until I saw Mona's wraparound work and that was really the inspiration."
"The mural tells all the different aspects and history of the neighborhood and it is completely and totally neighborhood engaged," Zamora added.
Asked if the transformation of the Tenderloin as depicted in Caron's mural is realistic and achievable, Zamora, who is running for District 6 Supervisor, said: "I do. I'm one of those people that puts things in the minds eye and I feel that if you visualize something, it can come true."

Elaine Zamora
(More photos after the jump)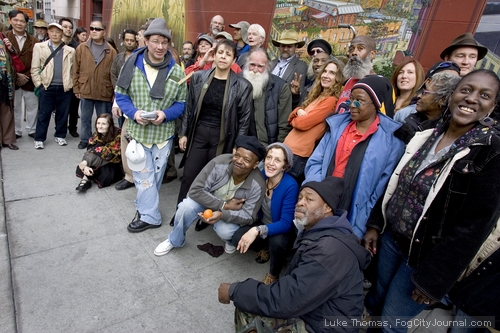 Tenderloin residents depicted in Caron's mural
pose for a group photo.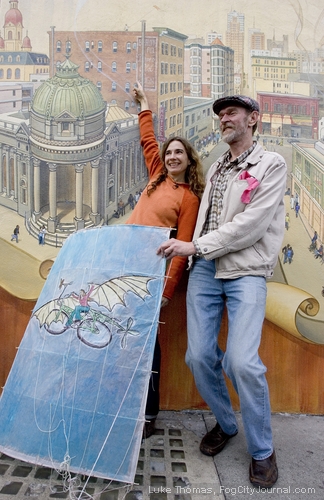 Caron with Jeff "Kite man of the Tenderloin" Marshall.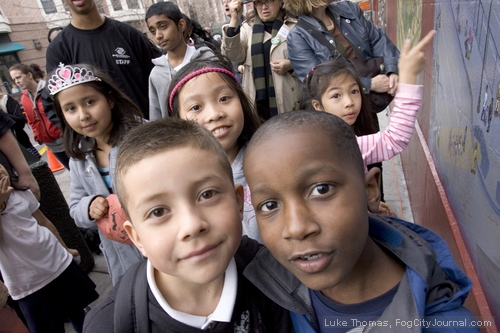 Caron's vision for an open green space where children could play
was inspired by several children she met while painting the mural.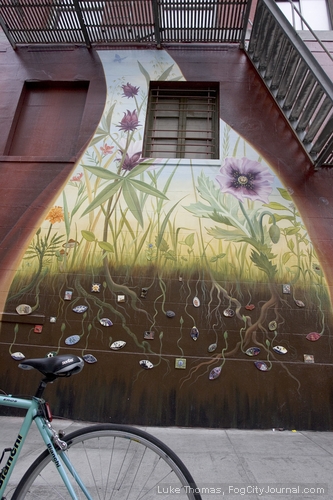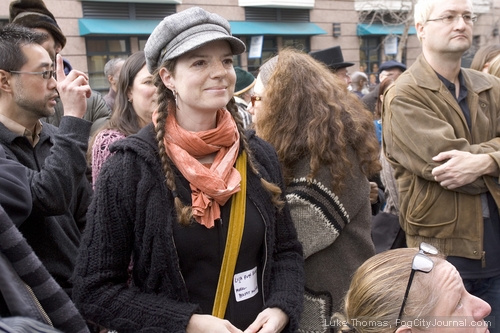 Caron's assistant and project manager Lisaruth Elliott.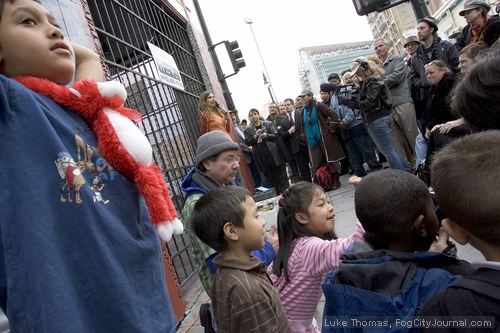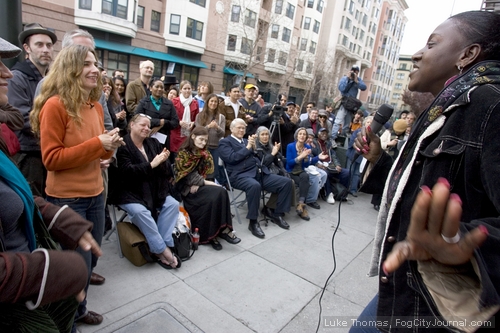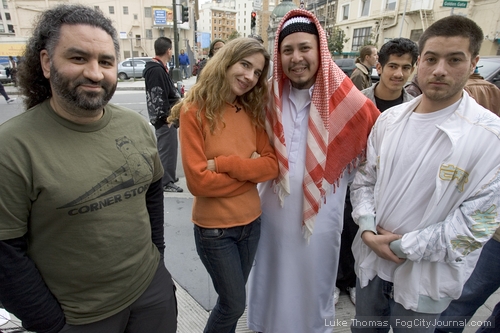 Caron with Mohammed Alla Babidi, Oscar Pena and John Herrera
from the Alsabeel Masjid Noor Al-Islam mosque on Golden Gate Ave.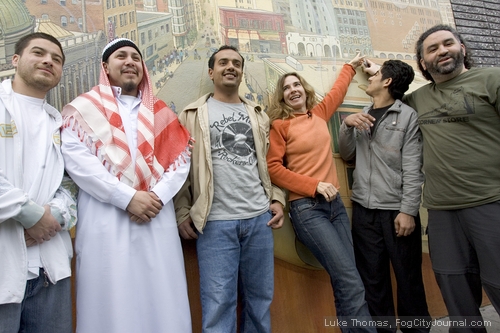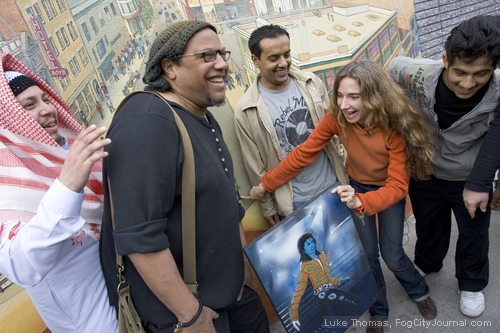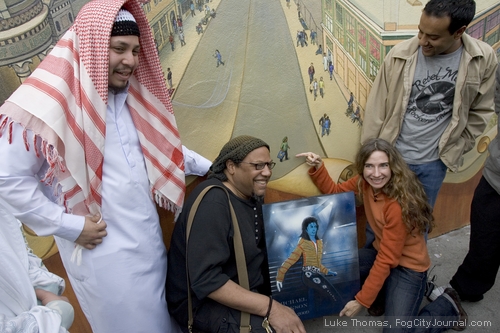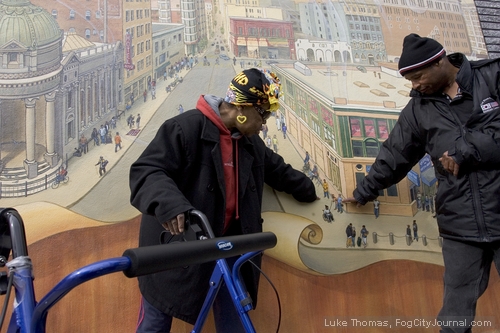 Tenderloin residents Dee Dee and Brent
point to the area where they are represented in Caron's mural.

Tenderloin residents Tara and Brian with Mona Caron.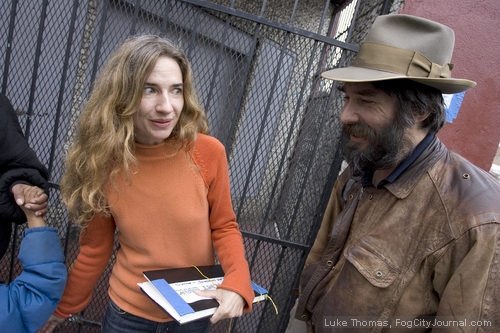 Caron with Tenderloiner and fellow artiste, Tom Jirasek,
who created two ceramic tiles featured on Caron's mural.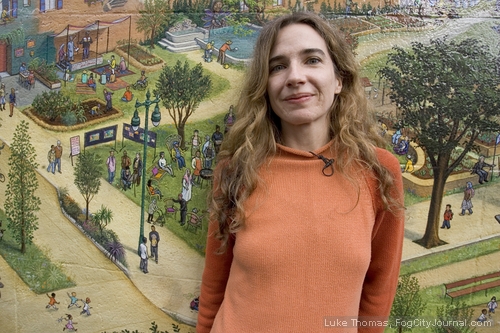 Famous as Amos mural maestra, Mona Caron.