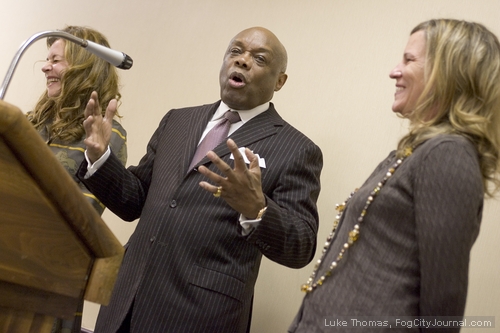 In celebration of International Women's Day, former San Francisco Mayor Willie Brown
presented Farah Makras (left) and Michelle Lacourciere (right) of the Sirona Cares Foundation
with an 'Unsung Heroine' award in recognition of their work with orphans and families in Haiti.
Photos by Luke Thomas
From Global Arts and Education
March 9, 2010
In celebration of International Women's Day, Global Arts and Education (GAE) honored six outstanding San Francisco women Monday, March 8, at the Civic Center Holiday Inn. International Women's Day has been celebrated since 1911. In 1975 the United Nations designated March 8 an official holiday.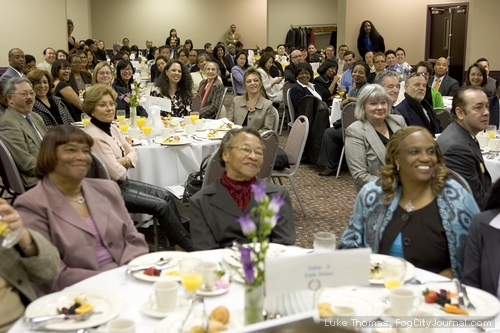 As many as 200 guests attended the International Women's Day Awards Breakfast
held at the Civic Center Holiday Inn, March 8.
Assemblywoman Fiona Ma, recipient of the Extraordinary Public Service Award, was introduced by her brother, Michael Ma, who joked about following in his sister's shadow. He spoke seriously of her drive for education and lifelong commitment to improving the lives of others. Assemblywoman Ma set the tone for the morning with a passionate speech about her commitment to service.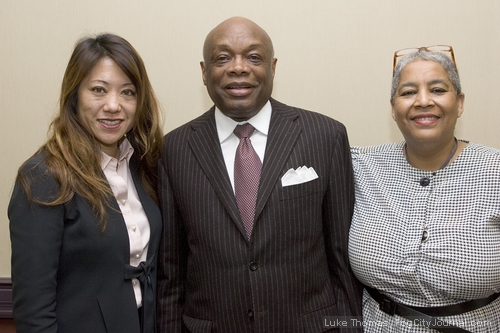 Assemblymember Fiona Ma, Willie Brown and GAE Executive Director Shelly Bradford Bell.
Former Mayor Willie Brown presented the Unsung Heroine Award to Farah Makras and Michelle Lacourciere of the Sirona Cares Foundation (SCF). For years before the devastating earthquake in Haiti, SCF has been working on the ground in Haiti to help children and their families. Michelle said there was a desperate need for fingernail clippers in Haiti to prevent desease.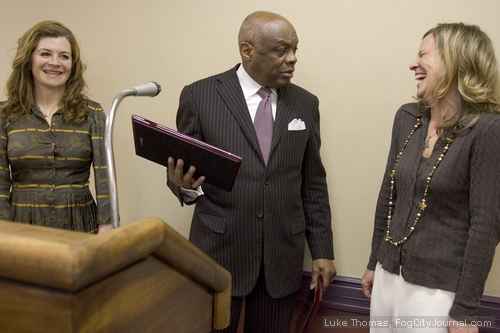 Farah Makras, Willie Brown and Michelle Lacourciere.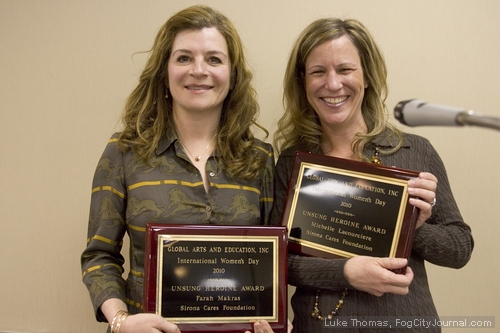 Farah Makras and Michelle Lacourciere.
"There is no sanitation no running water and they must eat with their hands," GAE Executive Director Bradford-Bell shared with the crowd. "I think we should pledge right now to donate 1,000 clippers to Sirona Cares."
Willie Brown raised the challenge to 50,000.
Walgreens, a corporate sponsor of the event, immediately jumped on board and is sending the first 1,000 pairs of fingernail clippers to Haiti. According to Lacourciere, each pair of fingernail clippers can save as many as 5 lives. Reaching the 50,000 goal will save one quarter of a million lives. BART and Yerba Buena Engineering and Construction also provided generous sponsorship for the event.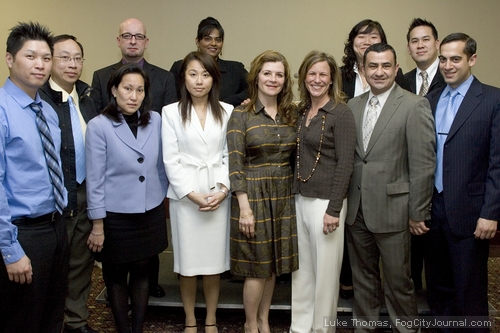 The good people at Walgreens, pictured with Farah Makras and Michelle Lacourciere,
pledged to send 50,000 nail clippers to Haiti.
San Francisco City Administrator Ed Lee presented San Francisco Human Rights Commissioner Zula Jones with the Community Advocate of the Year Award.  In the tradition of International Women's Day, Lee presented Zula with a gift and said it's "about time" Zula was honored and recognized for her work.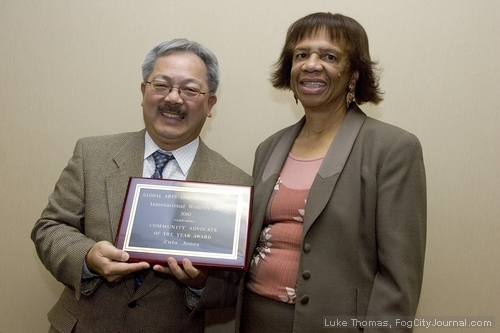 San Francisco City Administrator Ed Lee and Human Rights Commissioner Zula Jones.
Supervisor Bevan Dufty presented BART Director Lynette Sweet with the Annie M. Powell Community Service Award. Annie Powell, who feared she would not make it to age 25, was gunned down in the Bayview just twelve days after her twenty-third birthday. Supervisor Dufty and BART Director Sweet have vowed to help find ways and create policies to bring an end to the senseless loss of our youth.

Supervisor Bevan Dufty and BART Director Lynette Sweet.
Marily Mondejar moved the crowd with an emotional speech after accepting the award for Organization of the Year on behalf of the Filipina Women's Network. Mondejar was presented the award by San Francisco Entertainment Commissioner Al Perez who sits on the board of the Filipina Women's Network. The organization received the award for its fight against domestic violence with Mondejar offering that she was a survivor of domestic violence.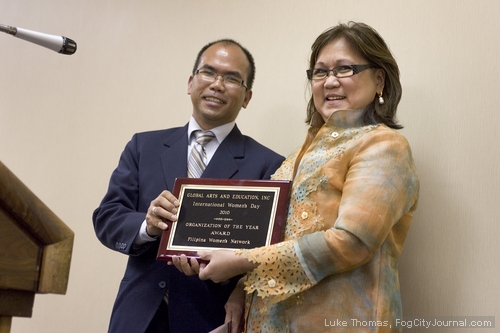 San Francisco Entertainment Commissioner Al Perez and Marily Mondejar.
Reese Isbell, District Representative for Senator Mark Leno, brought Certificates of Recognition from the Senator. Each honoree and GAEÂ  received commendations from the Senator.
"I'm thrilled," said Bradford Bell. "Senator Leno is a very special person whom I admired greatly."
Isbell brought his niece, Mariah Isbell-Becerra, to the awards breakfast. Typical of a sixteen-year-olds, Mariah wasn't thrilled to be up so early during spring break, but it was clear she was having a great time.
"Get use to it. You're going to attending lot of breakfast events when you get into politics," Bradford Bell teased from the podium.
"I could not have dreamed of a better event," added Bradford Bell. "Everybody gave above and beyond what I asked for. The Holiday Inn chef created a special frittata just for us and the guests had only good things to say about the food."
Plans are now underway for the March 8, 2011, International Women's Day Summit. In the coming weeks, GAE will be looking for volunteers and organizations who wish to participate. Anyone interested in volunteering for a committee should contact Shelley Bradford Bell at sbb@globalartsandeducation.com. To received updated information on the 2011 Summit, send an email to info@globalartsandeducation.com and type "IWD Update – Subscribe" in the subject line.
More photos from the event here.