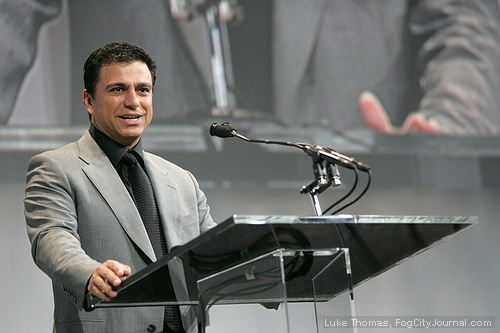 Google Senior Vice President of Global Sales and Business Development Omid Kordestani
donated $3 million to his alma mata San Jose State University.
Photo by Luke Thomas
By Jason Bennert
March 12, 2008
San Jose State University announced Tuesday a $3 million donation from an alumnus who became one of Google's key executives.
Omid Kordestani received his bachelor's degree in electrical engineering at SJSU in 1984. He later helped develop Google's initial business model.
"Omid Kordestani is an exemplary global leader. He is innovative and entrepreneurial with a passion for making a positive change in the world. We deeply appreciate his gift to his alma mater," SJSU Dean of Engineering Belle Wei said in a statement. "Kordestani's gift will support our 'Engineering the Vision' initiative, which will provide a platform for the college's transformation as it continues to educate and train engineers for the 21st century in Silicon Valley and beyond."
The university will also create the Kordestani Endowed Chair that will support faculty teaching in multidisciplinary programs with funds from the donation.
"I applaud the emphasis the Davidson College of Engineering places on passionate teachers who inspire and motivate their students to think beyond conventional boundaries," Kordestani said in a statement. "In the 21st century, engineering education must prepare students to tackle complex problems on a global scale. This education must be interdisciplinary, not only connecting different engineering disciplines, but also integrating subjects from the sciences, business and social sciences."