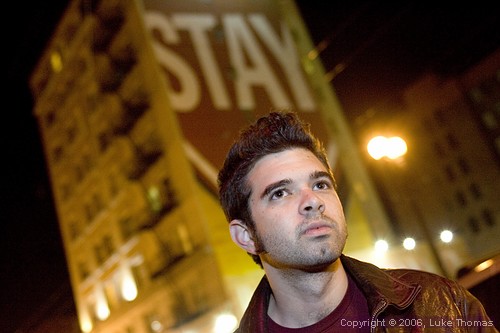 Journalist Josh Wolf, who was arrested yesterday while covering an antiwar protest in San Francisco
marking the fifth anniversary of the US invasion and occupation of Iraq,
recounts his seven-hour detention by the San Francisco Police Department.
Photo by Luke Thomas
By Josh Wolf, special to Fog City Journal
March 20, 2008
"You'll be the first one cited and released," the officer reassured me as I protested my unlawful detention.
While I was the first to be led away in handcuffs, this wasn't the "catch and release" operation the cop had suggested it was. I actually wouldn't be released until six that evening.
It was 10:30 a.m, and I was just about to take a break from filming and grab something for breakfast. I knew I should've eaten before I left, but had wanted to begin filming as early as possible.
I attended the protests as a journalist, and had been actively working to stay out of the officers' way as I filmed the various actions commemorating the five-year anniversary of the war. I don't pretend to be neutral; I marched down the streets in a state of rage and sadness the day the bombs were first dropped, but I was clearly acting as a news gatherer at the time of my arrest.
The police didn't care, and throughout the day several other journalists would find themselves imprisoned for reporting on the day's dissent.
In my case, I was documenting a die-in at the intersection of 3rd and Market. Approximately 30 people laid down in the street and had remained in place for about 20 minutes when the police formed a circle around those participating in the die-in. Having covered numerous San Francisco protests in the past, I knew to place myself outside the police encirclement. For some reason an officer decided he wanted me arrested and I found myself being dragged by the back of my head into the arrest-zone. I explained that I had no intention of interfering with police business and had been pulled into the circle inadvertently, but my complaints went unanswered and I soon found myself placed under arrest and transported onto a bus operated by the San Francisco Sheriff's Department.
The bus was loaded with protesters along with another videographer, and we were taken to the county jail at 850 Bryant. Once in custody, the atmosphere morphed into a surreal environment that could only exist in San Francisco.
As the bus pulled into the jail, Deputy McConnell from the Sheriff's department came aboard and told us he had two requests: he asked us to keep the sally-port clean so that inmates from the general population aren't forced to clean the area later, and instructed us not to use any electronic equipment that we may still have in our possession. He then offered some rather sympathetic words of advice to one protester who had chosen to identify herself as a Jane Doe.
Throughout the day, many of us had an opportunity to talk to Deputy McConnell and we learned that he had served in both Gulf Wars and that he marches with Iraq Veterans Against the War. He told us he had been arrested in a protest in the East Bay and many of us quickly developed a respect for our jailer in a way that might almost resemble a case of Stockholm Syndrome.
With few exceptions, the rank-and-file Police officers and Sheriff's deputies that I dealt with exhibited a level of professionalism that deserves to be commended. I did witness isolated incidents of brutality, and there are other reports that seem to indicate this was a problem throughout the day, but the people that I encountered personally were just doing their jobs.
The Police Department's arrest process and the several hours we spent detained was shameful, but I'm inclined to suspect that this malfeasance rests on those in charge.
We were processed almost immediately upon our arrival. It was a pleasant surprise seeing a gaggle of police working so diligently to process our citations. Around noon it appeared that the arduous task of completing our paperwork was complete and a citation had been affixed to everyone's personal property. Those amongst us who were elderly had been released, and we assumed the rest of us would be let back out in short order. Having nothing left to do, the cops began to congregate in small circles and practiced the fine art of killing time.
More arrestees arrived later in the day, and they too were quickly processed. Once again, the police worked hard to get the paperwork squared away, and those over 65 were quickly set free. Once finished, the police returned to their task of doing nothing. I grew frustrated, and became hungrier and hungrier. I'm sure many of us felt the same. A man named Eric asked if he could get his snacks out of his bag and the officer gladly rifled through his sack and tossed the walnuts, Luna Bar, and apple to him who then shared the bounty with his fellow detainees.
At 2 p.m. we were given a glass of water; at 4 p.m. the deputies brought us "dinner." With ravenous hunger we devoured the peanut butter and jelly sandwiches, the slice of cheese, and the cookies we were provided. The chants had died down earlier, but picked up again with renewed vitality. Many of us began to suspect that we were still in custody as part of an effort to keep us off of the streets. This suspicion was partly confirmed when more than one officer joined in a chant of, "let us go."
A bit later, a new chant emerged from the crowd. "Who's filing a complaint with the police commission?"
"I am, I am."
I don't know if it was simply a coincidence, but within a matter of minutes people were finally processed out and I imagine that most of us were free by 6:30 p.m. A man who had been arrested while crossing the street on his lunch break, quickly sprang for his cell phone to explain to his wife why he hadn't come home.
I grabbed my camera and hurried off to the ANSWER rally cursing myself once again for having not eaten breakfast.