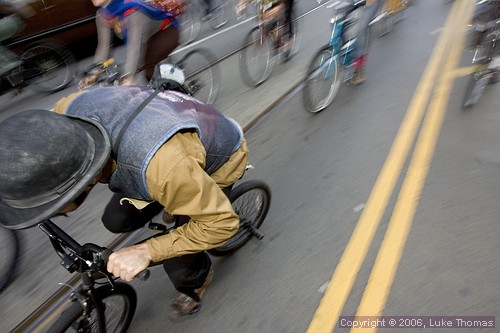 In an effort to encourage the use of sustainable modes of transportation,
the SFMTA will hold an open house today at 6 p.m., 101 Grove Street
to discuss a doubling of San Francisco's bicycle lanes.
Photo by Luke Thomas
By Kamala Kelkar
March 26, 2008
The San Francisco Municipal Transportation Agency will hold an open house today on possibly nearly doubling San Francisco's bicycle lanes for the next generation of bicycle route improvements.
The Citywide Bicycle Plan Update Open House is scheduled for 6 p.m., at 101 Grove St., with an update on 60 proposed bicycle improvement projects.
"We need to encourage people to get out of their cars and onto sustainable modes of transportation," San Francisco Mayor Gavin Newsom said in a statement.

Mayor Gavin Newsom
Photo courtesy SFBike.org
The City and Planning Department are conducting an Environmental Impact Report of the Bicycle Plan, which adds about 34 miles of bike lanes to the route network. But the physical changes cannot happen until a recent lawsuit injunction is lifted. The injunction prevents the City from making any physical changes to streets for bicycles is lifted and is expected to lift in the spring or summer of 2009, according to the agency.
"Our commitment to improving bicycling is strong," said agency Executive Director and Chief Executive Officer Nathanial Ford. "The Bicycle Plan will guide us as we implement bicycle projects that will benefit San Francisco for years to come."