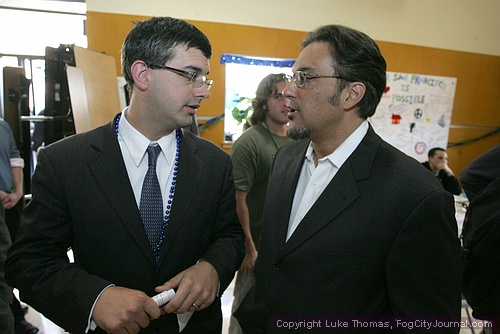 Supervisors Chris Daly and Ross Mirkarimi will host a community forum Monday
to mark the 75th anniversary of the New Deal
and to call for "universal access to meaningful employment and dignified work."
Photo by Luke Thomas
From the Office of Supervisor Chris Daly
March 28, 2008
What: Commemoration of the 75th Anniversary of the New Deal, Supervisors Chris Daly and Ross Mirkarimi Co-sponsor Community Forum, "From the New Deal to the Real Deal, A Forum on the Historical Significance of the New Deal and a Call for Universal Access to Meaningful Employment and Dignified Work"
Where: San Francisco Main Public Library Koret Auditorium
When: 3pm, Monday, March 31st, Cesar Chavez' Birthday
On Monday, March 31st, the day of late labor leader Cesar Chavez' birthday, Supervisors Chris Daly and Ross Mirkarimi will be co-sponsoring a community forum to commemorate the 75th anniversary of the New Deal. For many the New Deal represented a radical change in how government can play an active role in the lives of everyday people.
75 years ago, the United States was at the height of the Great Depression. People across the country had lost faith in our nation's ability to right itself economically and promote the welfare of its people. President Franklin Delano Roosevelt's New Deal programs initially brought public infrastructure and utilities for isolated regions of the country, as well as relief from unemployment and extreme poverty. In a later stage they helped to redistribute some power from big business toward labor unions and consumers.
From the New Deal, we have Social Security, the federal minimum wage, bank and stock regulations, unemployment relief programs and a panoply of public works projects that range from small town post offices to the Tennessee Valley Authority and the Western states dams. "The New Deal has enormous lessons for our society today, especially in how we grapple with the housing and health care crises, continued unemployment and the environmental challenges that require a radical restructuring of our nation's approaches to transportation, manufacturing and housing development," said Supervisor Chris Daly.
The forum will feature New Deal and labor historians and scholars, Roxanne Dunbar Ortiz and Karega Hart as well as author and community activist James Tracy who is fighting for full employment. "The New Deal legacy has enormous implications for how the City of San Francisco may use its resources to extend universal access to meaningful employment for people and families struggling to remain here," Daly said.