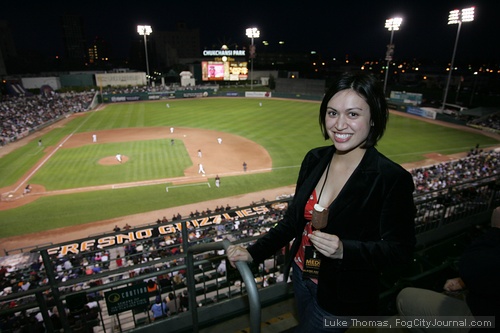 Elaine Santore
Photos by Luke Thomas
By Elaine Santore
March 31, 2008
"Relax, all right? Don't try to strike everybody out. Strikeouts are boring! Besides that, they're fascist. Throw some ground balls – it's more democratic." – Crash Davis, Bull Durham.
Baseball's back. Yay!
I typically use this space for making fun of politicians, sycophants and assorted socio-political climbers. Today's CBChron is political junkie-free and all about baseball.
(99% of readership leaves.)
Fog City Journal and our road-warrior extended family ventured back to Fresno last Wednesday to attend an exhibition game between the San Francisco Giants and their AAA team, the Fresno Grizzlies. Once again, we took the Amtrak down to Fresno and were reminded of how badly California needs high-speed rail.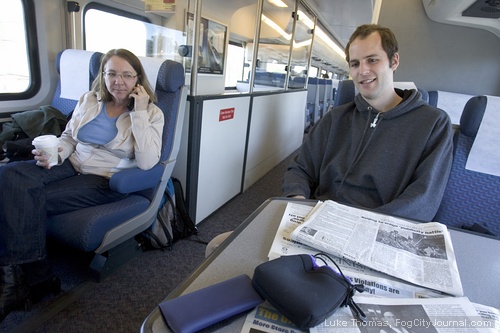 Becky and FCJ's Nic Olczak enjoy Amtrak.
Nic Olczak, Luke Thomas, and I boarded the train in Richmond and met the rest of the crew (h. brown, Daniel, and Becky) in Martinez.
Three scenic hours later, we arrived safely in Fresno and immediately headed for Chukchansi Park. After taking a tour of the park, Thomas, brown, Thomas' nephew, Luke Shanas, and I ventured down to the field to watch Giants batting practice.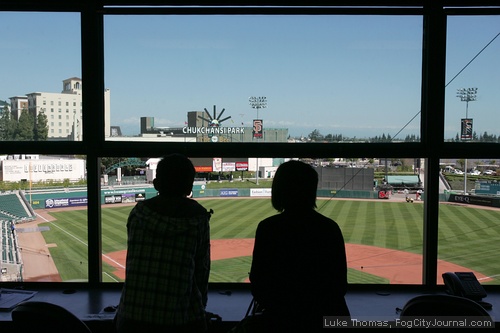 The view from the press box.
I guess it would have helped if I actually recognized all of the players. But it's that time of year.
It was refreshing to see Thomas away from City Hall and photographing subjects of interest, even if said subjects are of no interest to him.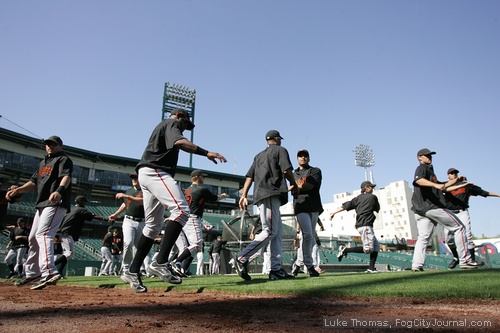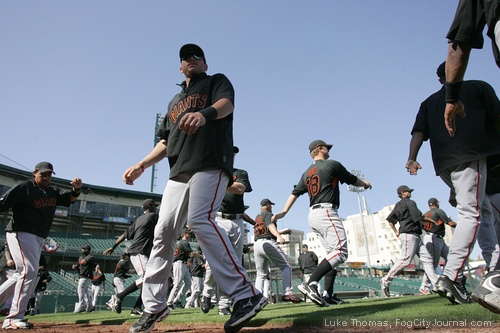 According to the sports writers, the upcoming Giants season is looking bleak. Like, SF progressive movement bleak. Their roster is full of veteran players and unknowns. The fantasy baseball nuts are calling starting pitcher Barry Zito "poison" and won't touch him. (Big Brother blames Zito ex Alyssa Milano for that.)
Maybe Zito should do what Manny Ramirez did, and watch The Secret to help him get his mojo back. Or switch from Yoga to Pilates. I haven't seen Zito in the tabloids since he allegedly dated Hilary Duff for five minutes last year, and, and as a long-time Zito stalker fan, I'm very worried about his career.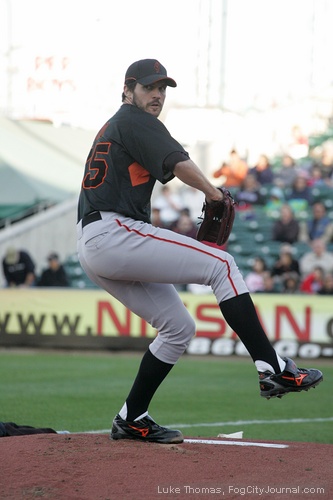 Giants starting pitcher Barry Zito.
However, there are some promising young players on the team, including starting pitcher Tim Lincecum, dubbed "the franchise." Lincecum formerly played for the Grizzlies, and is still very popular with the home crowd.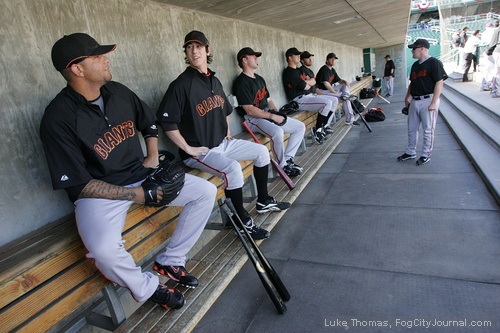 Giants starting pitcher Tim Lincecum (second from left).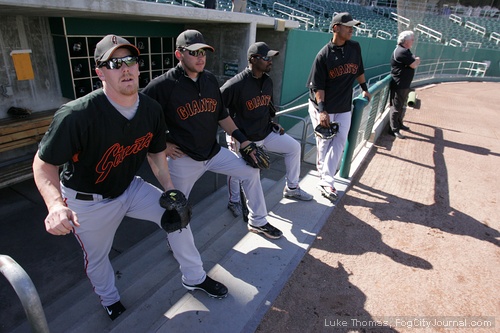 Some dudes doing the Captain Morgan pose.
The Grizzlies drew a record crowd of 14,084 that night, and inked a two-year contract with the San Francisco Giants.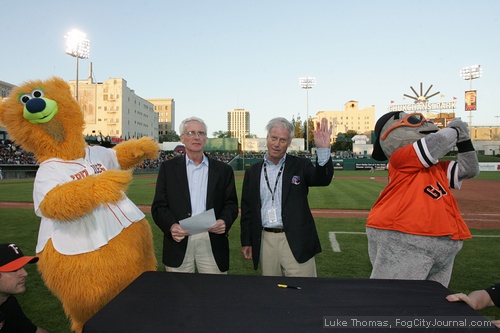 Grizzlies owner Chris Cummings and Giants owner Peter Magowan.
I spent the majority of the game indoors because Fresno was experiencing an unusual chill and you know how I feel about nature. Unfortunately, this did not protect me from Parker, the Grizzlies mascot. No offense to the franchise, but I'm just not a fan of anything in a furry suit.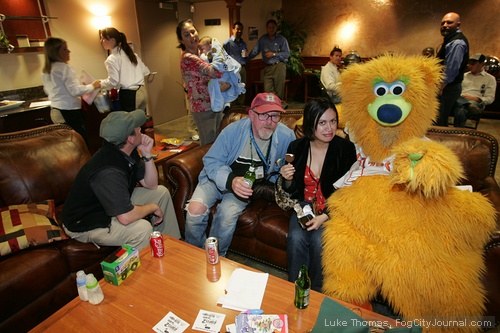 h. brown and Elaine Santore with Parker, the Fresno Grizzlies mascot.
Grizzlies starting pitcher Pat Misch played with the Giants last year. "I thought last year I pitched pretty well," Misch said. "I blew that last game, one loss, and that's something that sometimes you can't control."

Grizzlies starting pitcher Pat Misch.
Zito had nothing but praise for the Grizzlies. "We have a lot of talent here. And we have a lot of guys who are eager to get up there [to the majors]," he said to reporters. "A lot of these guys that are starting going to be starting in Fresno played with us last year and we know what they can do. Sometimes there just aren't enough spots for these guys."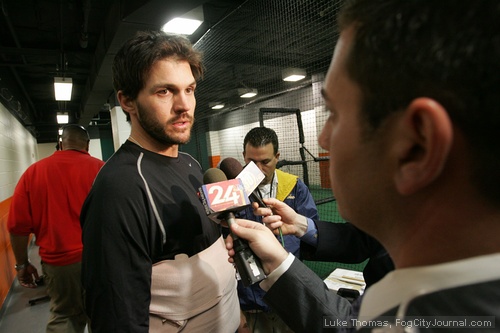 Barry Zito
Oh, yeah, and the Grizzlies won.
Planes, trains, and automobiles
Fog City Journal headed back to San Francisco Thursday afternoon, visualizing a future trip on high-speed rail. The trip made me nostalgic about my history with trains.
After graduating college, I moved into an apartment in Lincoln, Neb. that overlooked the train station. I watched the trains go by as I pondered the important issues: my future, the aftermath of getting dumped via Facebook, and whether I should use my waitress salary for digital cable or food. This inspired an inside joke in my circle of friends: whenever anyone got depressed, we'd say that we were "watching trains."
"Do you want to go out tonight?"
"No. I'm watching trains."
The joke even inspired a pose and popular dance routine: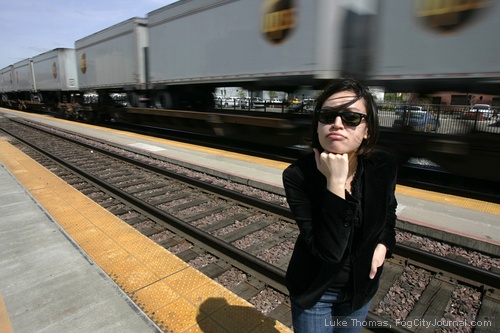 Elaine Santore no longer watches trains.
Thankfully, FCJ's Fresno trip did not inspire anyone to strike this pose. FCJ even made friends with the conductor.
"This is train number 714, also known as the Love Train. You're going to be sitting next to somebody you don't know," the conductor said. "Strike up a conversation or sing Kumbaya. You better make a friend on this train today." And that's an order!

Fog City Journal de-trains at Richmond, says goodbye to the best Amtrak conductor ever…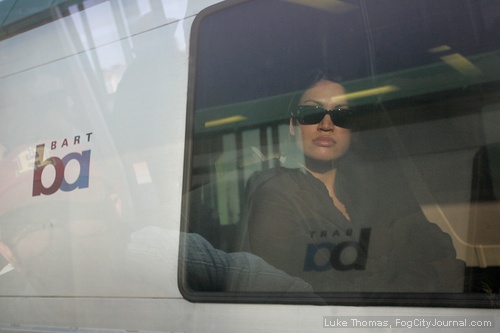 Then boards BART back to San Francisco. Yay for public transportation!