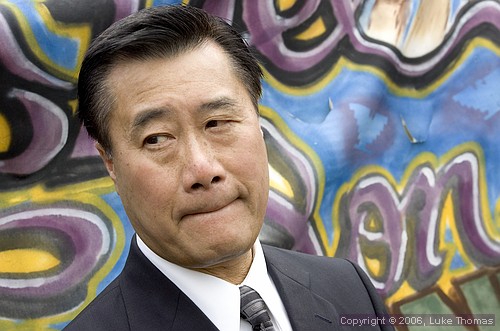 In the interest of public safety, the state Senate Transportation and Housing Committee
approved a bill Tuesday authored by State Senator Leland Yee
that would make 19th Avenue in San Francisco a double fine zone.
Photo by Luke Thomas
By Jesse Dungan
April 3, 2008
The state Senate Transportation and Housing Committee on Tuesday voted 8-1 in approval of legislation that would make 19th Avenue in San Francisco a double fine zone, state Sen. Leland Yee announced.
Senate Bill 1419, authored by Yee, would make 19th Avenue, a section of state Highway 1 that connects San Mateo County with San Francisco, a safety enhancement double fine zone for five years. The bill is part of an effort to increase safety on the stretch of roadway, which has become notorious for accidents.
"It is simply unacceptable that we continue to lose innocent lives, including children and elders, because of this high speed avenue in our residential area," Yee said in a prepared statement. "I am hopeful that with this new double fine zone and continued improvements, we can finally create a safe corridor for drivers, pedestrians and bicyclists."
The base fines for traffic violations such as speeding, reckless driving and drunken driving would double under the new legislation. The bill would also allow the California Department of Transportation to collect data to establish permanent statewide criteria for pedestrian safety double fine zones, Yee's office reported.
In addition to the 19th Avenue corridor, the bill would make a stretch of Van Ness Avenue that serves as part of U.S. Highway 101 a double fine zone. The Van Ness Avenue zone will provide officials with a better sense of whether the double fine zone system is successfully increasing public safety, said Adam Keigwin, a spokesman for Yee.
Caltrans has also partnered with the city and county of San Francisco to begin work on a $4 million project to install pedestrian countdown signals at 10 intersections, more visible traffic signals and fiber optic cables to coordinate traffic signals. A second $8 million project will upgrade 16 additional intersections.
According to Yee's office, between 2000 and 2005, there were 786 accidents on 19th Avenue that resulted in 1,205 injuries and 12 deaths, and five people were killed in 2007.
The bill will go before the state Senate Public Safety Committee next week before reaching the full Senate.
Gov. Arnold Schwarzenegger has previously vetoed the bill, but is expected to sign the bill this year, according to Yee's office.