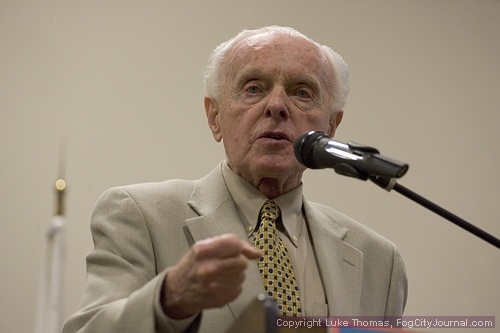 Representative Tom Lantos, RIP.
Photo by Luke Thomas
By Ashley Wright
February 11, 2008
Congressman Tom Lantos, D-San Mateo, San Francisco, died early this morning due to complications from cancer at the Bethesda Naval Medical Center in Maryland, his spokeswoman said.
Lantos, 80, was diagnosed with esophageal cancer in late December.
Lantos announced that he would not seek reelection to the U.S. House of Representatives on Jan. 2, but had committed to serving the rest of his 14th term through December, spokeswoman Lynne Weil said.
Lantos was the only Holocaust survivor to be elected to Congress and served as a senior member of the House Committee on Oversight and Government Reform. He was the founding co-chairman of the 24-year-old Congressional Human Rights Caucus, and was elected chairman of the House Committee on Foreign Affairs in January 2007, according to Weil.
Lantos died at 2:30 a.m. in Maryland, which was about 11:30 p.m. PST, Weil said. He leaves behind his wife, two daughters, 18 grandchildren and two great-grandchildren.
The date for a public memorial has not been set, according to Weil.
Governor Arnold Schwarzenegger issued the following statement:
"Today our state mourns the loss of Congressman Tom Lantos, who led a life marked by passion, bravery and relentless dedication to promoting human rights and tolerance. Maria and I extend our deepest condolences to his family during this painful time and we will continue to pray for their comfort. We are forever indebted to Congressman Lantos for his devoted service to our nation and his example of courage that will continue to be admired by all Californians."
California Senator Leland Yee (D-San Francisco/San Mateo) issued the following statement:
"I am deeply saddened by the passing of Congressman Tom Lantos. We have lost one of our finest champions for working families, human rights, national security, and the environment. When looking for hope and inspiration, we need not look any further than the life of Congressman Lantos who survived the Holocaust, fought genocide in Darfur, and courageously battled cancer. I extend my deepest condolences to Tom's wife Annette and their family."
Assemblywoman Fiona Ma (D-San Francisco/San Mateo) issued the following statement:
"I am proud to have called Tom Lantos my friend and my Congressman and will deeply miss his commitment to working people, the environment and human rights. He has represented people in San Francisco and San Mateo with great honor and integrity for more than two decades, using his clout in Congress to improve human rights around the world, protect jobs here at home and help regular people resolve tough problems. My thoughts and prayers are with his wife Annette and his wonderful family during this difficult time."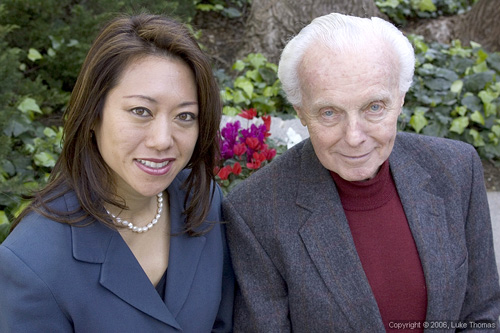 Assemblymember Fiona Ma with Tom Lantos, 2006.
Mayor Gavin Newsom issued the following statement:
San Francisco, CA – Mayor Gavin Newsom was deeply saddened to hear of today's passing of Congressman Tom Lantos. "My friend and colleague Tom Lantos has been a tireless advocate in Congress for the residents of the Bay Area for over 26 years and his legacy in the region is untold."
"Tom Lantos's work elevating the issue of human rights and responsible diplomacy was a true reflection of the best of the Bay Area's values. As Founder and Co-Chairman of the Congressional Human Rights Caucus, Tom Lantos was always the first person to advocate for the most vulnerable of our global citizens, through the lens of his own experience as a Holocaust survivor, so that we always remembered our responsibility to ensure basic human rights for all."
"As one of the pioneers of environmental activism, Tom Lantos devoted his career to the protection of the Bay Area's natural environment. Whether it was forwarding legislation to protect Phleger Estate and Mori Point and thousands of acres of natural area on the Peninsula, or his success protecting the Golden Gate National Recreation Area from encroaching development, his stewardship of our most beautiful natural resources will always be remembered."
"My deepest condolences to his wife and daughters, family and friends. Our thoughts and prayers are with them."